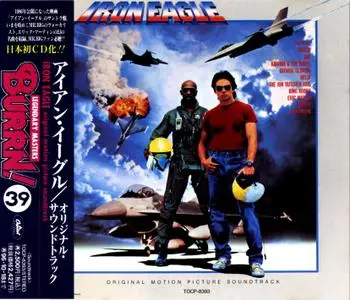 VA - Iron Eagle: Original Motion Picture Soundtrack (1986) [Japanese Reissue, 1994]
EAC | FLAC (Image) + cue.+log ~ 257 Mb | Mp3, CBR320 kbps ~ 96 Mb | Scans included
Soundtrack, Rock, Hard Rock | Label: Capitol/ Toshiba EMI Ltd | # TOCP-8393 | 00:41:03
Iron Eagle is a 1986 Canadian-American military action film directed by Sidney J. Furie, co-written by Kevin Alyn Elders and starring Jason Gedrick and Louis Gossett Jr. The soundtrack album was issued by Capitol Records on LP and cassette, and later on compact disc. It features songs by Queen, King Kobra, Katrina and the Waves, Eric Martin, Dio, Adrenalin, George Clinton and more.
The soundtrack to Iron Eagle concentrates on hard rock and metal, throwing in cuts from King Kobra, Katrina and the Waves, and George Clinton for some sort of balance. Apart from Queen's "One Vision," nothing really rises above the level of mediocre, but it all blends together for a consistent listen.



Stephen Thomas Erlewine, All Music Guide
~
Film at IMDB
~
Film at Wiki
Tracklist:
01. Queen - One Vision (4:04)
02. King Kobra - Iron Eagle (Never Say Die) (3:34)
03. Eric Martin - These Are The Good Times (3:48)
04. Katrina & The Waves - Maniac House (4:55)
05. George Clinton - Intense (4:34)
06. Dio - Hide In The Rainbow (3:58)
07. Helix - It's Too Late (3:09)
08. Adrenalin - Road Of The Gypsy (4:29)
09. Urgent - Love Can Make You Cry (4:21)
10. The Jon Butcher Axis - This Raging Fire (4:11)
Exact Audio Copy V0.99 prebeta 5 from 4. May 2009

Отчёт EAC об извлечении, выполненном 30. августа 2011, 10:14

Various / Iron Eagle OST [TOCP-8393]

Дисковод: Optiarc DVD RW AD-7200A Adapter: 1 ID: 0

Режим чтения : Достоверность
Использование точного потока : Да
Отключение кэша аудио : Да
Использование указателей C2 : Нет

Коррекция смещения при чтении : 48
Способность читать области Lead-in и Lead-out : Нет
Заполнение пропущенных сэмплов тишиной : Да
Удаление блоков с тишиной в начале и конце : Нет
При вычислениях CRC использовались нулевые сэмплы : Да
Интерфейс : Встроенный Win32-интерфейс для Win NT/2000

Выходной формат : Пользовательский кодировщик
Выбранный битрейт : 128 kBit/s
Качество : Высокий
Добавление ID3-тэга : Нет
Утилита сжатия : C:\Program Files\Exact Audio Copy\Flac\flac.exe
Дополнительные параметры : -8 -V -T "artist=%a" -T "title=%t" -T "album=%g" -T "date=%y" -T "tracknumber=%n" -T "genre=%m" -T "comment=EAC


TOC извлечённого CD

Трек | Старт | Длительность | Начальный сектор | Конечный сектор
––––––––––––––––––––––––––––––––––-
1 | 0:00.00 | 4:03.60 | 0 | 18284
2 | 4:03.60 | 3:33.70 | 18285 | 34329
3 | 7:37.55 | 3:48.12 | 34330 | 51441
4 | 11:25.67 | 4:54.73 | 51442 | 73564
5 | 16:20.65 | 4:34.35 | 73565 | 94149
6 | 20:55.25 | 3:58.05 | 94150 | 112004
7 | 24:53.30 | 3:08.57 | 112005 | 126161
8 | 28:02.12 | 4:29.35 | 126162 | 146371
9 | 32:31.47 | 4:20.50 | 146372 | 165921
10 | 36:52.22 | 4:10.38 | 165922 | 184709


Характеристики диапазона извлечения и сообщения об ошибках

Выбранный диапазон

Имя файла Y:\Музыка\VA\1986 Iron Eagle OST\VA - Iron Eagle OST [TOCP-8393].wav

Пиковый уровень 100.0 %
Качество диапазона 100.0 %
CRC теста 4E45C615
CRC копии 4E45C615
Копирование… OK

Ошибок не произошло


AccurateRip: сводка

Трек 1 точное извлечение (доверие 2) [0E064EAD]
Трек 2 точное извлечение (доверие 2) [5815640C]
Трек 3 точное извлечение (доверие 2) [8D2F5863]
Трек 4 точное извлечение (доверие 2) [6526F467]
Трек 5 точное извлечение (доверие 2) [28172B17]
Трек 6 точное извлечение (доверие 2) [D7BF2966]
Трек 7 точное извлечение (доверие 2) [E75D0204]
Трек 8 точное извлечение (доверие 2) [135EC04D]
Трек 9 точное извлечение (доверие 2) [27FC6E89]
Трек 10 точное извлечение (доверие 2) [C5A1FFEE]

Все треки извлечены точно

Конец отчёта
[CUETools log; Date: 24.07.2019 19:55:50; Version: 2.1.4]
[CTDB TOCID: RP.Ta_.9IDaa9HCO_xYtw7NGzJE-] found.
Track | CTDB Status
1 | (4/4) Accurately ripped
2 | (4/4) Accurately ripped
3 | (4/4) Accurately ripped
4 | (4/4) Accurately ripped
5 | (4/4) Accurately ripped
6 | (4/4) Accurately ripped
7 | (4/4) Accurately ripped
8 | (4/4) Accurately ripped
9 | (4/4) Accurately ripped
10 | (4/4) Accurately ripped
[AccurateRip ID: 000f5d5f-007b4993-97099e0a] found.
Track [ CRC | V2 ] Status
01 [0e064ead|17d55d12] (2+0/2) Accurately ripped
02 [5815640c|04283f55] (2+0/2) Accurately ripped
03 [8d2f5863|57f325ce] (2+0/2) Accurately ripped
04 [6526f467|cea5931c] (2+0/2) Accurately ripped
05 [28172b17|62d1ffd5] (2+0/2) Accurately ripped
06 [d7bf2966|f62865f4] (2+0/2) Accurately ripped
07 [e75d0204|af9ce1af] (2+0/2) Accurately ripped
08 [135ec04d|889e8a2c] (2+0/2) Accurately ripped
09 [27fc6e89|3df29d1d] (2+0/2) Accurately ripped
10 [c5a1ffee|fb4845be] (2+0/2) Accurately ripped

Track Peak [ CRC32 ] [W/O NULL] [ LOG ]
– 100,0 [4E45C615] [A147F423] CRC32
01 77,1 [3301DA22] [062F2741]
02 100,0 [F3132453] [E32C4D37]
03 82,6 [B088CD77] [E4CF3DB9]
04 89,7 [21CAF53A] [62CD1DAA]
05 74,0 [FAC4CD68] [F5EB7BC7]
06 82,0 [78004C69] [C83705B9]
07 75,6 [E184B2FE] [70F7F914]
08 80,1 [672E27CC] [A41BD02B]
09 59,5 [F8A5C428] [8AC4C999]
10 68,9 [3A857684] [6A56C918]
foobar2000 1.2 / Dynamic Range Meter 1.1.1
log date: 2019-07-24 20:56:16

––––––––––––––––––––––––––––––––––––––––
Statistics for: 06-Hide In The Rainbow
Number of samples: 10498740
Duration: 3:58
––––––––––––––––––––––––––––––––––––––––

Left Right

Peak Value: -2.54 dB –- -1.72 dB
Avg RMS: -16.50 dB –- -15.41 dB
DR channel: 11.59 dB –- 11.51 dB
––––––––––––––––––––––––––––––––––––––––

Official DR Value: DR12

Samplerate: 44100 Hz
Channels: 2
Bits per sample: 16
Bitrate: 871 kbps
Codec: FLAC
================================================================================
––––––––––––––––––––––––––––––––––––––––
Analyzed: Eric Martin / Iron Eagle OST [TOCP-8393] (1)
George Clinton / Iron Eagle OST [TOCP-8393] (2)
Helix / Iron Eagle OST [TOCP-8393] (3)
––––––––––––––––––––––––––––––––––––––––

DR Peak RMS Duration Track
––––––––––––––––––––––––––––––––––––––––
DR11 -1.65 dB -15.32 dB 3:48 03-These Are The Good Times
DR12 -2.61 dB -16.97 dB 4:34 05-Intense
DR11 -2.43 dB -15.70 dB 3:09 07-It's Too Late
––––––––––––––––––––––––––––––––––––––––

Number of tracks: 3
Official DR value: DR12

Samplerate: 44100 Hz
Channels: 2
Bits per sample: 16
Bitrate: 871 kbps
Codec: FLAC
================================================================================

––––––––––––––––––––––––––––––––––––––––
Statistics for: 04-Maniac House
Number of samples: 13008324
Duration: 4:55
––––––––––––––––––––––––––––––––––––––––

Left Right

Peak Value: -2.42 dB –- -0.94 dB
Avg RMS: -16.51 dB –- -15.67 dB
DR channel: 12.85 dB –- 13.26 dB
––––––––––––––––––––––––––––––––––––––––

Official DR Value: DR13

Samplerate: 44100 Hz
Channels: 2
Bits per sample: 16
Bitrate: 871 kbps
Codec: FLAC
================================================================================
––––––––––––––––––––––––––––––––––––––––
Statistics for: 02-Iron Eagle (Never Say Die)
Number of samples: 9434460
Duration: 3:34
––––––––––––––––––––––––––––––––––––––––

Left Right

Peak Value: -0.44 dB –- 0.00 dB
Avg RMS: -15.28 dB –- -14.85 dB
DR channel: 12.90 dB –- 13.23 dB
––––––––––––––––––––––––––––––––––––––––

Official DR Value: DR13

Samplerate: 44100 Hz
Channels: 2
Bits per sample: 16
Bitrate: 871 kbps
Codec: FLAC
================================================================================
––––––––––––––––––––––––––––––––––––––––
Analyzed: Queen / Iron Eagle OST [TOCP-8393] (1)
The Jon Butcher Axis / Iron Eagle OST [TOCP-8393] (2)
––––––––––––––––––––––––––––––––––––––––

DR Peak RMS Duration Track
––––––––––––––––––––––––––––––––––––––––
DR11 -2.26 dB -15.41 dB 4:04 01-One Vision
DR11 -3.23 dB -16.16 dB 4:11 10-This Raging Fire
––––––––––––––––––––––––––––––––––––––––

Number of tracks: 2
Official DR value: DR11

Samplerate: 44100 Hz
Channels: 2
Bits per sample: 16
Bitrate: 871 kbps
Codec: FLAC
================================================================================

––––––––––––––––––––––––––––––––––––––––
Statistics for: 09-Love Can Make You Cry
Number of samples: 11495400
Duration: 4:21
––––––––––––––––––––––––––––––––––––––––

Left Right

Peak Value: -4.84 dB –- -4.50 dB
Avg RMS: -18.53 dB –- -18.08 dB
DR channel: 9.89 dB –- 10.09 dB
––––––––––––––––––––––––––––––––––––––––

Official DR Value: DR10

Samplerate: 44100 Hz
Channels: 2
Bits per sample: 16
Bitrate: 871 kbps
Codec: FLAC
================================================================================
foobar2000 1.2 / Dynamic Range Meter 1.1.1
log date: 2019-07-24 20:56:15

––––––––––––––––––––––––––––––––––––––––
Statistics for: 08-Road Of The Gypsy
Number of samples: 11883480
Duration: 4:29
––––––––––––––––––––––––––––––––––––––––

Left Right

Peak Value: -2.94 dB –- -1.92 dB
Avg RMS: -15.92 dB –- -15.46 dB
DR channel: 11.19 dB –- 11.10 dB
––––––––––––––––––––––––––––––––––––––––

Official DR Value: DR11

Samplerate: 44100 Hz
Channels: 2
Bits per sample: 16
Bitrate: 871 kbps
Codec: FLAC
================================================================================