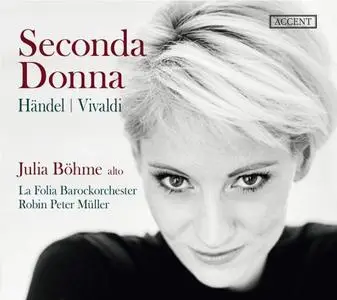 Handel, Vivaldi: Seconda Donna - Julia Bohme, La Folia Barockorchester, Robin Peter Muller - 2019
WEB FLAC (tracks, cover, log) | 00:50:53 | 280.20 MB
Classical | Accent / ACC24356
Julia Böhme is described on the cover as a "female alto". Fair enough I suppose; such is the current dominance of the falsettist (in baroque music anyway) that altos are assumed to be male, while lowish females always call themselves "mezzo-sopranos". The word "contralto" is almost forgotten. And indeed Böhme's sound is reminiscent of falsetto - clear and rather hollow – but she is far more powerful and flexible than male altos, and can sing right down to a good loud g without any baritonal embarrassments. No wobble, and a pleasantly unaffected delivery. So far I have only noticed her as a principal alto in Václav Luks' Collegium 1704 – you can see her (a tall lady) in their DVD of Biber's Missa Salisburgensis, where she makes a striking contribution.
On this disc she moves from consort singing to Baroque opera. She doesn't choose works for castrato – which she could easily have done, given her vocal character – but instead goes for the more rarified world of the contralto aria. I don't think this will be her "fach" in the long run, but it makes for a more interesting first recital than yet another recording of arias for Senesino or Farinelli.
In her Handel numbers Böhme covers music for an English contralto, Anastasia Robinson (range bb—eb") , and the Italians Antonia Merighi (a—f") and Francesca Bertolli (bb-e"). None of these were great singers, but competent enough to play "second ladies" for Handel and pants roles too, when the castrati were in short supply. Böhme is probably a better singer technically, and with a bigger range, than any of them; but she has not had their stage training, nor does she have their language, and this shows. Not that I'd want her to go in for wobbly histrionics, but she does need to show more awareness of the sense of her text, and learn to mould a line more expressively.
Böhme shows to best advantage in Anastasia Robinson's arias from "Radamisto" (tracks 10 & 11) and it is these I'd recommend for sampling. She does not do so well in the more elaborate coloratura Handel wrote for Merighi and Bertolli, aspirating continually unless the line runs very quickly – the usual story with modern singers, I fear. Still, she made this recording four years ago, so there has been room for her to progress since. I hope so, and would hope she'd try a Handel opera on the stage (at Göttingen, say) though she would probably be best advised to take a castrato role ("secondo uomo" rather than "seconda donna") to take advantage of her power and range.
Tracklist:
George Frideric Handel
Lotario, HWV 26:
01. Furie del crudo averno (1:39)
02. Arma lo sguardo (3:44)
03. Quel superbo (4:11)
Antonio Vivaldi
04. Farnace, RV 711: Forse, o caro, in questi accenti (5:48)
George Frideric Handel
05. Berenice, HWV 38: Gelo, avvampo (4:35)
06. Floridante, HWV 14: Notte cara (4:42)
Antonio Vivaldi
Orlando furioso, RV 819:
07. Amorose ai rai del sole (4:20)
08. Vorresti amor da me (2:56)
09. Farnace, RV 711: Lascia di sospirar (2:21)
George Frideric Handel
Radamisto, HWV 12:
10. Son contenta (4:17)
11. Quando mai spietata sorte (2:51)
Antonio Vivaldi
Orlando furioso, RV 819:
12. Asconderò il mio sdegno (2:37)
13. Se cresce un torrente (2:02)
14. Argippo, RV 697: Se lento ancora il fulmine (3:56)
–––––––––––-
DON'T MODIFY THIS FILE
–––––––––––-
PERFORMER: auCDtect Task Manager, ver. 1.5.1RC2 build 1.5.1.3
Copyright © 2008-2010 y-soft. All rights reserved
http://y-soft.org
ANALYZER: auCDtect: CD records authenticity detector, version 0.8.2
Copyright © 2004 Oleg Berngardt. All rights reserved.
Copyright © 2004 Alexander Djourik. All rights reserved.
FILE: 14 Argippo RV 697 Se lento ancora il fulmine.flac
Size: 23458864 Hash: 2D4B9F493BD69F48A90965EB58970989 Accuracy: -m0
Conclusion: CDDA 100%
Signature: A21395D5D2E72721FA0F71CFD1F17DB1F59E148F
FILE: 13 Orlando furioso RV 819 Se cresce un torrente.flac
Size: 12344722 Hash: 28B3B868CEAB5C9E60B4A9F72FE12547 Accuracy: -m0
Conclusion: CDDA 99%
Signature: 8E6E694E9B1299C0F8D5446363857F01A06F1483
FILE: 12 Orlando furioso RV 819 Asconderò il mio sdegno.flac
Size: 16421048 Hash: E1102955A25747DA0AD680E7C8F885EC Accuracy: -m0
Conclusion: CDDA 99%
Signature: 60BC466EF57961276E609D267B8B76FCE20A8BDA
FILE: 11 Radamisto HWV 12 Quando mai spietata sorte.flac
Size: 15263964 Hash: 5732B29171D766CA0285353C06C63826 Accuracy: -m0
Conclusion: CDDA 100%
Signature: 72AA400681E565C64171128849F00B034179FE46
FILE: 10 Radamisto HWV 12 Son contenta.flac
Size: 26641383 Hash: 91F0497AD9EC2013D5EE2E876CD7D53E Accuracy: -m0
Conclusion: CDDA 100%
Signature: 674E09BB93B1D866CDA9F4687AECDF37825A0409
FILE: 09 Farnace RV 711 Lascia di sospirar.flac
Size: 14106787 Hash: E4C9BA370CF4B13AAA37F5488B02E76A Accuracy: -m0
Conclusion: CDDA 100%
Signature: 16DBE82E40E1B8CC34D65E451E71B7B05735E577
FILE: 08 Orlando furioso RV 819 Vorresti amor da me.flac
Size: 16915729 Hash: 620EE3EC8FAD0A6898D58C11770A826D Accuracy: -m0
Conclusion: CDDA 100%
Signature: 3D784D8B6EF3874BEABD4DAF9231EF2A101B29A8
FILE: 07 Orlando furioso RV 819 Amorose ai rai del sole.flac
Size: 23246680 Hash: 59E48638C714900398B82267DB07A3E0 Accuracy: -m0
Conclusion: CDDA 100%
Signature: 501492C20C28B52E3846C89FE18CE55A350F4453
FILE: 06 Floridante HWV 14 Notte cara.flac
Size: 23470667 Hash: C589EE76AB01D879B4C3B226A031F4B9 Accuracy: -m0
Conclusion: CDDA 100%
Signature: 8E149642D06C6BF80A40E5826D08E9BB218AD299
FILE: 05 Berenice HWV 38 Gelo avvampo.flac
Size: 25673246 Hash: F74B2C8111B3F57ED0542C9B6E2C4CB2 Accuracy: -m0
Conclusion: CDDA 100%
Signature: 36BC1CB8873AF0F23435ABC1C5BA8C10B12ABC6E
FILE: 04 Farnace RV 711 Forse o caro in questi accenti.flac
Size: 30089618 Hash: 06FC1AA7BA8631B8DF17D3B0BCD43A8E Accuracy: -m0
Conclusion: CDDA 100%
Signature: C4190E60A43AFF7602BCFAB953EA5BB7FD623B02
FILE: 03 Lotario HWV 26 Quel superbo.flac
Size: 24861101 Hash: A07ADFE59161CC3E9442C61C5A2ED12D Accuracy: -m0
Conclusion: CDDA 100%
Signature: 9B2D4A400FEDF881325051C1FE4A944E3040AC29
FILE: 02 Lotario HWV 26 Arma lo sguardo.flac
Size: 22439683 Hash: 5462ED330D1BA322CC3DAFEFB9125FF6 Accuracy: -m0
Conclusion: CDDA 100%
Signature: A0A7E2B1C22AE353C80B40A2308887B47E69CCBF
FILE: 01 Lotario HWV 26 Furie del crudo averno.flac
Size: 8484137 Hash: E466D2D3911021C9E48C03A174B97228 Accuracy: -m0
Conclusion: CDDA 100%
Signature: 9A9C5ACA6A8984B96524528C7D88B2C85B4B4477