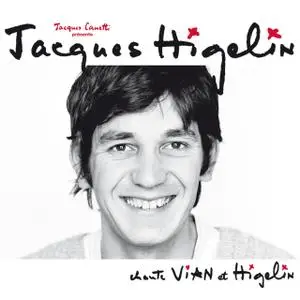 Jacques Higelin - Chante Vian et Higelin (2015)
WEB | FLAC (tracks) - 227 MB | MP3 (CBR 320 kbps) - 93 MB | 36:04
Genre: Pop, Chanson | Label: Jacques Canetti Productions
Legendary French record executive, talent agent, and producer Jacques Canetti recorded French singer Jacques Higelin's first disc in 1965, though their meeting dates back to 1954, when Higelin was 14 years old and was already singing Trenet – at the time, Canetti refused to work with teenagers, whatever their talent. To celebrate the 2015 50-year anniversary of his career, the release of his 2013 album Beau Repaire, and a 2015 residency at the Philharmonie de Paris, Jacques Canetti Productions reissues his first album, with two bonus duets with French poet and vocalist Brigitte Fontaine. CD in digipak with 16-page booklet and exclusive photos.
Track List:
01. A Django
02. Quand j'improvise sur mon piano
03. Je rêve
04. L'âme slav
05. Dans mon lit
06. La java des chaussettes à clous
07. Priez pour Saint Germain des Prés
08. Huit jours en Italie
09. La Grippe
10. Cet enfant que je t'avais fait
11. L'année à l'envers
12. Isabelle
13. Fleur de pavot
–––––––––––-
DON'T MODIFY THIS FILE
–––––––––––-
PERFORMER: auCDtect Task Manager, ver. 1.6.0 RC1 build 1.6.0.1
Copyright © 2008-2010 y-soft. All rights reserved
http://y-soft.org
ANALYZER: auCDtect: CD records authenticity detector, version 0.8.2
Copyright © 2004 Oleg Berngardt. All rights reserved.
Copyright © 2004 Alexander Djourik. All rights reserved.
FILE: 1 A Django.flac
Size: 16492119 Hash: 669FD090D28463117934322BF44B7DE1 Accuracy: -m0
Conclusion: CDDA 99%
Signature: E3C60437F49221E32EDFA2F52B2618D57B9E6938
FILE: 10 Cet enfant que je t'avais fait.flac
Size: 24091003 Hash: 7E8A2E81E6E9D8FCB47F7F487DE6BB3A Accuracy: -m0
Conclusion: CDDA 100%
Signature: 075F806DF9D8EB74686B86BA5A9428DE3C59FEC5
FILE: 11 L'année à l'envers.flac
Size: 14153876 Hash: 6219AEAE39B3B0FE5EF7DEA219C2EEE0 Accuracy: -m0
Conclusion: CDDA 100%
Signature: 5C573C3E8B59F6354A16B8B7988CB74DC37A1E89
FILE: 12 Isabelle.flac
Size: 15866517 Hash: 22423736EA07BF859F03B1FE04B1E348 Accuracy: -m0
Conclusion: CDDA 100%
Signature: E315C72F0CF99FDF46ACE7F3EFED2B217CF7E254
FILE: 13 Fleur de pavot.flac
Size: 10798654 Hash: 67297E51A1121A81B75D2D78C40BDB68 Accuracy: -m0
Conclusion: CDDA 100%
Signature: A831D7AE4ECEFA5993F255DEE6B04D32B2E3557A
FILE: 2 Quand j'improvise sur mon piano.flac
Size: 15498813 Hash: 65E3B2BE59A5C356F36E8C3AC5A78909 Accuracy: -m0
Conclusion: CDDA 100%
Signature: 4245BA5B59B2C1541D9A9EE2DEF379C118922F61
FILE: 3 Je rêve.flac
Size: 21582200 Hash: 17EBF88AAA583ADF2FE0633776D37D87 Accuracy: -m0
Conclusion: CDDA 100%
Signature: C5F63BD1E3876DC86B081C4BACF5EE2AB13DB880
FILE: 4 L'âme slave.flac
Size: 12052291 Hash: 738CEDCF02DC693E305A606396FAA4D4 Accuracy: -m0
Conclusion: CDDA 100%
Signature: 725FFEA26EBAF213AE81A19505F3DE67590A63CE
FILE: 5 Dans mon lit.flac
Size: 19022645 Hash: 57876E5962DE92163343515610DB209C Accuracy: -m0
Conclusion: CDDA 99%
Signature: 9E0DE83A85B7678FBC205A10F061BE166208C3C7
FILE: 6 La java des chaussettes à clous.flac
Size: 15179253 Hash: 9A4D519A87CC8B3A8F51CC20910FD6D5 Accuracy: -m0
Conclusion: MPEG 95%
Signature: 6D13E1EBE8C35F64D297C84E9F4A0D956DB9B650
FILE: 7 Priez pour Saint Germain des Prés.flac
Size: 15659935 Hash: 4ABA4E4334EF788AD13AF23E79AA5972 Accuracy: -m0
Conclusion: CDDA 100%
Signature: 19C7D9548A02EBB97072BC85042766A6EC29C7AB
FILE: 8 Huit jours en Italie.flac
Size: 22403587 Hash: E9183B6F884DAB04AEA707007D5ACB8B Accuracy: -m0
Conclusion: CDDA 99%
Signature: BCFAC3D13053A36E79107EC5BC463B7B3A89EE32
FILE: 9 La Grippe.flac
Size: 13474082 Hash: 4FB8A19E95B25855B0C55D749275E46E Accuracy: -m0
Conclusion: CDDA 100%
Signature: AA1251B1083555A3F9A788F03C6FDDCF444BF3B2