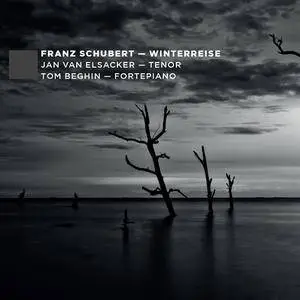 Jan van Elsacker, Tom Beghin - Franz Schubert: Winterreise (2014)
MP3 (CBR 320 kbps) | 01:10:25 | 182 MB
Genre: Classical, Vocal | Label: EPR Classic
In a note accompanying this new Winterreise with Jan Van Elsacker, the fortepianist and musicologist Tom Beghin asks what yet another new recording of Schubert's great song-cycle might offer. The answer, in the first instance, is the instrument Beghin plays, a newly restored Gottlieb Hafner from Vienna c1830, whose five pedals – and attendant effects – Beghin is unafraid to employ.
I winced at the sound of the tinkly bell he adds to 'Die Post' but the occasional use of the buzzy 'bassoon' pedal and dull thud of a drum elsewhere seems more acceptable. Beghin is also able to adjust the timbre of the instrument's brittle sound. The effect in 'Der Leiermann' is properly haunting but any benefit in 'Auf dem Flusse' is undone by strange interpretative choices: a tempo that feels too fast and the decision to play the left hand's dotted lines with a swing rhythm. Other tempi also feel ill-judged (that for 'Gute Nacht' is also too fast, for starters), and I can dowithout the jerky rubato, or the twiddles and turns Beghin sprinkles around.
Another problem, though, is Van Elsacker himself, a Baroque specialist whose light, soft tenor is employed with a strange reticence. He paws timidly at the vocal line, employing a great deal of head voice, and has a strangely didactic and emphatic way of communicating Müller's German. There might be musicological justifications for this 'declamatory' (Beghin's word) performance style but it feels drily academic, unnatural and, for the most part, uninvolving.
Nathalie Stutzmann's 2003 recording with Inger Södergren (originally on Calliope but now reissued with the other cycles by Warner) in many ways serves as an antidote: classily sung in the French contralto's wonderfully rich and androgynous voice, interpretatively serene and smooth. There are many beauties on the way; and whenever Stutzmann is required to spin a hushed line, the result is hypnotic ('Die liebe Farbe' in Die schöne Müllerin is a case in point). But elsewhere throughout all three discs, the characterisation is generalised, with Stutzmann giving the impression of a stately vessel sailing unruffled through these emotional waters. More natural-sounding, perhaps, but not in the end a great deal more involving.
Track List:Franz Schubert (1797-1828)
Die Winterreise, Op. 89, D. 911
on a cycle of poems by Wilhelm Müller (1794–1827)
Erste Abteilung
1. Gute Nacht 4:42
2. Die Wetterfahne 1:44
3. Gefrorne Tränen 2:14
4. Erstarrung 2:40
5. Der Lindenbaum 4:42
6. Wasserflut 4:14
7. Auf dem Flusse 2:59
8. Rückblick 2:13
9. Irrlicht 3:08
10. Rast 3:42
11. Frühlingstraum 3:28
12. Einsamkeit 2:46
Zweite Abteilung
13. Die Post 2:28
14. Der greise Kopf 3:04
15. Die Krähe 1:38
16. Letzte Hoffnung 2:07
17. Im Dorfe 3:40
18. Der stürmische Morgen 0:57
19. Täuschung 1:29
20. Der Wegweiser 4:16
21. Das Wirtshaus 3:38
22. Mut 1:32
23. Die Nebensonnen 2:30
24. Der Leiermann 4:23
Performers
:
Jan van Elsacker, tenor
Tom Beghin, fortepiano
Download: