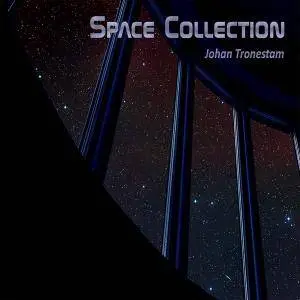 Johan Tronestam - Space Collection (2017)
WEB FLAC (tracks) - 481 MB | MP3 CBR 320 kbps (LAME 3.93) - 185 MB | Front cover
Genre: Electronic, Berlin School | RAR 3% Rec. | Label: Self-released
This album was created in Lemland/Åland 2015-2017. It's about space and has a connection to my previous space albums and connects everything to an entirety - Space is a source of inspiration, a mystery that will give humanity a continuousunderstanding.
Influenced by the early synth masters, such as Jean-Michel Jarre, Vangelis and Tangerine Dream, as well as the progressive rock of Pink Floyd, Tronestam draws sounds from his synths that sweep like plasma fields projecting from the Sun or shift like the light of fading suns. The effect is neither entirely naturalistic nor abstract, but instils the feeling of moving through four dimensions in proximity to almost nothing else.
Tracklist:
01. Redshift
02. Distance
03. Next Steps
04. A Ninth Member
05. Neptune
06. Arthur's Journey Continues
07. The Change
08. Deep Field
09. Pulsar
10. The Viewer's Mind
Total time:
01:18:25

PERFORMER: auCDtect Task Manager, ver. 1.6.0 RC1 build 1.6.0.1
Copyright © 2008-2010 y-soft. All rights reserved

ANALYZER: auCDtect: CD records authenticity detector, version 0.8.2
Copyright © 2004 Oleg Berngardt. All rights reserved.
Copyright © 2004 Alexander Djourik. All rights reserved.


FILE: 10.The Viewer's Mind.flac
Size: 51595288 Hash: 9BEA4B0B1FFBFF93D043AB8A1850EB53 Accuracy: -m0
Conclusion: CDDA 100%
Signature: D4093B8E31C7BB2F50BE57E05583F9BDD5DA94F2
FILE: 09.Pulsar.flac
Size: 40722911 Hash: A4A076B880BC0B242F044BC8CFBB7F7C Accuracy: -m0
Conclusion: CDDA 92%
Signature: 3952ECB7A4709958AA32277DFD42AB702879C30E
FILE: 08.Deep Field.flac
Size: 43481102 Hash: 32BB8E464EB1A1695A4C3CF990FF2B3C Accuracy: -m0
Conclusion: CDDA 100%
Signature: 7D671D94E915FE25C9313D8658E90AD5E9603E2C
FILE: 07.The Change.flac
Size: 48836966 Hash: 395A7A3F259CCA161FBBCC6EDA5BDC72 Accuracy: -m0
Conclusion: CDDA 99%
Signature: BFE02D79657D6EBE8839D7BB56285A40A82978A5
FILE: 06.Arthur's Journey Continues.flac
Size: 62268868 Hash: E118E268A612B14F2AA7416334BB836D Accuracy: -m0
Conclusion: CDDA 100%
Signature: EDA6E7D93FA62CB6F21F95EA6DB9AF31D307C3B0
FILE: 05.Neptune.flac
Size: 50787469 Hash: B7B89C7A3051793F3A200D0AA7A5F2E9 Accuracy: -m0
Conclusion: CDDA 100%
Signature: 2F84719BFF51766A622DB1267CE598F7CCD7A40B
FILE: 04.A Ninth Member.flac
Size: 46740131 Hash: E04786514EE45874C2C0A6182474CF55 Accuracy: -m0
Conclusion: CDDA 100%
Signature: 919E0E30FA0AFD0F021B851D1E2AEF9B9CE6EC46
FILE: 03.Next Steps.flac
Size: 42838658 Hash: 76417E525AD9C6B9EA485C04C3C510E1 Accuracy: -m0
Conclusion: CDDA 100%
Signature: F71CF824E0C7A2BED8B4D9212E334D94F3E7DD22
FILE: 02.Distance.flac
Size: 51775142 Hash: D52553D96463503B1013621579844EE2 Accuracy: -m0
Conclusion: CDDA 100%
Signature: 9D17EBB2DB59C89CCE93E7A53D7B1508B879A3DC
FILE: 01.Redshift.flac
Size: 50976565 Hash: A9F01655C962C834DF13A99B29BB36A4 Accuracy: -m0
Conclusion: CDDA 86%
Signature: 93107DA5DAB01E2C4933CA9B1D8B7C11AC65A322