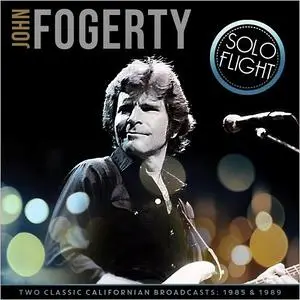 John Fogerty - Solo Flight (Live) (2020)
FLAC tracks / MP3 320 kbps | 1:11:23 | 176 / 471 Mb
Genre: Rock, Folk / Label: Shockwaves
From the concerts "John Fogerty's All-Stars, Chaplin Stage, Hollywood, CA, 5-31-1985" and from the "Henry J. Kaiser Auditorium 26-11-1989" As the singer/songwriter and guitarist for Creedence Clearwater Revival, John Fogerty created a monumental and mythic American music. Drawing equally from rockabilly, country, and blues, Fogerty developed a distinctive brand of rock & roll and a formidable songbook. After CCR split in 1972, Fogerty didn't run away from that sound, but he avoided the band's hits due to a legal dispute with his former record label. "The Old Man Down the Road," the hit single that kicked off Fogerty's successful solo career, arrived in 1985, a full decade after his last hit, but the song and its accompanying Centerfield album pushed him back into the spotlight. He remained a force on record and on the road, where he eventually worked old CCR tunes into his set lists.
Track List:
1. Mary Don't You Weep (Live 1985) (2:44)
2. Interview Pt. 1 (Live 1985) (2:40)
3. My Pretty Baby Leave My Woman Alone (Medley) (Live 1985) (4:03)
4. Interview Pt. 2 (Live 1985) (2:45)
5. Let's Go Let's Go Let's Go (Live 1985) (2:29)
6. I Need Your Lovin' Every Day (Live 1985) (2:28)
7. Interview Pt. 3 (Live 1985) (3:39)
8. I Confess (Live 1985) (3:21)
9. Interview Pt. 4 (Live 1985) (3:42)
10. I'm A Man Mannish Boy (Medley) (Live 1985) (4:48)
11. Interview Pt. 5 (Live 1985) (2:01)
12. There's No Lovin' You (Live 1985) (3:13)
13. Rock'n'roll Girls (Live 1985) (3:29)
14. Interview Pt. 6 (Live 1985) (2:27)
15. My Toot Toot (Live 1985) (4:30)
16. Lookin' Out My Back Door (Live 1989) (3:01)
17. Rock N Roll Girls (Live 1989) (3:46)
18. Centerfield (Live 1989) (4:20)
19. Midnight Special (Live 1989) (3:43)
20. Proud Mary (Live 1989) (3:18)
21. Bad Moon Rising (Live 1989) (2:15)
22. Down On The Corner (Live 1989) (2:41)
ANALYZER: auCDtect: CD records authenticity detector, version 0.8.2
Copyright © 2004 Oleg Berngardt. All rights reserved.
Copyright © 2004 Alexander Djourik. All rights reserved.


FILE: 01 - Mary Don't You Weep (Live 1985).flac
Size: 19697400 Hash: BF7011BE75545DD22378585033E50FE9 Accuracy: -m40
Conclusion: CDDA 100%
Signature: 1AB86D299E05A2653C8EEF83563A1E3C7E01167F
FILE: 02 - Interview Pt. 1 (Live 1985).flac
Size: 18044885 Hash: 88DCAEC9B7473089C6DD3CAC021C6199 Accuracy: -m40
Conclusion: CDDA 100%
Signature: 275E57EFFBB94199A1D0B71E87E608EDE40B7FD4
FILE: 03 - My Pretty Baby Leave My Woman Alone (Medley) (Live 1985).flac
Size: 29906770 Hash: F3920066FF6F9E380F72015B1E7D9267 Accuracy: -m40
Conclusion: CDDA 100%
Signature: EAC8470EF02DAC6A7D1BD3C341995885B47E75A9
FILE: 04 - Interview Pt. 2 (Live 1985).flac
Size: 19703209 Hash: 73DA4C513E0EDBCF229BA622B2668D27 Accuracy: -m40
Conclusion: CDDA 100%
Signature: C4B9A52CEA2E00AFCC4FEBA854B6C11918827A83
FILE: 05 - Let's Go Let's Go Let's Go (Live 1985).flac
Size: 18169498 Hash: 6B41D070026B6979FF3BB26F3544E29A Accuracy: -m40
Conclusion: CDDA 100%
Signature: C876BBFA47FBB79EEE87EC15C3F8BDF8D0E07C9C
FILE: 06 - I Need Your Lovin' Every Day (Live 1985).flac
Size: 18248870 Hash: 7E02C46003E7F10CF0446D5592338503 Accuracy: -m40
Conclusion: CDDA 100%
Signature: FFB82CD809FF456B168AE8D1D42341C8451F5F8D
FILE: 07 - Interview Pt. 3 (Live 1985).flac
Size: 24328272 Hash: 4D7BCE30868B620CD82E219F37CAB75F Accuracy: -m40
Conclusion: CDDA 100%
Signature: 81BEA70D76760CD3D8B8EF30EB4E93DBE3B1529D
FILE: 08 - I Confess (Live 1985).flac
Size: 24921484 Hash: 09646BE5D885EB5C15BCF5505341867F Accuracy: -m40
Conclusion: CDDA 100%
Signature: 63B84B0F77D2093823A8A3C74329A929365D2F53
FILE: 09 - Interview Pt. 4 (Live 1985).flac
Size: 25220003 Hash: 607829BF0E9E50DD946C3FCFEB155587 Accuracy: -m40
Conclusion: CDDA 99%
Signature: 81BCEDEB57C6A0CF7253A9A99FA26961F6C02827
FILE: 10 - I'm A Man Mannish Boy (Medley) (Live 1985).flac
Size: 35147820 Hash: B938F6AFA31C3DD1E50EF29B11F2B440 Accuracy: -m40
Conclusion: CDDA 100%
Signature: D6C2FCD89A53D25D63328B4096FC207D9111337F
FILE: 11 - Interview Pt. 5 (Live 1985).flac
Size: 14115691 Hash: 654E3ABC5F0B6DE1941A0F30E6D7FB20 Accuracy: -m40
Conclusion: CDDA 99%
Signature: E2100299529A4AC92E8607D347F0E4845829E6DC
FILE: 12 - There's No Lovin' You (Live 1985).flac
Size: 24119401 Hash: D01122787FC1C90B4313F0692ABEB128 Accuracy: -m40
Conclusion: CDDA 100%
Signature: B6C7D3D120C51DD60D47D9E1625F64C8E7731710
FILE: 13 - Rock'n'roll Girls (Live 1985).flac
Size: 26765329 Hash: FC1E126C8A5067D4ABB3394A7C7EBD30 Accuracy: -m40
Conclusion: CDDA 100%
Signature: 755CC3B2D103960DFBD273B3CFFBE298A4C8FE77
FILE: 14 - Interview Pt. 6 (Live 1985).flac
Size: 16815126 Hash: 4914949DC3FE6F3D0ABAA469944A630D Accuracy: -m40
Conclusion: CDDA 100%
Signature: EF8A56CE171D0E069CCCA2394DFABFE8BBF1C42E
FILE: 15 - My Toot Toot (Live 1985).flac
Size: 31476164 Hash: 447016A6FC9849BC39ED0AF3946DE4B9 Accuracy: -m40
Conclusion: CDDA 100%
Signature: 449F3CBE0CCF67B20E9286181BA3A6D6F63812E8
FILE: 16 - Lookin' Out My Back Door (Live 1989).flac
Size: 18674728 Hash: 893EF9DFE6B5EF55240CB230C59F45DD Accuracy: -m40
Conclusion: CDDA 100%
Signature: 99DD532077D9EC6BFA3271FB6FFF208758053A01
FILE: 17 - Rock N Roll Girls (Live 1989).flac
Size: 23922116 Hash: 9F9B7B15E07E7A3EA384B579E461359E Accuracy: -m40
Conclusion: CDDA 100%
Signature: 037D892632A201D2ECBBD5BE6100248CC25297AF
FILE: 18 - Centerfield (Live 1989).flac
Size: 27626856 Hash: 365D6FE923128A8FBEFFB10ADDFA879E Accuracy: -m40
Conclusion: CDDA 100%
Signature: C2CA5EF6455F41F7D942BBE5DDBF15BB317618B5
FILE: 19 - Midnight Special (Live 1989).flac
Size: 23308316 Hash: 41DBF3141B7B93D03E4173727D30AB0D Accuracy: -m40
Conclusion: CDDA 100%
Signature: 9DAA83F3A63C39B02C107F43C93CB2680E266991
FILE: 20 - Proud Mary (Live 1989).flac
Size: 21806282 Hash: 74B511BB97DF29EA5BA8FF04EA27E897 Accuracy: -m40
Conclusion: CDDA 100%
Signature: DFBFE270F34EC1F5E18316DFCA8A5925F697BA95
FILE: 21 - Bad Moon Rising (Live 1989).flac
Size: 14944078 Hash: 5EC0225FE8D5748ECF3F7E6243EDAA67 Accuracy: -m40
Conclusion: CDDA 100%
Signature: 930F9C0DBBC3097FA9D496FFF54FC5FE2E4A5CB0
FILE: 22 - Down On The Corner (Live 1989).flac
Size: 17606307 Hash: 266C4F617DDB851DBF468F7838BBAED8 Accuracy: -m40
Conclusion: CDDA 100%
Signature: 11531290D4C0CB7FBBFD080F947F54D9A8EF3787