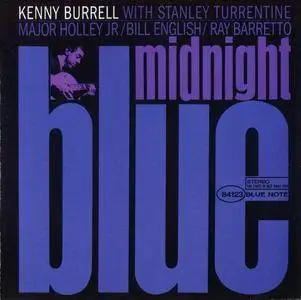 Kenny Burrell - Midnight Blue (1963) [Remastered 2010]
XLD | FLAC | Tracks (Cue&Log) ~ 240 Mb | Mp3 (CBR320) ~ 107 Mb | Scans included | 00:44:07
Hard Bop, Jazz-Blues, Guitar Jazz | Label: Analogue Productions, Blue Note | # CBNJ 84123 SA
Midnight Blue is a 1963 album by Jazz guitarist Kenny Burrell featuring Stanley Turrentine on tenor saxophone, Major Holley on double bass, Bill English on drums and Ray Barretto on conga, and is one of Burrell's best-known works for Blue Note. Jazz Improv Magazine lists the album among its top five recommended recordings for Burrell, indicating that "if you need to know 'the Blue Note sound', here it is". In 2005, NPR included the album in its "Basic Jazz Library", describing it as "one of the great jazzy blues records".
This album is one of guitarist Kenny Burrell's best-known sessions for the Blue Note label. Burrell is matched with tenor saxophonist Stanley Turrentine, bassist Major Holley, drummer Bill English, and Ray Barretto on conga for a blues-oriented date highlighted by "Chitlins Con Carne," "Midnight Blue," "Saturday Night Blues," and the lone standard "Gee Baby Ain't I Good to You".



Review by Scott Yanow, Allmusic.com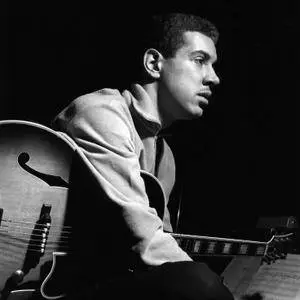 Kenny Burrell - guitar
Stanley Turrentine - tenor saxophone
Major Holley, Jr. - bass
Bill English - drums
Ray Barretto - conga
Recorded at the Van Gelder Studio, Englewood Cliffs, NJ on January 7, 1963.
Tracklist:
01. Chitlins con Carne (5:29)
02. Mule (6:56)
03. Soul Lament (2:44)
04. Midnight Blue (4:02)
05. Wavy Gravy (5:48)
06. Gee Baby, Ain't I Good to You (4:25)
07. Saturday Night Blues (6:18)
08. Kenny's Sound (4:45)
09. K Twist (3:41)
X Lossless Decoder version 20101212 (126.2)

XLD extraction logfile from 2011-01-07 08:57:15 +1000

Kenny Burrell / Midnight Blue

Used drive : OPTIARC DVD RW AD-5680H (revision 3AHB)

Ripper mode : XLD Secure Ripper
Disable audio cache : OK for the drive with a cache less than 1375KiB
Make use of C2 pointers : NO
Read offset correction : 48
Max retry count : 100
Gap status : Analyzed, Appended

TOC of the extracted CD
Track | Start | Length | Start sector | End sector
––––––––––––––––––––––––––––-
1 | 00:00:00 | 05:29:19 | 0 | 24693
2 | 05:29:19 | 06:56:02 | 24694 | 55895
3 | 12:25:21 | 02:43:55 | 55896 | 68175
4 | 15:09:01 | 04:01:65 | 68176 | 86315
5 | 19:10:66 | 05:47:70 | 86316 | 112410
6 | 24:58:61 | 04:24:54 | 112411 | 132264
7 | 29:23:40 | 06:17:69 | 132265 | 160608
8 | 35:41:34 | 04:44:53 | 160609 | 181961
9 | 40:26:12 | 03:40:51 | 181962 | 198512

AccurateRip Summary
Track 01 : OK (confidence 3)
Track 02 : OK (confidence 4)
Track 03 : OK (confidence 4)
Track 04 : OK (confidence 4)
Track 05 : OK (confidence 4)
Track 06 : OK (confidence 4)
Track 07 : OK (confidence 4)
Track 08 : OK (confidence 4)
Track 09 : OK (confidence 4)
->All tracks accurately ripped.

All Tracks
Album gain : -2.06 dB
Peak : 0.993591
Statistics
Read error : 0
Jitter error (maybe fixed) : 0
Retry sector count : 0
Damaged sector count : 0

Track 01
Filename : /Users/dbarnier/Music/XLD/01 - Chitlins con Carne.flac
Pre-gap length : 00:02:00

Track gain : -2.59 dB
Peak : 0.935913
CRC32 hash (test run) : BCBC5C6C
CRC32 hash : BCBC5C6C
CRC32 hash (skip zero) : 05D32CEE
AccurateRip signature : 27327D61
->Accurately ripped! (confidence 3)
Statistics
Read error : 0
Jitter error (maybe fixed) : 0
Retry sector count : 0
Damaged sector count : 0

Track 02
Filename : /Users/dbarnier/Music/XLD/02 - Mule.flac
Pre-gap length : 00:01:64

Track gain : -0.95 dB
Peak : 0.782623
CRC32 hash (test run) : A029BE34
CRC32 hash : A029BE34
CRC32 hash (skip zero) : 6FCAEB08
AccurateRip signature : 621675A5
->Accurately ripped! (confidence 4)
Statistics
Read error : 0
Jitter error (maybe fixed) : 0
Retry sector count : 0
Damaged sector count : 0

Track 03
Filename : /Users/dbarnier/Music/XLD/03 - Soul Lament.flac
Pre-gap length : 00:01:25

Track gain : -0.78 dB
Peak : 0.768982
CRC32 hash (test run) : 1DD5AA27
CRC32 hash : 1DD5AA27
CRC32 hash (skip zero) : 0CBD217E
AccurateRip signature : 7ADF9118
->Accurately ripped! (confidence 4)
Statistics
Read error : 0
Jitter error (maybe fixed) : 0
Retry sector count : 0
Damaged sector count : 0

Track 04
Filename : /Users/dbarnier/Music/XLD/04 - Midnight Blue.flac
Pre-gap length : 00:02:55

Track gain : -1.12 dB
Peak : 0.800659
CRC32 hash (test run) : E1CC6663
CRC32 hash : E1CC6663
CRC32 hash (skip zero) : 2B72457B
AccurateRip signature : 8C159B0A
->Accurately ripped! (confidence 4)
Statistics
Read error : 0
Jitter error (maybe fixed) : 0
Retry sector count : 0
Damaged sector count : 0

Track 05
Filename : /Users/dbarnier/Music/XLD/05 - Wavy Gravy.flac
Pre-gap length : 00:02:03

Track gain : -2.36 dB
Peak : 0.975952
CRC32 hash (test run) : 5377FEC2
CRC32 hash : 5377FEC2
CRC32 hash (skip zero) : F0E785C2
AccurateRip signature : B5DBEA0F
->Accurately ripped! (confidence 4)
Statistics
Read error : 0
Jitter error (maybe fixed) : 0
Retry sector count : 0
Damaged sector count : 0

Track 06
Filename : /Users/dbarnier/Music/XLD/06 - Gee Baby, Ain't I Good to You.flac
Pre-gap length : 00:01:74

Track gain : 3.23 dB
Peak : 0.675323
CRC32 hash (test run) : FA09E0E6
CRC32 hash : FA09E0E6
CRC32 hash (skip zero) : 44780FC7
AccurateRip signature : 93815BFE
->Accurately ripped! (confidence 4)
Statistics
Read error : 0
Jitter error (maybe fixed) : 0
Retry sector count : 0
Damaged sector count : 0

Track 07
Filename : /Users/dbarnier/Music/XLD/07 - Saturday Night Blues.flac
Pre-gap length : 00:01:61

Track gain : -3.52 dB
Peak : 0.988464
CRC32 hash (test run) : BD343CAC
CRC32 hash : BD343CAC
CRC32 hash (skip zero) : BD8ABD3D
AccurateRip signature : DD676BB2
->Accurately ripped! (confidence 4)
Statistics
Read error : 0
Jitter error (maybe fixed) : 0
Retry sector count : 0
Damaged sector count : 0

Track 08
Filename : /Users/dbarnier/Music/XLD/08 - Kenny's Sound.flac
Pre-gap length : 00:02:56

Track gain : -3.61 dB
Peak : 0.993591
CRC32 hash (test run) : 2EFAA2CD
CRC32 hash : 2EFAA2CD
CRC32 hash (skip zero) : B3D157FC
AccurateRip signature : 5E66A385
->Accurately ripped! (confidence 4)
Statistics
Read error : 0
Jitter error (maybe fixed) : 0
Retry sector count : 0
Damaged sector count : 0

Track 09
Filename : /Users/dbarnier/Music/XLD/09 - K Twist.flac
Pre-gap length : 00:03:10

Track gain : -1.01 dB
Peak : 0.915955
CRC32 hash (test run) : 38092500
CRC32 hash : 38092500
CRC32 hash (skip zero) : 859587F1
AccurateRip signature : 3851A167
->Accurately ripped! (confidence 4)
Statistics
Read error : 0
Jitter error (maybe fixed) : 0
Retry sector count : 0
Damaged sector count : 0

No errors occurred

End of status report
[CUETools log; Date: 12.08.2017 21:17:57; Version: 2.1.4]
[CTDB TOCID: c8rt4.HKLZwuRX2FE94S1Djekqg-] found.
Track | CTDB Status
1 | (26/27) Accurately ripped
2 | (26/27) Accurately ripped
3 | (26/27) Accurately ripped
4 | (26/27) Accurately ripped
5 | (26/27) Accurately ripped
6 | (26/27) Accurately ripped
7 | (26/27) Accurately ripped
8 | (26/27) Accurately ripped
9 | (26/27) Accurately ripped
[AccurateRip ID: 000f93aa-00715cde-620a5609] found.
Track [ CRC | V2 ] Status
01 [27327d61|de1265b3] (10+25/35) Accurately ripped
02 [621675a5|f442b2f5] (12+25/37) Accurately ripped
03 [7adf9118|17c068de] (12+25/37) Accurately ripped
04 [8c159b0a|f7675fa4] (12+25/37) Accurately ripped
05 [b5dbea0f|4b53225e] (12+25/37) Accurately ripped
06 [93815bfe|9ded918d] (12+25/37) Accurately ripped
07 [dd676bb2|9dddc3ce] (12+25/37) Accurately ripped
08 [5e66a385|69e1be0d] (12+25/37) Accurately ripped
09 [3851a167|1a6f2b91] (12+25/37) Accurately ripped

Track Peak [ CRC32 ] [W/O NULL]
– 99,3 [18EF7E05] [0E342D5F]
01 93,5 [BCBC5C6C] [05D32CEE]
02 78,2 [A029BE34] [6FCAEB08]
03 76,9 [1DD5AA27] [0CBD217E]
04 80,0 [E1CC6663] [2B72457B]
05 97,5 [5377FEC2] [F0E785C2]
06 67,5 [FA09E0E6] [44780FC7]
07 98,8 [BD343CAC] [BD8ABD3D]
08 99,3 [2EFAA2CD] [B3D157FC]
09 91,5 [38092500] [859587F1]
foobar2000 1.2 / Dynamic Range Meter 1.1.1
log date: 2017-08-12 20:51:18

––––––––––––––––––––––––––––––––––––––––
Analyzed: Kenny Burrell / Midnight Blue
––––––––––––––––––––––––––––––––––––––––

DR Peak RMS Duration Track
––––––––––––––––––––––––––––––––––––––––
DR13 -0.58 dB -17.33 dB 5:29 01-Chitlins con Carne
DR13 -2.13 dB -20.51 dB 6:56 02-Mule
DR14 -2.28 dB -20.73 dB 2:44 03-Soul Lament
DR14 -1.93 dB -18.70 dB 4:02 04-Midnight Blue
DR13 -0.21 dB -17.64 dB 5:48 05-Wavy Gravy
DR14 -3.41 dB -23.33 dB 4:25 06-Gee Baby, Ain't I Good to You
DR13 -0.10 dB -17.51 dB 6:18 07-Saturday Night Blues
DR12 -0.06 dB -16.72 dB 4:45 08-Kenny's Sound
DR13 -0.76 dB -18.78 dB 3:41 09-K Twist
––––––––––––––––––––––––––––––––––––––––

Number of tracks: 9
Official DR value: DR13

Samplerate: 44100 Hz
Channels: 2
Bits per sample: 16
Bitrate: 758 kbps
Codec: FLAC
================================================================================