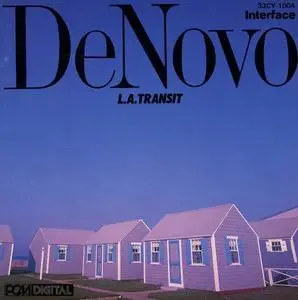 L.A. Transit - De Novo (1986)
XLD Rip | FLAC (tracks+.cue+log) - 256 MB | MP3 CBR 320 kbps (LAME 3.93) - 97 MB | Covers - 52 MB
Genre: Latin Jazz, Bossa Nova, MPB | RAR 3% Rec. | Label: Nippon Columbia (33CY-1004)
This almost-impossible-to-get CD by L.A. Transit is a historical landmark for Jazz and paticularly Brazilian Jazz; recorded in 1986 and released in Japan, japanese producers Kojima and Yoshida managed to summon some of the best jazzists in the world. They also managed to make an album that sounds so much like Sergio Mendes, without Sergio, but with many people who's played consistantly with Mr. Mendes in the past.
Tracklist:
01. Mas Que Nada
02. Wave
03. Zazueira
04. How Insensitive
05. Muito Mais
06. Agua de Beber
07. Pretty World
08. Anything Can Happen
09. Summer Without You
10. Tristeza
Total time:
41:19
X Lossless Decoder version 20181019 (151.1)

XLD extraction logfile from 2020-05-08 09:42:09 -0700

L.A. Transit / De Novo

Used drive : TSSTcorp CDDVDW SE-218CB (revision MF00)
Media type : Pressed CD

Ripper mode : XLD Secure Ripper
Disable audio cache : OK for the drive with a cache less than 1375KiB
Make use of C2 pointers : NO
Read offset correction : 6
Max retry count : 100
Gap status : Analyzed, Appended (except HTOA)

TOC of the extracted CD
Track | Start | Length | Start sector | End sector
––––––––––––––––––––––––––––-
1 | 00:00:00 | 04:46:32 | 0 | 21481
2 | 04:46:32 | 03:18:10 | 21482 | 36341
3 | 08:04:42 | 03:57:33 | 36342 | 54149
4 | 12:02:00 | 03:56:52 | 54150 | 71901
5 | 15:58:52 | 04:33:40 | 71902 | 92416
6 | 20:32:17 | 03:55:38 | 92417 | 110079
7 | 24:27:55 | 04:26:30 | 110080 | 130059
8 | 28:54:10 | 04:08:25 | 130060 | 148684
9 | 33:02:35 | 04:05:40 | 148685 | 167099
10 | 37:08:00 | 04:11:42 | 167100 | 185966

AccurateRip Summary (DiscID: 000f8949-007c55dd-8e09af0a)
Track 01 : OK (v1+v2, confidence 9/9)
Track 02 : OK (v1+v2, confidence 9/9)
Track 03 : OK (v1+v2, confidence 9/9)
Track 04 : OK (v1+v2, confidence 9/9)
Track 05 : OK (v1+v2, confidence 8/8)
Track 06 : OK (v1+v2, confidence 9/9)
Track 07 : OK (v1+v2, confidence 9/9)
Track 08 : OK (v1+v2, confidence 9/9)
Track 09 : OK (v1+v2, confidence 9/9)
Track 10 : OK (v1+v2, confidence 9/9)
->All tracks accurately ripped.

All Tracks
Album gain : -0.13 dB
Peak : 0.959015
Statistics
Read error : 0
Jitter error (maybe fixed) : 0
Retry sector count : 0
Damaged sector count : 0

Track 01
Filename : /Volumes/Multimedia/XLD/L.A. Transit - (1987) De Novo [FLAC]/01 - Mas Que Nada.flac
Pre-gap length : 00:02:00

Track gain : -1.47 dB
Peak : 0.959015
CRC32 hash (test run) : E51484DE
CRC32 hash : E51484DE
CRC32 hash (skip zero) : F74070D8
AccurateRip v1 signature : C0A43CEC
AccurateRip v2 signature : BABF00FF
->Accurately ripped (v1+v2, confidence 3+6/9)
Statistics
Read error : 0
Jitter error (maybe fixed) : 0
Retry sector count : 0
Damaged sector count : 0

Track 02
Filename : /Volumes/Multimedia/XLD/L.A. Transit - (1987) De Novo [FLAC]/02 - Wave.flac

Track gain : 1.00 dB
Peak : 0.802551
CRC32 hash (test run) : 4BC492D9
CRC32 hash : 4BC492D9
CRC32 hash (skip zero) : 38F6A0BB
AccurateRip v1 signature : 0667894A
AccurateRip v2 signature : 8CC5ADA1
->Accurately ripped (v1+v2, confidence 3+6/9)
Statistics
Read error : 0
Jitter error (maybe fixed) : 0
Retry sector count : 0
Damaged sector count : 0

Track 03
Filename : /Volumes/Multimedia/XLD/L.A. Transit - (1987) De Novo [FLAC]/03 - Zazueira.flac

Track gain : -0.21 dB
Peak : 0.844849
CRC32 hash (test run) : 6FCABB00
CRC32 hash : 6FCABB00
CRC32 hash (skip zero) : F4C2A267
AccurateRip v1 signature : 5F380BBB
AccurateRip v2 signature : C2DAE68B
->Accurately ripped (v1+v2, confidence 3+6/9)
Statistics
Read error : 0
Jitter error (maybe fixed) : 0
Retry sector count : 0
Damaged sector count : 0

Track 04
Filename : /Volumes/Multimedia/XLD/L.A. Transit - (1987) De Novo [FLAC]/04 - How Insensitive.flac

Track gain : 0.88 dB
Peak : 0.788177
CRC32 hash (test run) : C8B16692
CRC32 hash : C8B16692
CRC32 hash (skip zero) : A747491E
AccurateRip v1 signature : B6AFB684
AccurateRip v2 signature : 941B2760
->Accurately ripped (v1+v2, confidence 3+6/9)
Statistics
Read error : 0
Jitter error (maybe fixed) : 0
Retry sector count : 0
Damaged sector count : 0

Track 05
Filename : /Volumes/Multimedia/XLD/L.A. Transit - (1987) De Novo [FLAC]/05 - Muito Mais.flac

Track gain : 0.27 dB
Peak : 0.915405
CRC32 hash (test run) : CEF4F4F3
CRC32 hash : CEF4F4F3
CRC32 hash (skip zero) : 7EC4D90E
AccurateRip v1 signature : C666F281
AccurateRip v2 signature : BEB6BFC3
->Accurately ripped (v1+v2, confidence 3+5/8)
Statistics
Read error : 0
Jitter error (maybe fixed) : 0
Retry sector count : 0
Damaged sector count : 0

Track 06
Filename : /Volumes/Multimedia/XLD/L.A. Transit - (1987) De Novo [FLAC]/06 - Agua De Beber.flac

Track gain : -1.68 dB
Peak : 0.753479
CRC32 hash (test run) : 82E9241A
CRC32 hash : 82E9241A
CRC32 hash (skip zero) : 70FB0FD0
AccurateRip v1 signature : 48CB048C
AccurateRip v2 signature : 3B844C51
->Accurately ripped (v1+v2, confidence 3+6/9)
Statistics
Read error : 0
Jitter error (maybe fixed) : 0
Retry sector count : 0
Damaged sector count : 0

Track 07
Filename : /Volumes/Multimedia/XLD/L.A. Transit - (1987) De Novo [FLAC]/07 - Pretty World.flac

Track gain : -0.69 dB
Peak : 0.780304
CRC32 hash (test run) : C9C6DC06
CRC32 hash : C9C6DC06
CRC32 hash (skip zero) : 6DBAFAB8
AccurateRip v1 signature : 79A8234C
AccurateRip v2 signature : 9C825176
->Accurately ripped (v1+v2, confidence 3+6/9)
Statistics
Read error : 0
Jitter error (maybe fixed) : 0
Retry sector count : 0
Damaged sector count : 0

Track 08
Filename : /Volumes/Multimedia/XLD/L.A. Transit - (1987) De Novo [FLAC]/08 - Anything Can Happen.flac

Track gain : 0.45 dB
Peak : 0.913391
CRC32 hash (test run) : 1D8FCD95
CRC32 hash : 1D8FCD95
CRC32 hash (skip zero) : 3D919BE1
AccurateRip v1 signature : 542DFBC3
AccurateRip v2 signature : 1F192114
->Accurately ripped (v1+v2, confidence 3+6/9)
Statistics
Read error : 0
Jitter error (maybe fixed) : 0
Retry sector count : 0
Damaged sector count : 0

Track 09
Filename : /Volumes/Multimedia/XLD/L.A. Transit - (1987) De Novo [FLAC]/09 - Summer Without You.flac

Track gain : 1.22 dB
Peak : 0.676147
CRC32 hash (test run) : 13CC78DB
CRC32 hash : 13CC78DB
CRC32 hash (skip zero) : 4B3DEE07
AccurateRip v1 signature : AA41C8CC
AccurateRip v2 signature : F5BB2FB9
->Accurately ripped (v1+v2, confidence 3+6/9)
Statistics
Read error : 0
Jitter error (maybe fixed) : 0
Retry sector count : 0
Damaged sector count : 0

Track 10
Filename : /Volumes/Multimedia/XLD/L.A. Transit - (1987) De Novo [FLAC]/10 - Tristeza.flac

Track gain : 0.55 dB
Peak : 0.941833
CRC32 hash (test run) : 984500F2
CRC32 hash : 984500F2
CRC32 hash (skip zero) : E7E522A1
AccurateRip v1 signature : 3001BD34
AccurateRip v2 signature : 978A2EE4
->Accurately ripped (v1+v2, confidence 3+6/9)
Statistics
Read error : 0
Jitter error (maybe fixed) : 0
Retry sector count : 0
Damaged sector count : 0

No errors occurred

End of status report

––-BEGIN XLD SIGNATURE––-
9fdEGwJI.f5XtJZj4AcaVewsR._dqdepYD4iyCe3FoGgU1s_luT67c74IbgGrBU9lLrqC6cnMG7hHtUjPV5HLvqe7ziHzeQeBm5Zk4y
––-END XLD SIGNATURE––-

[CUETools log; Date: 28.09.2020 12:31:52; Version: 2.1.4]
[CTDB TOCID: yD9IuuZCoQMUrGTjMuuQMXWDQn8-] found.
Track | CTDB Status
1 | (21/21) Accurately ripped
2 | (21/21) Accurately ripped
3 | (21/21) Accurately ripped
4 | (21/21) Accurately ripped
5 | (21/21) Accurately ripped
6 | (21/21) Accurately ripped
7 | (21/21) Accurately ripped
8 | (21/21) Accurately ripped
9 | (21/21) Accurately ripped
10 | (21/21) Accurately ripped
[AccurateRip ID: 000f8949-007c55dd-8e09af0a] found.
Track [ CRC | V2 ] Status
01 [c0a43cec|babf00ff] (3+6/9) Accurately ripped
02 [0667894a|8cc5ada1] (3+6/9) Accurately ripped
03 [5f380bbb|c2dae68b] (3+6/9) Accurately ripped
04 [b6afb684|941b2760] (3+6/9) Accurately ripped
05 [c666f281|beb6bfc3] (3+5/8) Accurately ripped
06 [48cb048c|3b844c51] (3+6/9) Accurately ripped
07 [79a8234c|9c825176] (3+6/9) Accurately ripped
08 [542dfbc3|1f192114] (3+6/9) Accurately ripped
09 [aa41c8cc|f5bb2fb9] (3+6/9) Accurately ripped
10 [3001bd34|978a2ee4] (3+6/9) Accurately ripped

Track Peak [ CRC32 ] [W/O NULL]
– 95,9 [E566C9AE] [CE47FF61]
01 95,9 [E51484DE] [F74070D8]
02 80,2 [4BC492D9] [38F6A0BB]
03 84,4 [6FCABB00] [F4C2A267]
04 78,8 [C8B16692] [A747491E]
05 91,5 [CEF4F4F3] [7EC4D90E]
06 75,3 [82E9241A] [70FB0FD0]
07 78,0 [C9C6DC06] [6DBAFAB8]
08 91,3 [1D8FCD95] [3D919BE1]
09 67,6 [13CC78DB] [4B3DEE07]
10 94,1 [984500F2] [E7E522A1]
Thanks to the original releaser