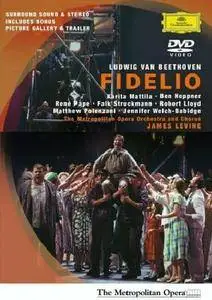 James Levine, The Metropolitan Opera Orchestra, Karita Mattila, Ben Heppner - Beethoven: Fidelio (2003)
NTSC 4:3 (720x480) | Deutsch (LinearPCM, 2 ch) | (DTS, 5 ch) | (Dolby AC3, 6 ch) | 7.60 Gb (DVD9) | 123 min
Classical | Deutsche Grammophon | Sub: Deutsch, English, Francais, Espanol, Chinese
The German stage director Jürgen Flimm – and his design team of Robert Israel and Florence von Gerkan – have set the opera in the second half of the 20th century and have costumed the action decidedly on the American side of the Atlantic Ocean. Such an approach follows the line of Flimm's other contemporary opera successes – for example his current Bayreuth Ring (premiered in 2000) or his 2001 Otello at the Berlin Staatsoper. Modernising the period does not become updating for its own sake. Rather, the actions and behaviour of the characters cunningly align contemporary manners with the existing prescriptions of a "period" libretto.