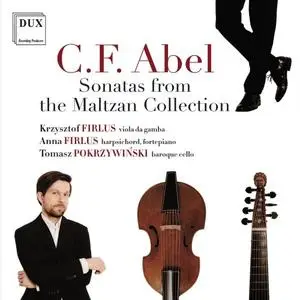 Anna Firlus, Krzysztof Firlus and Tomasz Pokrzywinski - Abel: Viola da gamba Sonatas (2019)
WEB FLAC (Tracks +Booklet) 352 MB | Cover | 01:00:43 | MP3 CBR 320 kbps | 147 MB
Classical | Label: DUX
I do not always choose to struggle with difficulties and play my full potential. I make my pieces difficult whenever I please, according to my disposition and that of my audience. It is in this concise manner that Carl Friedrich Abel characterised his performance skills, which in the life of the composer were widely recognised as a unique phenomenon. The album by Krzysztof Firlus, Anna Firlus, and Tomasz Pokrzywinski includes selected Abel's viola da gamba works from the recently discovered Maltzan family collection, made public by Polish musicologist Sonia Wronkowska.