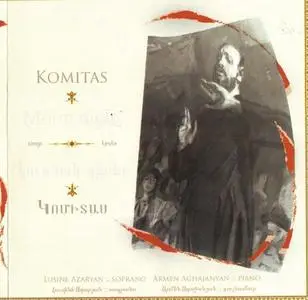 Komitas - Songs - Moon Night (Lusine Azaryan, Armen Aghajanyan) - 2005
EAC Rip | FLAC, TRACKs+CUE, LOG | Covers | 01:05:52 | 277.47 MB
Classical/Secred/Armneinan | AUDIT / no
As a professional singer, Hasmik Baghdasaryan, the soloist of the vocal ensemble Luys, appreciates the way the members of the Armenian quintet work together. The musicians' cooperation within the ensemble is very harmonious and cheerful but at the same time on a high professional level. When on tour, Luys presents two very exclusive pieces of music "Banin Hor" and "Ibr Zard": The first piece was specially written for Hasmik Baghdasaryan, while the other one has been composed by her good friend, the well-known Armenian composer and artist Vahan Artsruni. He gave Luys the exclusive right to sing this song, which is a great honor to the artists. Besides her work with Luys, Hasmik Baghdasaryan has recorded many albums with modern composers, as for example with the Greek composer Alkis Baltas; with Vahan Artsruni she has recorded music comprising the music era of more than 500 years; and she has transferred the music of Mesrop Mashtots into the modern music age….