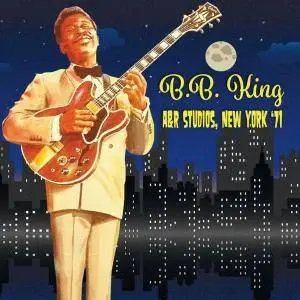 B.B. King - Live At The A&R Studios, New York '71
Chicago Blues | MP3 CBR 320 kbps | 71:59 min | 169 MB
Label: Klondike | Tracks: 16 | Rls.date: 2017
The late 1960s and early 70s announced a new era for the pioneering bluesman B.B. King. The world had woken up to one of America s truest icons and would finally hail his legacy in music. His October visit to New Yorks A&R Studios was just one of numerous dates that filled King s diary to bursting point that year. Having toured Europe and recorded with the cream of Londons blues players at Olympic Studios, and appeared on Ed Sullivans flagship show, it was time to host his latest four album releases. Klondike proudly presents the entire WPLJ-FM broadcast of B.B. King live in session at A&R Studios, NY on 26th October 1971.
TRACKLIST
1. WPLJ Intro ( 4:23)
2. Everyday I Have The Blues ( 1:35)
3. How Blue Can You Get ( 5:54)
4. Whole Lotta Love ( 3:26)
5. Instr. #1 ( 2:33)
6. Ghetto Woman ( 5:11)
7. I Got Some Help I Don't Need ( 6:16)
8. Ain't That Just Like A Woman ( 2:58)
9. Instr. #2 ( 4:09)
10. Sweet Sixteen ( 5:54)
11. Hummingbird Part 1 ( 3:23)
12. Hummingbird Part 2 ( 0:42)
13. I Need My Baby - Guess Who ( 7:35)
14. Band Intros ( 1:01)
15. The Thrill Is Gone ( 6:52)
16. Why I Sing The Blues - WPLJ Outro (10:07)