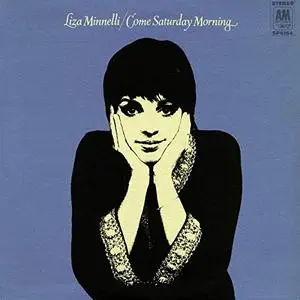 Liza Minnelli - Come Saturday Morning (Expanded Edition) (1969/2019)
WEB FLAC (Tracks) - 312 MB | Cover | MP3 CBR 320 kbps - 123 MB | 00:57:07
Pop, Jazz, Vocal Jazz | Label: A&M Records
In the late 1960s, conventional wisdom in the record industry held that traditional pop singers should turn from the showtunes of the interwar era they had been focusing on since Frank Sinatra's concept albums of the '50s and accommodate the rock revolution to the extent of covering soft rock songs written by the more sophisticated of the contemporary rock & roll songwriters, starting with John Lennon and Paul McCartney of the Beatles, and including such others as Burt Bacharach and Hal David. Still in her early 20s, Liza Minnelli may have been younger than many of the rock & rollers, but by 1968 she had been recording like a traditional pop singer for years, and when she signed to A&M Records after three solo LPs on Capitol, the label made the expected transition with her, picking Lennon & McCartney and Bacharach-David songs for her label debut, significantly titled Liza Minnelli. (Also included were tunes by the relatively unknown Randy Newman, Sonny Bono, Minnelli's husband Peter Allen, and her favorite Broadway songwriters, Kander & Ebb.) It didn't work commercially (the idea rarely did), and A&M became gun-shy about releasing any more Minnelli albums, although it put her in the recording studio later in 1968 and then sat on the results. With songs from the rock musical Hair all the rage in 1969 (the 5th Dimension's "Aquarius/Let the Sunshine In," the Cowsills' "Hair," Oliver's "Good Morning Starshine"), A&M had Minnelli cut the quirky "Frank Mills" from the score and released it as a one-off single, but that didn't work, either. Then, Minnelli starred in the film The Sterile Cuckoo, which opened in October 1969. Its theme song was Fred Karlin and Dory Previn's "Come Saturday Morning," a wistful ballad performed on the soundtrack by the Sandpipers, an A&M act. The label released both a Sandpipers single of it and a version by Minnelli that included some dialogue she had spoken in the film. When the Academy Award nominations came out in early 1970, Minnelli was nominated, and so was "Come Saturday Morning," which caused the Sandpipers' recording to take off in the charts and led A&M to conclude that the time finally was right for a new Minnelli album, consisting of material from the 1968 sessions, plus of course "Come Saturday Morning," which became the title track. It's another album like Liza Minnelli, combining then-current soft rock favorites like the 1968 Richard Harris hit "MacArthur Park" (actually only an excerpt from the lengthy song, coupled with another Harris-sung tune written by Jimmy Webb, "Didn't We"), the recent Peter, Paul & Mary hit "Leavin' on a Jet Plane" (written by John Denver), and songs by Newman, Gordon Lightfoot, and Harry Nilsson, plus a couple of old chestnuts and another song by Peter Allen. Minnelli gamely handles the newer songs (her reading of Newman's satiric "Love Story" is particularly clueless), but characteristically comes alive only when she gets to sing the old Tin Pan Alley song "Nevertheless (I'm in Love with You)" (copyright 1931), which is more her style. Oscar nominations or not, the public didn't bite, and Come Saturday Morning was Minnelli's fourth consecutive album to miss the charts.
TRACKLIST
01. Come Saturday Morning
02. Raggedy Ann & Raggedy Andy
03. Leavin' On A Jet Plane
04. Wailing Of The Willow
05. Nevertheless (I'm In Love With You)
06. Wherefore And Why
07. Love Story
08. On A Slow Boat To China
09. Don't Let Me Lose This Dream
10. Simon
11. MacArthur Park/Didn't We Medley
12. Frank Mills
13. Snow
14. Alicinha
15. Once In A Lifetime
16. Listen To Me
17. I 'm Looking Over A Four Leaf Clover
–––––––––––-
DON'T MODIFY THIS FILE
–––––––––––-
PERFORMER: auCDtect Task Manager, ver. 1.6.0 RC1 build 1.6.0.1
Copyright © 2008-2010 y-soft. All rights reserved
http://y-soft.org
ANALYZER: auCDtect: CD records authenticity detector, version 0.8.2
Copyright © 2004 Oleg Berngardt. All rights reserved.
Copyright © 2004 Alexander Djourik. All rights reserved.
FILE: 17. Liza Minnelli - I'm Looking Over A Four Leaf Clover.flac
Size: 12357889 Hash: CA3868F3E7C7B929D08C109A1FCCED23 Accuracy: -m0
Conclusion: CDDA 100%
Signature: BF5E5D79EA3F53A4537D71A806B9F7E954CC9178
FILE: 16. Liza Minnelli - Listen To Me.flac
Size: 23877533 Hash: E86311175802DD94BDF388FFA4EA6864 Accuracy: -m0
Conclusion: CDDA 100%
Signature: 4C3305F885F6B1D726E07C560D50C9875E184967
FILE: 15. Liza Minnelli - Once In A Lifetime.flac
Size: 21637460 Hash: 4E1059F4AEBAE2F0FD649719D4B05C31 Accuracy: -m0
Conclusion: CDDA 100%
Signature: 3C9CA48A05C7DC707FE9AF21BFD4D320DA76FF60
FILE: 14. Liza Minnelli - Alicinha.flac
Size: 21343343 Hash: 40213AB1B2EAFA257382F5BF282C1C3C Accuracy: -m0
Conclusion: CDDA 100%
Signature: 74F45CB1AAF97DBDACA5A0E9757277F10C084111
FILE: 13. Liza Minnelli - Snow.flac
Size: 15019581 Hash: 6EEB602490D155E58A67E249F940EEB5 Accuracy: -m0
Conclusion: CDDA 100%
Signature: AB495139997AA9D0AB574F5174AAC968EFD4908A
FILE: 12. Liza Minnelli - Frank Mills.flac
Size: 17032851 Hash: 6F1B754E41A5A8FF99A1F358CAC84640 Accuracy: -m0
Conclusion: CDDA 100%
Signature: F1DBA97F60E211B42475DA3A7E7138467B3ED61A
FILE: 11. Liza Minnelli - MacArthur Park-Didn't We Medley.flac
Size: 26582795 Hash: BBB4A751C05B5B718D5FCDACFA956016 Accuracy: -m0
Conclusion: CDDA 100%
Signature: 1DAC6A8637A430EAD21BF87E6F8F41C08A76DABF
FILE: 10. Liza Minnelli - Simon.flac
Size: 21446648 Hash: 38E0A4BDCC5F215A790465651B542132 Accuracy: -m0
Conclusion: CDDA 100%
Signature: 45762044EBC22383C4F6509A98D0A059CC7C808C
FILE: 09. Liza Minnelli - Don't Let Me Lose This Dream.flac
Size: 20627635 Hash: 4FEE6D9A941C7468210C5655A9D8D69A Accuracy: -m0
Conclusion: CDDA 100%
Signature: F191D9D74954064E6E556DDACC634AD2361A7BCF
FILE: 08. Liza Minnelli - On A Slow Boat To China.flac
Size: 20965494 Hash: D9AFF711B859CA58D2FB3B681F0B5CD3 Accuracy: -m0
Conclusion: CDDA 100%
Signature: 13E1656CD924F24AD8A688147919257C85C9024A
FILE: 07. Liza Minnelli - Love Story.flac
Size: 15531489 Hash: C74B49B7A9A9F7FBB41233F20AE9A331 Accuracy: -m0
Conclusion: CDDA 100%
Signature: D5E171C2A62FD1C5A6F6D995FABF165058756DDA
FILE: 06. Liza Minnelli - Wherefore And Why.flac
Size: 18283855 Hash: D2D7712BAEB1A1A4EED9B982812739D7 Accuracy: -m0
Conclusion: CDDA 100%
Signature: 6F4981AF18B62EB5CC8C2AC73EDBA05298D77FAF
FILE: 05. Liza Minnelli - Nevertheless (I'm In Love With You).flac
Size: 21536888 Hash: 7688A1B26B2B5EAC9FD3EA50E5AD1597 Accuracy: -m0
Conclusion: CDDA 100%
Signature: 0FC84B7E64767777FF855CE873B23D9BCF4A0DAA
FILE: 04. Liza Minnelli - Wailing Of The Willow.flac
Size: 13541710 Hash: F4F7D5C09677DA58BADBC22DDFB994A8 Accuracy: -m0
Conclusion: CDDA 100%
Signature: 39017E776DC5464DDC92DEC129CC0DD3A9D88E51
FILE: 03. Liza Minnelli - Leavin' On A Jet Plane.flac
Size: 23047560 Hash: 2D8FC21D4CBE39183041A06442166FDA Accuracy: -m0
Conclusion: CDDA 100%
Signature: 4D047F0089187ED933A54B210880796DD0810AA3
FILE: 02. Liza Minnelli - Raggedy Ann & Raggedy Andy.flac
Size: 22511278 Hash: 7CCAB08C81ADF314D70D55F4E2386E36 Accuracy: -m0
Conclusion: CDDA 100%
Signature: 53DCC9697F0D6F5AF8F45D5B897EF4CEA1BEB968
FILE: 01. Liza Minnelli - Come Saturday Morning.flac
Size: 11717231 Hash: E8BEFF77A7828A7D3CB91072AA86C175 Accuracy: -m0
Conclusion: CDDA 100%
Signature: 03419F3917D5DD980A15AB31A2514B80DDC89C5D
All thanks go to the original releaser