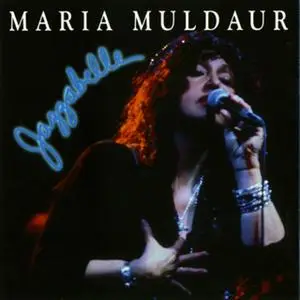 Maria Muldaur - Jazzabelle (1995)
WEB | FLAC (tracks) - 309 MB | MP3 (CBR 320 kbps) - 136 MB | 52:59
Genre: Vocal Jazz, Blues | Label: Stony Plain Records
Maria Muldaur has emerged as one of the top blues singers and there are a number of wonderful albums that she has out that explore different styles. Jazzabelle is more of a jazz album and I didn't enjoy it as much as her albums that are more oriented toward the blues. I am not a big fan of jazz anyway. In spite of that, I still have to give this a solid 5 stars. Whether you call it blues or jazz or a combination, Muldaur has the perfect voice and perfect delivery for either Jazz or Blues. She also seems to always have a good backup band, which always helps. If you like more of a jazz sound than a blues sound, I think you'll really like this album.
Track List:
01. Your Molecular Structure - 2:59
02. Weeping Willow Blues - 4:34
03. Everybody Cryin' Mercy - 4:49
04. Rio de Janeiro Blue - 3:45
05. You're My Thrill - 3:24
06. Long As You're Living - 2:03
07. Elona - 5:47
08. Do Your Duty - 2:28
09. Don't You Feel My Leg (Don't You Get Me High) - 2:44
10. September Rain - 6:32
11. Southern Music - 5:00
12. Where - 4:52
Personnel:
Maria Muldaur (vocals)
Jim Rothermel (saxophone)
David Matthews, David Torkanowsky, John Burr (piano)
Mike Hyman, Billy Kilson (drums)
–––––––––––-
DON'T MODIFY THIS FILE
–––––––––––-
PERFORMER: auCDtect Task Manager, ver. 1.6.0 RC1 build 1.6.0.1
Copyright © 2008-2010 y-soft. All rights reserved
http://y-soft.org
ANALYZER: auCDtect: CD records authenticity detector, version 0.8.2
Copyright © 2004 Oleg Berngardt. All rights reserved.
Copyright © 2004 Alexander Djourik. All rights reserved.
FILE: 1 Your Molecular Structure.flac
Size: 19761408 Hash: 43B44FE1C93A776702A3E3829BC9BAFC Accuracy: -m0
Conclusion: CDDA 99%
Signature: F23CB4B801B260D0B6A3BD0B620E1402F614BC14
FILE: 10 September Rain.flac
Size: 35040452 Hash: CE97553D32840A05315DA6C62F6C1447 Accuracy: -m0
Conclusion: CDDA 100%
Signature: 2A7E6D0556F8ECB717AE3CE07557006A0C170C91
FILE: 11 Southern Music.flac
Size: 23302663 Hash: 45E0E9B3DB9AA0EE8CFC96A4D46CF3A2 Accuracy: -m0
Conclusion: CDDA 100%
Signature: 7F0764968FA697B28D8D0D2568EEE37DD18C1D0C
FILE: 12 Where.flac
Size: 24006855 Hash: 46ED28F59F61A9A4A801EEFFF5402E10 Accuracy: -m0
Conclusion: CDDA 99%
Signature: AEB0943458C8E48E1F86AD3EDD740ACD0081A40A
FILE: 2 Weeping Willow Blues.flac
Size: 27181649 Hash: B12E0EAF943AAFEC7BDB4EF4A5B138DA Accuracy: -m0
Conclusion: CDDA 100%
Signature: 31C3ABDFBDE4239E7B807C8122E73A576BB2141B
FILE: 3 Everybody Cryin' Mercy.flac
Size: 28746695 Hash: 80CD8691ED4B2C1EAA36A7A3B21753F4 Accuracy: -m0
Conclusion: CDDA 100%
Signature: 7BF83916E6083159C540F57E460F7FC8F75B68D0
FILE: 4 Rio De Janeiro Blues.flac
Size: 20822640 Hash: 1B9DF9A37B0C105F4E93CABDCCFD490E Accuracy: -m0
Conclusion: CDDA 99%
Signature: FF82A1142CA925693FB67DA93DBDBE88A4821340
FILE: 5 You're My Thrill.flac
Size: 18313851 Hash: B72DB0473DB6B98B3E8AFC786C050029 Accuracy: -m0
Conclusion: CDDA 100%
Signature: 04BA116C365F436E82C3E6586AF317C59F1520E1
FILE: 6 Long As You're Living.flac
Size: 18752213 Hash: 279AB6DB1552EE70C70C8149898632E5 Accuracy: -m0
Conclusion: CDDA 100%
Signature: B8CF9AB40AF0141AD39FA7B2A0E50D6C37558EE5
FILE: 7 Elona.flac
Size: 31292689 Hash: 75D0FB2C0B075B1C4EC395D1881B6487 Accuracy: -m0
Conclusion: CDDA 99%
Signature: A23E9B703F712E68083DC89263152E87B2A2AF6B
FILE: 8 Do Your Duty.flac
Size: 22044411 Hash: 8C2792D367AE7D3CA7AE9393357BB0EC Accuracy: -m0
Conclusion: CDDA 100%
Signature: 4FF48CF51C7D6F49E093C318DBBBE20AD01E7CE7
FILE: 9 Don't You Feel My Leg (Don't You Get Me High).flac
Size: 25682173 Hash: 9277237176EA09EE13902B55604A1222 Accuracy: -m0
Conclusion: CDDA 100%
Signature: D69F525F9CFF8DB8A1F6AAFB0D097931480329C5
Download: