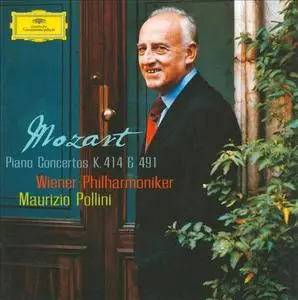 Maurizio Pollini - Mozart: Piano Concertos K.414 & K.491 (2007)
EAC | APE (image+.cue, log) | Covers Included | 55:12 | 250 MB
Genre: Classical | Label: Deutsche Grammophon | Catalog: B0010994-02
Here's the kind of big-name, big-budget Mozart concerto recording that's not as common as it used to be. And lo, even one of the giants of contemporary pianism shows signs of having encountered the leaner approach of historical performances, and even of having absorbed them. Maurizio Pollini, best known for Chopin and the other lyric Romantics, conducts the Vienna Philharmonic Orchestra from the keyboard. That's an accomplishment in itself with that group, as encrusted with slow precision as a Noh drama troupe. But Pollini molds the orchestra into a lively, almost brusque ensemble quite different from the smoothly elegant, highly controlled band it was in Karl Böhm's Mozart recordings, finishing phrases smartly and kicking off Pollini's solos with a bit of zip. Pollini does have a way of making Mozart sound like Chopin, which works best in the slow movements and in the big Piano Concerto No. 24 in C minor, K. 491, in general, where Pollini also succeeds in realizing the transparency of texture beloved of historically oriented groups; you end up appreciating the importance of Mozart's wind writing. The recording was made live, and the engineering both captures the spontaneity of the moment and delivers impressive fidelity. Anyone who has enjoyed Pollini's playing over the years will be delighted to find his approach intact and ingeniously applied to Mozart, a composer he has never recorded much.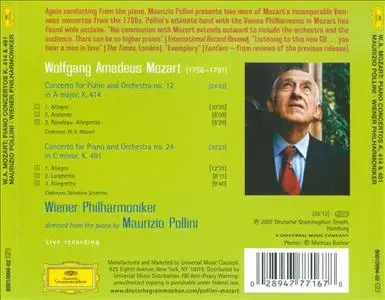 Track List:Concerto for Piano and Orchestra no.12 in A major, K.414
01. I. Allegro
02. II. Andante
03. III. Rondeau: Alegretto
Concerto for Piano and Orchestra no.24 in C minor, K.491
04. I. Allegro
05. II. Larghetto
06.III. Allegretto
Performers:
Maurizio Pollini
Wiener Philharmoniker
Exact Audio Copy V0.99 prebeta 4 from 23. January 2008

Отчёт EAC об извлечении, выполненном 27. августа 2009, 0:53

Maurizio Pollini - Wiener Philharmoniker / Mozart : Piano Concertos No.12 in A major, K.414 & No.24 in C minor, K.491

Дисковод: HL-DT-STDVDRAM GSA-H62N Adapter: 2 ID: 0

Режим чтения : Достоверность
Использование точного потока : Да
Отключение кэша аудио : Да
Использование указателей C2 : Нет

Коррекция смещения при чтении : 667
Способность читать области Lead-in и Lead-out : Нет
Заполнение пропущенных сэмплов тишиной : Да
Удаление блоков с тишиной в начале и конце : Нет
При вычислениях CRC использовались нулевые сэмплы : Да
Интерфейс : Установленный внешний ASPI-интерфейс

Выходной формат : Внутренние WAV-операции
Формат сэмплов : 44.100 Гц; 16 бит; стерео


TOC извлечённого CD

Трек | Старт | Длительность | Начальный сектор | Конечный сектор
––––––––––––––––––––––––––––––––––-
1 | 0:00.00 | 10:04.59 | 0 | 45358
2 | 10:04.59 | 8:08.45 | 45359 | 82003
3 | 18:13.29 | 6:35.00 | 82004 | 111628
4 | 24:48.29 | 12:31.32 | 111629 | 167985
5 | 37:19.61 | 8:11.34 | 167986 | 204844
6 | 45:31.20 | 9:40.31 | 204845 | 248375


Характеристики диапазона извлечения и сообщения об ошибках

Выбранный диапазон

Имя файла D:\временная\Maurizio Pollini - Wiener Philharmoniker - Mozart Piano Concertos No.12 in A major, K.414 & No.24 in C minor, K.491.wav

Пиковый уровень 100.0 %
Качество диапазона 99.9 %
CRC копии 4B3F8448
Копирование… OK

Ошибок не произошло


AccurateRip: сводка

Трек 1 точность не определена (достоверность 5) [0C4845A0], AccurateRip вернул [928322FF]
Трек 2 точность не определена (достоверность 5) [D89A8EA2], AccurateRip вернул [7C19C856]
Трек 3 точность не определена (достоверность 5) [7DE2A098], AccurateRip вернул [87CE1D4C]
Трек 4 точность не определена (достоверность 5) [73087717], AccurateRip вернул [C40E2174]
Трек 5 точность не определена (достоверность 5) [55BD391C], AccurateRip вернул [D31BF6BE]
Трек 6 точность не определена (достоверность 5) [555FF0CE], AccurateRip вернул [FDF34AA4]

Ни один трек не прошёл проверки на точность
В вашей базе может быть иной вариант штамповки диска

Конец отчёта
Thanks to the Original ripper (unknown)!

Download: