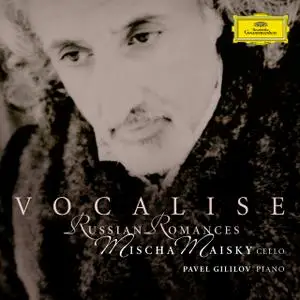 Mischa Maisky, Pavel Gililov - Vocalise: Russian Romances (2006)
WEB | FLAC (tracks) - 320 MB | 01:17:17
Genre: Classical | Label: Deutsche Grammophon
In this continuation of his successful series of 'songs without words' – songs for voice and piano transcribed for cello and piano – Mischa Maisky left the Austro-Germanic repertoire he had previously explored behind and turned to the songs of his motherland in this disc of Russian songs called "Vocalise." For fans of Maisky's earlier discs of Schubert, Mendelssohn and Brahms, no more needed to be said: the same sweetly singing tone, the same warm-hearted phrasing, the same vibrato, portamento and glissando that distinguished Maisky's those discs was fully present here. From Glinka's lighthearted "The Lark" to Tchaikovsky's aching "None but the Lonely Heart" to Glazunov's yearning "Desire" to Rachmaninoff's melancholic "Sing Not to Me, Beautiful Maiden," Maisky was as wholly committed to these songs as he was to those of Schubert and his performances with pianist Pavel Gililov were as convincing as could be imagined. While this might not work for those who prefer their songs with words or their cello music abstract, for lovers of cello music who wish the 19th century repertoire contained more short but affecting works by Russian composers, Maisky's disc will be just the thing.
Track List:
1. Applause
Glinka
2. Zhavoronok - Moderato
3. Kak Sladko S Toboyu Mne Byt' - Dolcissimo
4. Ne Iskushay Menya Bez Nuzhdy. Elegiya
5. Ya Pomnyu Chudnoye Mgnoven'ye - Moderato
Tchaikovsky
6. Kolybel'naya Pesnya Op.16 No.1 - Andantino
7. Net, Tol'ko Tot, Kto Znal… Op.6 No.6 - Andantino Non Tanto
8. Nochi Bezumnye, Nochi Bessonnye Op.60 No.6 - Andante Non Troppo, Poco Rubato
9. Noch' Op.60 No.9 - Moderato Assai
10. To Bylo Ranneyu Vesnoy Op.38 No.2
Dargomïzhsky
11. Mne Grustno - Ritenuto
Mussorgsky
12. Sleza - Largo-Andante Con Moto
Rubinstein
13. Romans Op.44 No.1 - Andante Con Moto
Rimsky-Korsakov
14. Redeyet Oblakov Letuchaya Gryada. Elegiya - Largo
15. Nimfa Op.56 No.1 - Aadante
16.'Vostochny Romans' Plenivshis' Rozoy, Solovey Op.2 No.2 - Moderto
Arensky
17. Ne Zazhigay Ognya! Op.38 No.3 - Allegro Moderato
Cui
18. Sozhonnoye Pis'mo Op.33 No.4 - Allegretto
Glazunov
19. Zhelaniye Op.60 No.2 - Moderto
Rachmaninov
20.  Ne Poy, Krasavitsa, Pri Mne! Op.4 No.4 - Lentamente. Molto Cantabile
21. Zdes' Khorosho - Moderto
22. Vocalise Op.34 No.14 - Lentamente. Molto Cantabile
Gurilyov
23. I Shuchno, I Grustno - Andantino
Anonymous
24. Ya Vstretil Vas… K.B. - Comodo
25. Applause
Performers:
Mischa Maisky, cello
Pavel Gililov, piano
–––––––––––-
DON'T MODIFY THIS FILE
–––––––––––-
PERFORMER: auCDtect Task Manager, ver. 1.6.0 RC1 build 1.6.0.1
Copyright © 2008-2010 y-soft. All rights reserved
http://y-soft.org
ANALYZER: auCDtect: CD records authenticity detector, version 0.8.2
Copyright © 2004 Oleg Berngardt. All rights reserved.
Copyright © 2004 Alexander Djourik. All rights reserved.
FILE: 1 Applause.flac
Size: 1709439 Hash: 3E528880ACDE61A69F16B19689B5C420 Accuracy: -m0
Conclusion: CDDA 100%
Signature: F45D1DD2F2CAAF4202D055E53972E6B78070C954
FILE: 10 Tchaikovsky- It was in early spring, Op.38, No.2 [To bylo ranneyu vesnoï] (feat. Pavel Gililov).flac
Size: 10716376 Hash: 29196B5A88B2DB139945517A4BCB5E28 Accuracy: -m0
Conclusion: CDDA 100%
Signature: FB49D71B6E63F6CBD33A6B1E269AB723D427E27B
FILE: 11 Dargomizhsky- Mne grustno (I am sad) (feat. Pavel Gililov).flac
Size: 6074644 Hash: B34C07217016FE820BA59B1DF41B6CAF Accuracy: -m0
Conclusion: CDDA 100%
Signature: E4DD81E2B49EC5EB0F6AB9FE0F1C9CCE0BA2BDE3
FILE: 12 Mussorgsky- Une Larme (Slejsa) (feat. Pavel Gililov).flac
Size: 13177707 Hash: 97158045B9A329B56D3038D5287D40AF Accuracy: -m0
Conclusion: CDDA 99%
Signature: 874726FD773964C37A4C73ED9A6C53A907EE70F9
FILE: 13 Rubinstein- Night (Noch'), Op. 48 No.8 (feat. Pavel Gililov).flac
Size: 10550503 Hash: 93166B900011699E0AB91ECF0010D564 Accuracy: -m0
Conclusion: CDDA 100%
Signature: F61825A886F0D9CB5547F426CF8B8EACC17A1FE6
FILE: 14 Rimsky-Korsakov- The Clouds Begin to Scatter, Op.42, No.3 (feat. Pavel Gililov).flac
Size: 13874704 Hash: 67C15EB933B3BEB7E3D2727B320BF789 Accuracy: -m0
Conclusion: CDDA 100%
Signature: 477FE337065AD0A5DEA5E61036C6ED4FF686B539
FILE: 15 Rimsky-Korsakov- The Nymph (Nimfa), op. 56 No.1 (feat. Pavel Gililov).flac
Size: 13452814 Hash: 69A8CC1F8C2401EEDBC05FEB2D6B4D64 Accuracy: -m0
Conclusion: CDDA 100%
Signature: BE1F29DD3E922AC6A78BEB6630349612668502F9
FILE: 16 Rimsky-Korsakov- Captivated by the Rose (The Nightingale), Op.2, No.2 [Plenivshis rozoï soloveï] (feat. Pavel Gililov).flac
Size: 11366262 Hash: D27AF5B09D1CFA30AF766F385397424B Accuracy: -m0
Conclusion: CDDA 99%
Signature: 886BD4BAFB7EB5B3CCE629BF182F056A37BF3326
FILE: 17 Arensky- Do not kindle the fire! (Ne zazhigaj ognja! ), op.38 No.3 (feat. Pavel Gililov).flac
Size: 9691777 Hash: 47957DD702A15A6C5011C3C02C7BBBA9 Accuracy: -m0
Conclusion: CDDA 100%
Signature: 30A714AA0D795A452FB34A7564C0B37CF362E1CB
FILE: 18 Cui- The Burned Letter (Sozhzhjonnoje pis'mo), op. 33 No.4 (feat. Pavel Gililov).flac
Size: 12545384 Hash: 4772BE2BC9A194E8F975E368433623BA Accuracy: -m0
Conclusion: CDDA 100%
Signature: B95E0602DBB39755E1AD619D1A31401BF4C2EBC1
FILE: 19 Glazunov- 6 Melodies, Op. 60 - Zhelanie (-Desire-), Op. 60 No.2 (feat. Pavel Gililov).flac
Size: 10582113 Hash: AF2E5FF5A01226379249EF01CEA84F7D Accuracy: -m0
Conclusion: CDDA 100%
Signature: 226B1F3CE47E69AA2FFB2363E0186B32ECEAD1DF
FILE: 2 Glinka- The Lark (Live) (feat. Pavel Gililov).flac
Size: 14862882 Hash: 8D7E77C7C49E16FB4B28AC17408D62B0 Accuracy: -m0
Conclusion: CDDA 100%
Signature: 8230242E435B08CA91A83BC899E24F131B5141B4
FILE: 20 Rachmaninov- Ne poy, krasavitsa, pri mne, Op.4, No.4 (feat. Pavel Gililov).flac
Size: 18180150 Hash: D79DDEC04A6698C81FFF17312999722C Accuracy: -m0
Conclusion: CDDA 100%
Signature: F8DBB0E29ABD7A8811D53A566CA22E9F81A5C640
FILE: 21 Rachmaninov- Zdes' khorosho, Op.21, No.7 (feat. Pavel Gililov).flac
Size: 7644180 Hash: F62199D26046FB2D15791614FDF6F938 Accuracy: -m0
Conclusion: CDDA 100%
Signature: 51A079E8D80A6CDB863868043C1E6CB0E9FAF2E9
FILE: 22 Rachmaninov- Vocalise, Op.34, No.14 - Vocalise, Op.34, No.14 - Version Cello And Piano (feat. Pavel Gililov).flac
Size: 26537831 Hash: A5DF2140301E068280278A828D720135 Accuracy: -m0
Conclusion: CDDA 100%
Signature: 120F769423CFFD4C12A56451A8812FAA60377FDA
FILE: 23 Gurilyov- I skuchno i grustno (I am Weary and Sad) (feat. Pavel Gililov).flac
Size: 10546069 Hash: D255382A5A96BB1E3126AA8C64908614 Accuracy: -m0
Conclusion: CDDA 100%
Signature: ED9C1F625A9E4106BA0BCCA83DB48E2F74C97BA9
FILE: 24 Anonymous- Ja vstretil vas (When I Met you) (feat. Pavel Gililov).flac
Size: 15624064 Hash: 6008931E024C8279E462415B07FACCC5 Accuracy: -m0
Conclusion: CDDA 100%
Signature: F4D3FE533A813AE306E0C082CFECBDBCD0AB1895
FILE: 25 Applause.flac
Size: 4167659 Hash: A694A78A57CC5CD9CB3C2BA81FA06E07 Accuracy: -m0
Conclusion: CDDA 100%
Signature: D6EFB9E5A35623722E7BD7194F00040DE4B64F71
FILE: 3 Glinka- Kak sladko s toboju mne byt' (How sweet to be with you) (feat. Pavel Gililov).flac
Size: 9523969 Hash: 889A0C0F610824A24B30B90CCE22C80F Accuracy: -m0
Conclusion: CDDA 100%
Signature: 930A3B3C389D6AA816BB57ED13D3E576FACCF207
FILE: 4 Glinka- Ne iskushay menya bez nuzhdi - Do not tempt me needlessly (feat. Pavel Gililov).flac
Size: 12435324 Hash: 939A5062086987154E3C172092BDC6D4 Accuracy: -m0
Conclusion: CDDA 100%
Signature: D854166A632D6B4F98FBFA3DCECDE4A35F4B3D5F
FILE: 5 Glinka- I remember the wonderful moment [Ya pommyu chudnoye mgnovene] (feat. Pavel Gililov).flac
Size: 15424350 Hash: AC35098135E16686C39EE332A185AD9C Accuracy: -m0
Conclusion: CDDA 100%
Signature: 9323F76C3E6BCD5BEC9B24F99CE96335C98153C8
FILE: 6 Tchaikovsky- Lullaby, Op.16, No.1 (Kolybelnaya pyesyen) (feat. Pavel Gililov).flac
Size: 16380370 Hash: 75873C29E0A476DAF46E09FE3A86A898 Accuracy: -m0
Conclusion: CDDA 100%
Signature: 90EECA20E676D33FA0A92D9253E3691AE85FAF22
FILE: 7 Tchaikovsky- None but the Lonely Heart, Op.6, No.6 (Nyet, tolko tot, kto znal) (feat. Pavel Gililov).flac
Size: 11449709 Hash: 4B30E796F2CE29BE8E6D47F9D63BDD4B Accuracy: -m0
Conclusion: CDDA 100%
Signature: 6C5F1BAA1A6288A5378190CB7497F81CCAA7DBB6
FILE: 8 Tchaikovsky- Nights of Delirium, Op.60, No.6 (feat. Pavel Gililov).flac
Size: 12335441 Hash: 3EDB34140DD12669902D01C74BAA2661 Accuracy: -m0
Conclusion: CDDA 100%
Signature: 9AD85E5E2234FF50D40D03C914BD3B216759EA44
FILE: 9 Tchaikovsky- Noch' (Night), Op. 60 No. 9 (feat. Pavel Gililov).flac
Size: 16594585 Hash: E89F040F7BC708E977074398F021D216 Accuracy: -m0
Conclusion: CDDA 100%
Signature: B265C549A7B07326F99C300BB948E2BF7DFBD6CD
Download: