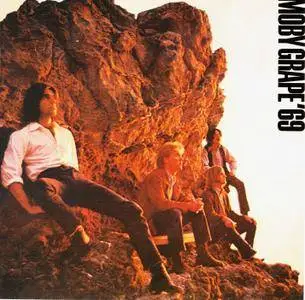 Moby Grape - Moby Grape '69 (1969) Expanded Remastered 2007
XLD | FLAC | Tracks (Cue&Log) ~ 290 Mb | Mp3 (CBR320) ~ 125 Mb | Scans included | 00:50:12
Psychedelic Rock, Folk-Rock, Country-Rock, Rock & Roll | Label: Sundazed Music | # SC 11193
Moby Grape '69 is the third album by the psychedelic rock band Moby Grape. It is the first album after the departure of co-founder Skip Spence. Spence nonetheless is heard on one song, "Seeing", presumably from the Wow/Grape Jam sessions, and positioned as the final song on Moby Grape '69. As Peter Lewis describes the album, "We made Moby Grape '69, in an attempt to rebound from the Wow album, which was over-produced. And it's a cool album. Although we could have rehearsed it a little more, we still believed in it. But I think we were waiting for Skippy to come back, and he never did." The album peaked at a disappointing number 113 on the Billboard chart. While it did not sell well at the time of its release, in a recent (2008) review, it is pointed out that the album would be particularly appreciated by persons who like the music of Poco and The Eagles. For Moby Grape fans at the time, the album was perhaps too country in musical orientation. In some respects, the album was ahead of its time, predating the more popular first country rock releases by Poco and The Eagles.
After the top-heavy overproduction of Wow and the meandering, aimless improvisations on Grape Jam, Moby Grape seemed to be getting back into the groove with their fourth album, simply titled Moby Grape '69. The liner notes by producer David Rubinson refer to the promotional hype that soured many fans to the virtues of Moby Grape and the excesses that had dogged the group since, and while his mea culpa goes a great deal further than it needs to, it does accompany an album that clearly found Moby Grape eager to get back to the business of playing straightforward, heartfelt rock & roll. Moby Grape '69 is concise enough – most of the songs are under three minutes and the whole thing clocks in at a shade under a half-hour – and the high points come close to recapturing the electric magic of the group's nearly flawless debut, especially the gritty groove of "Hoochie," the doo wop influenced boogie of "Ooh Mama Ooh," the beatific joy of "It's a Beautiful Day Today," the raucous celebration of one "Trucking Man," and the folk-tinged wisdom of "If You Can't Learn from My Mistakes." However, even though these sessions found guitarists Peter Lewis and Jerry Miller, bassist Bob Mosley and drummer Don Stevenson playing and singing at the top of their game and writing fine songs, the absence of Skip Spence, who left the band after Wow, robs Moby Grape '69 of a significant share of the energy and drive that was the hallmark of their finest studio work. It's significant that the album's most striking cut, the closer "Seeing," was written by Spence during the Wow sessions; it's a harrowing meditation of madness that may well be Spence's greatest song. Despite the obstacles presented by Spence's absence, Moby Grape '69 was a genuine step in the right direction for the band, and it's a shame they didn't get the chance to take greater advantage of their new clarity. Moby Grape '69 made its debut on compact disc in 2007 with a newly remastered and expanded edition from Sundazed Music. The original album sounds superb on disc thanks to Bob Irwin's new mastering, and seven bonus tracks fill out the disc. Three are demos from the pre-production on Moby Grape '69 that previously appeared on the out-of-print Grape anthology Vintage – "Soul Stew," "You Can Do Anything," and the goofy campfire singalong "Big." The remainder are early versions of four tunes that later appeared on the LP. The packaging beautifully re-creates Moby Grape '69's original artwork, and Gene Sculatti contributes an intelligent, well-written new liner essay. In short, Moby Grape fans who've been wondering when this album would finally get a digital upgrade will find this disc was well worth the wait.



Review by Mark Deming, Allmusic.com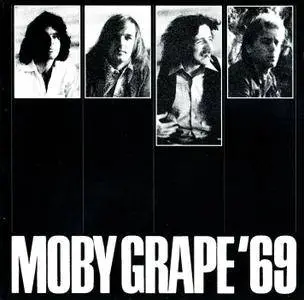 Tracklist:
01. Ooh Mama Ooh (2:26)
02. Ain't That A Shame (2:29)
03. I Am Not Willing (2:59)
04. It's A Beautiful Day Today (3:06)
05. Hoochie (4:21)
06. Trucking Man (2:00)
07. If You Can't Learn From My Mistakes (2:33)
08. Captain Nemo (1:44)
09. What's To Choose (1:57)
10. Going Nowhere (2:02)
11. Seeing (3:47)

Extra Tracks: Studio Recordings, 1967-1968

12. Soul Stew (2:21)
13. If You Can't Learn From My Mistakes (1:27)
14. You Can Do Anything (3:38)
15. It's A Beautiful Day Today (4:16)
16. What's To Choose (3:22)
17. Big (2:23)
18. Hoochie (3:19)
X Lossless Decoder version 20100711 (120.5)

XLD extraction logfile from 2010-08-12 13:36:55 -0400

Moby Grape / Moby Grape 69' (With Bonus Tracks)

Used drive : MATSHITA CD-RW CW-8221 (revision GA0J)

Use cdparanoia mode : YES (CDParanoia III 10.2 engine)
Disable audio cache : OK for the drive with cache less than 2750KB
Make use of C2 pointers : NO
Read offset correction : 102
Max retry count : 100
Gap status : Analyzed, Appended

TOC of the extracted CD
Track | Start | Length | Start sector | End sector
––––––––––––––––––––––––––––-
1 | 00:00:00 | 02:26:13 | 0 | 10962
2 | 02:26:13 | 02:28:63 | 10963 | 22125
3 | 04:55:01 | 02:58:63 | 22126 | 35538
4 | 07:53:64 | 03:06:03 | 35539 | 49491
5 | 10:59:67 | 04:21:28 | 49492 | 69094
6 | 15:21:20 | 02:00:01 | 69095 | 78095
7 | 17:21:21 | 02:33:30 | 78096 | 89600
8 | 19:54:51 | 01:43:65 | 89601 | 97390
9 | 21:38:41 | 01:57:24 | 97391 | 106189
10 | 23:35:65 | 02:01:71 | 106190 | 115335
11 | 25:37:61 | 03:47:22 | 115336 | 132382
12 | 29:25:08 | 02:21:33 | 132383 | 142990
13 | 31:46:41 | 01:26:69 | 142991 | 149509
14 | 33:13:35 | 03:38:32 | 149510 | 165891
15 | 36:51:67 | 04:15:68 | 165892 | 185084
16 | 41:07:60 | 03:22:37 | 185085 | 200271
17 | 44:30:22 | 02:22:68 | 200272 | 210989
18 | 46:53:15 | 03:18:50 | 210990 | 225889


Track 01
Filename : /Users/jzkatz/Music/01 - Ooh Mama Ooh.flac

Pre-gap length : 00:02:00

CRC32 hash (test run) : B48BDA7D
CRC32 hash : B48BDA7D
CRC32 hash (skip zero) : D221A0C0
AccurateRip signature : 17949BED
->Accurately ripped! (confidence 12)
Statistics
Read error : 0
Skipped (treated as error) : 0
Edge jitter error (maybe fixed) : 0
Atom jitter error (maybe fixed) : 0
Drift error (maybe fixed) : 0
Dropped bytes error (maybe fixed) : 0
Duplicated bytes error (maybe fixed) : 0
Inconsistency in error sectors : 0

Track 02
Filename : /Users/jzkatz/Music/02 - Ain't That A Shame.flac

CRC32 hash (test run) : F2E90CC8
CRC32 hash : F2E90CC8
CRC32 hash (skip zero) : BA213AA5
AccurateRip signature : 2CECD014
->Accurately ripped! (confidence 12)
Statistics
Read error : 0
Skipped (treated as error) : 0
Edge jitter error (maybe fixed) : 0
Atom jitter error (maybe fixed) : 0
Drift error (maybe fixed) : 0
Dropped bytes error (maybe fixed) : 0
Duplicated bytes error (maybe fixed) : 0
Inconsistency in error sectors : 0

Track 03
Filename : /Users/jzkatz/Music/03 - I Am Not Willing.flac

CRC32 hash (test run) : C42FAA3D
CRC32 hash : C42FAA3D
CRC32 hash (skip zero) : 57594B6B
AccurateRip signature : 8E20E249
->Accurately ripped! (confidence 12)
Statistics
Read error : 0
Skipped (treated as error) : 0
Edge jitter error (maybe fixed) : 0
Atom jitter error (maybe fixed) : 0
Drift error (maybe fixed) : 0
Dropped bytes error (maybe fixed) : 0
Duplicated bytes error (maybe fixed) : 0
Inconsistency in error sectors : 0

Track 04
Filename : /Users/jzkatz/Music/04 - It's A Beautiful Day Today.flac

CRC32 hash (test run) : 8B084C0C
CRC32 hash : 8B084C0C
CRC32 hash (skip zero) : 6F81C6E3
AccurateRip signature : EFB44AAC
->Accurately ripped! (confidence 12)
Statistics
Read error : 0
Skipped (treated as error) : 0
Edge jitter error (maybe fixed) : 0
Atom jitter error (maybe fixed) : 0
Drift error (maybe fixed) : 0
Dropped bytes error (maybe fixed) : 0
Duplicated bytes error (maybe fixed) : 0
Inconsistency in error sectors : 0

Track 05
Filename : /Users/jzkatz/Music/05 - Hoochie.flac

CRC32 hash (test run) : 1D8BBA10
CRC32 hash : 1D8BBA10
CRC32 hash (skip zero) : 64E906E9
AccurateRip signature : F0970D24
->Accurately ripped! (confidence 12)
Statistics
Read error : 0
Skipped (treated as error) : 0
Edge jitter error (maybe fixed) : 0
Atom jitter error (maybe fixed) : 0
Drift error (maybe fixed) : 0
Dropped bytes error (maybe fixed) : 0
Duplicated bytes error (maybe fixed) : 0
Inconsistency in error sectors : 0

Track 06
Filename : /Users/jzkatz/Music/06 - Trucking Man.flac

CRC32 hash (test run) : B72CB6F7
CRC32 hash : B72CB6F7
CRC32 hash (skip zero) : B53897A6
AccurateRip signature : E9018C5C
->Accurately ripped! (confidence 12)
Statistics
Read error : 0
Skipped (treated as error) : 0
Edge jitter error (maybe fixed) : 0
Atom jitter error (maybe fixed) : 0
Drift error (maybe fixed) : 0
Dropped bytes error (maybe fixed) : 0
Duplicated bytes error (maybe fixed) : 0
Inconsistency in error sectors : 0

Track 07
Filename : /Users/jzkatz/Music/07 - If You Can't Learn From My Mistakes.flac

CRC32 hash (test run) : EFC73E84
CRC32 hash : EFC73E84
CRC32 hash (skip zero) : B1D930F3
AccurateRip signature : DAA7E8C8
->Accurately ripped! (confidence 12)
Statistics
Read error : 0
Skipped (treated as error) : 0
Edge jitter error (maybe fixed) : 0
Atom jitter error (maybe fixed) : 0
Drift error (maybe fixed) : 0
Dropped bytes error (maybe fixed) : 0
Duplicated bytes error (maybe fixed) : 0
Inconsistency in error sectors : 0

Track 08
Filename : /Users/jzkatz/Music/08 - Captain Nemo.flac

CRC32 hash (test run) : 57A1A244
CRC32 hash : 57A1A244
CRC32 hash (skip zero) : 0D3F0929
AccurateRip signature : 846F9FF3
->Accurately ripped! (confidence 12)
Statistics
Read error : 0
Skipped (treated as error) : 0
Edge jitter error (maybe fixed) : 0
Atom jitter error (maybe fixed) : 0
Drift error (maybe fixed) : 0
Dropped bytes error (maybe fixed) : 0
Duplicated bytes error (maybe fixed) : 0
Inconsistency in error sectors : 0

Track 09
Filename : /Users/jzkatz/Music/09 - What's To Choose.flac

CRC32 hash (test run) : D24C2EA5
CRC32 hash : D24C2EA5
CRC32 hash (skip zero) : 08EB4422
AccurateRip signature : B158754B
->Accurately ripped! (confidence 12)
Statistics
Read error : 0
Skipped (treated as error) : 0
Edge jitter error (maybe fixed) : 0
Atom jitter error (maybe fixed) : 0
Drift error (maybe fixed) : 0
Dropped bytes error (maybe fixed) : 0
Duplicated bytes error (maybe fixed) : 0
Inconsistency in error sectors : 0

Track 10
Filename : /Users/jzkatz/Music/10 - Going Nowhere.flac

CRC32 hash (test run) : 08822B2B
CRC32 hash : 08822B2B
CRC32 hash (skip zero) : DCCD9E35
AccurateRip signature : 3A281809
->Accurately ripped! (confidence 12)
Statistics
Read error : 0
Skipped (treated as error) : 0
Edge jitter error (maybe fixed) : 0
Atom jitter error (maybe fixed) : 0
Drift error (maybe fixed) : 0
Dropped bytes error (maybe fixed) : 0
Duplicated bytes error (maybe fixed) : 0
Inconsistency in error sectors : 0

Track 11
Filename : /Users/jzkatz/Music/11 - Seeing.flac

CRC32 hash (test run) : 70BB303E
CRC32 hash : 70BB303E
CRC32 hash (skip zero) : 3FBA7AC0
AccurateRip signature : 7A5E947C
->Accurately ripped! (confidence 12)
Statistics
Read error : 0
Skipped (treated as error) : 0
Edge jitter error (maybe fixed) : 0
Atom jitter error (maybe fixed) : 0
Drift error (maybe fixed) : 0
Dropped bytes error (maybe fixed) : 0
Duplicated bytes error (maybe fixed) : 0
Inconsistency in error sectors : 0

Track 12
Filename : /Users/jzkatz/Music/12 - Soul Stew.flac

Pre-gap length : 00:02:69

CRC32 hash (test run) : 007E877C
CRC32 hash : 007E877C
CRC32 hash (skip zero) : 055C74C7
AccurateRip signature : 586A0550
->Accurately ripped! (confidence 11)
Statistics
Read error : 0
Skipped (treated as error) : 0
Edge jitter error (maybe fixed) : 0
Atom jitter error (maybe fixed) : 0
Drift error (maybe fixed) : 0
Dropped bytes error (maybe fixed) : 0
Duplicated bytes error (maybe fixed) : 0
Inconsistency in error sectors : 0

Track 13
Filename : /Users/jzkatz/Music/13 - If You Can't Learn From My Mistakes.flac

Pre-gap length : 00:02:69

CRC32 hash (test run) : 01083702
CRC32 hash : 01083702
CRC32 hash (skip zero) : 1DA48A9C
AccurateRip signature : 4228F0D6
->Accurately ripped! (confidence 11)
Statistics
Read error : 0
Skipped (treated as error) : 0
Edge jitter error (maybe fixed) : 0
Atom jitter error (maybe fixed) : 0
Drift error (maybe fixed) : 0
Dropped bytes error (maybe fixed) : 0
Duplicated bytes error (maybe fixed) : 0
Inconsistency in error sectors : 0

Track 14
Filename : /Users/jzkatz/Music/14 - You Can Do Anything.flac

Pre-gap length : 00:02:69

CRC32 hash (test run) : B53EDE53
CRC32 hash : B53EDE53
CRC32 hash (skip zero) : 1CD46680
AccurateRip signature : 01CEF2B4
->Accurately ripped! (confidence 11)
Statistics
Read error : 0
Skipped (treated as error) : 0
Edge jitter error (maybe fixed) : 0
Atom jitter error (maybe fixed) : 0
Drift error (maybe fixed) : 0
Dropped bytes error (maybe fixed) : 0
Duplicated bytes error (maybe fixed) : 0
Inconsistency in error sectors : 0

Track 15
Filename : /Users/jzkatz/Music/15 - It's A Beautiful Day Today.flac

Pre-gap length : 00:02:69

CRC32 hash (test run) : F8E2145B
CRC32 hash : F8E2145B
CRC32 hash (skip zero) : 7C9653DE
AccurateRip signature : A3ED4B4D
->Accurately ripped! (confidence 12)
Statistics
Read error : 0
Skipped (treated as error) : 0
Edge jitter error (maybe fixed) : 0
Atom jitter error (maybe fixed) : 0
Drift error (maybe fixed) : 0
Dropped bytes error (maybe fixed) : 0
Duplicated bytes error (maybe fixed) : 0
Inconsistency in error sectors : 0

Track 16
Filename : /Users/jzkatz/Music/16 - What's To Choose.flac

Pre-gap length : 00:02:69

CRC32 hash (test run) : C4E6C33F
CRC32 hash : C4E6C33F
CRC32 hash (skip zero) : 8AEC9318
AccurateRip signature : 512492D5
->Accurately ripped! (confidence 12)
Statistics
Read error : 0
Skipped (treated as error) : 0
Edge jitter error (maybe fixed) : 0
Atom jitter error (maybe fixed) : 0
Drift error (maybe fixed) : 0
Dropped bytes error (maybe fixed) : 0
Duplicated bytes error (maybe fixed) : 0
Inconsistency in error sectors : 0

Track 17
Filename : /Users/jzkatz/Music/17 - Big.flac

Pre-gap length : 00:02:69

CRC32 hash (test run) : F8839360
CRC32 hash : F8839360
CRC32 hash (skip zero) : 630542F0
AccurateRip signature : F95C6B9A
->Accurately ripped! (confidence 11)
Statistics
Read error : 0
Skipped (treated as error) : 0
Edge jitter error (maybe fixed) : 0
Atom jitter error (maybe fixed) : 0
Drift error (maybe fixed) : 0
Dropped bytes error (maybe fixed) : 0
Duplicated bytes error (maybe fixed) : 0
Inconsistency in error sectors : 0

Track 18
Filename : /Users/jzkatz/Music/18 - Hoochie.flac

Pre-gap length : 00:02:69

CRC32 hash (test run) : 11331717
CRC32 hash : 11331717
CRC32 hash (skip zero) : 43971CFA
AccurateRip signature : 00074723
->Accurately ripped! (confidence 12)
Statistics
Read error : 0
Skipped (treated as error) : 0
Edge jitter error (maybe fixed) : 0
Atom jitter error (maybe fixed) : 0
Drift error (maybe fixed) : 0
Dropped bytes error (maybe fixed) : 0
Duplicated bytes error (maybe fixed) : 0
Inconsistency in error sectors : 0

No errors occurred

End of status report
[CUETools log; Date: 17.03.2018 22:09:18; Version: 2.1.4]
[CTDB TOCID: a21sG.ySfJmlhKfGE8eUfFmOquo-] found.
Track | CTDB Status
1 | (21/21) Accurately ripped
2 | (21/21) Accurately ripped
3 | (21/21) Accurately ripped
4 | (21/21) Accurately ripped
5 | (21/21) Accurately ripped
6 | (21/21) Accurately ripped
7 | (21/21) Accurately ripped
8 | (21/21) Accurately ripped
9 | (21/21) Accurately ripped
10 | (21/21) Accurately ripped
11 | (21/21) Accurately ripped
12 | (21/21) Accurately ripped
13 | (21/21) Accurately ripped
14 | (21/21) Accurately ripped
15 | (21/21) Accurately ripped
16 | (21/21) Accurately ripped
17 | (21/21) Accurately ripped
18 | (21/21) Accurately ripped
[AccurateRip ID: 001fd7ba-01a8ec77-060bc312] found.
Track [ CRC | V2 ] Status
01 [17949bed|7ecf0fe4] (18+12/30) Accurately ripped
02 [2cecd014|c2243b98] (18+12/30) Accurately ripped
03 [8e20e249|3df14220] (18+12/30) Accurately ripped
04 [efb44aac|61c251ff] (18+12/30) Accurately ripped
05 [f0970d24|a40bcf4f] (18+12/30) Accurately ripped
06 [e9018c5c|ee8cb1ed] (18+12/30) Accurately ripped
07 [daa7e8c8|c51aae57] (18+12/30) Accurately ripped
08 [846f9ff3|9dbe5762] (18+12/30) Accurately ripped
09 [b158754b|39426d9f] (18+12/30) Accurately ripped
10 [3a281809|3e878d75] (18+12/30) Accurately ripped
11 [7a5e947c|fd36b6ca] (18+12/30) Accurately ripped
12 [586a0550|e2d6b03d] (17+12/29) Accurately ripped
13 [4228f0d6|080eee00] (17+12/29) Accurately ripped
14 [01cef2b4|2fcf3f7e] (17+12/29) Accurately ripped
15 [a3ed4b4d|09c1ec3c] (18+12/30) Accurately ripped
16 [512492d5|8c47af9f] (18+12/30) Accurately ripped
17 [f95c6b9a|fada8eea] (17+12/29) Accurately ripped
18 [00074723|4a6cb2d8] (18+12/30) Accurately ripped

Track Peak [ CRC32 ] [W/O NULL]
– 100,0 [8C3B1DBF] [5DC5885A]
01 100,0 [B48BDA7D] [D221A0C0]
02 100,0 [F2E90CC8] [BA213AA5]
03 100,0 [C42FAA3D] [57594B6B]
04 82,5 [8B084C0C] [6F81C6E3]
05 100,0 [1D8BBA10] [64E906E9]
06 95,3 [B72CB6F7] [B53897A6]
07 100,0 [EFC73E84] [B1D930F3]
08 100,0 [57A1A244] [0D3F0929]
09 100,0 [D24C2EA5] [08EB4422]
10 100,0 [08822B2B] [DCCD9E35]
11 98,1 [70BB303E] [3FBA7AC0]
12 99,9 [007E877C] [055C74C7]
13 76,4 [01083702] [1DA48A9C]
14 92,9 [B53EDE53] [1CD46680]
15 70,4 [F8E2145B] [7C9653DE]
16 89,4 [C4E6C33F] [8AEC9318]
17 92,8 [F8839360] [630542F0]
18 94,8 [11331717] [43971CFA]
foobar2000 1.2 / Dynamic Range Meter 1.1.1
log date: 2018-03-17 21:33:50

––––––––––––––––––––––––––––––––––––––––
Analyzed: Moby Grape / Moby Grape 69' (With Bonus Tracks)
––––––––––––––––––––––––––––––––––––––––

DR Peak RMS Duration Track
––––––––––––––––––––––––––––––––––––––––
DR12 0.00 dB -14.31 dB 2:26 01-Ooh Mama Ooh
DR13 0.00 dB -14.20 dB 2:29 02-Ain't That A Shame
DR12 0.00 dB -14.25 dB 2:59 03-I Am Not Willing
DR9 -1.67 dB -12.46 dB 3:06 04-It's A Beautiful Day Today
DR10 0.00 dB -11.88 dB 4:21 05-Hoochie
DR11 -0.41 dB -13.43 dB 2:00 06-Trucking Man
DR11 0.00 dB -13.19 dB 2:33 07-If You Can't Learn From My Mistakes
DR10 0.00 dB -11.16 dB 1:44 08-Captain Nemo
DR10 0.00 dB -12.04 dB 1:57 09-What's To Choose
DR11 0.00 dB -13.32 dB 2:02 10-Going Nowhere
DR9 -0.17 dB -12.42 dB 3:47 11-Seeing
DR9 0.00 dB -10.71 dB 2:21 12-Soul Stew
DR10 -2.33 dB -16.27 dB 1:27 13-If You Can't Learn From My Mistakes
DR9 -0.63 dB -11.60 dB 3:38 14-You Can Do Anything
DR13 -3.04 dB -19.27 dB 4:16 15-It's A Beautiful Day Today
DR11 -0.97 dB -13.64 dB 3:22 16-What's To Choose
DR11 -0.65 dB -14.78 dB 2:23 17-Big
DR9 -0.46 dB -11.93 dB 3:19 18-Hoochie
––––––––––––––––––––––––––––––––––––––––

Number of tracks: 18
Official DR value: DR11

Samplerate: 44100 Hz
Channels: 2
Bits per sample: 16
Bitrate: 799 kbps
Codec: FLAC
================================================================================