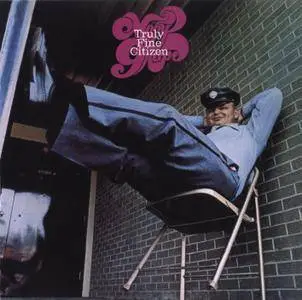 Moby Grape - Truly Fine Citizen (1969) Expanded Remastered 2007
EAC | FLAC | Image (Cue&Log) ~ 327 Mb | Mp3 (CBR320) ~ 138 Mb | Scans included | 00:54:47
Psychedelic Rock, Folk-Rock, Country-Rock | Label: Sundazed Music | # SC 11194
Like many rock artists who trekked to Nashville in the late-'60s to lay down or pick up roots, Moby Grape emerged with an LP that stripped the band back to its core strengths to make music that was simple yet effective. Produced by Bob Johnston (Bob Dylan, Johnny Cash, Simon & Garfunkel), Truly Fine Citizen finds the San Francisco group, now down to a trio, keying in on songwriting and vocals. Highlights include guitarist Peter Lewis' countrified album-opener "Changes, Circles Spinning," his tender, almost Neil Young-ish ballad "Now I Know High" and Jerry Miller and Skip Spence's rollicking "Tongue-Tied." An unpretentious – and underrated – album of the '60s.
1969's Truly Fine Citizen was the last gasp for the original incarnation of Moby Grape. The departures of guitarist Skip Spence and bassist Bob Mosley had reduced the once-mighty band to a trio, and sessionman Bob Moore had to be brought in to fill out the lineup. Columbia Records decided Moby Grape needed a break from producer and studio collaborator David Rubinson, and they were sent to Nashville to record with Bob Johnston, best known for his work with Bob Dylan. Johnston reportedly began the sessions by announcing the album had to be recorded in a mere three days, and if the musicians didn't like it they were free to leave. And Moby Grape were in the midst of an ugly legal dispute with their manager that resulted in most of the songs on the album being credited to Tom Dell'ara, their road manager. Given all this, it's a pleasant surprise that Truly Fine Citizen isn't a disaster – it's a loose but amiable set of sunny psychedelic pop-rock with a decided country influence. Guitarists Peter Lewis and Jerry Miller had already shown their country leanings on Moby Grape '69, and here it comes to the forefront with some solid Nashville-style picking, and their harmonies with drummer Don Stevenson remain one of the highlights of the group's sound. There are a few good songs on board, including "Looper" (which had been in the Grape's repertoire since their earliest days), the sunny "Changes, Circles Spinning" and the title cut, a tribute to a mystic healer the band had met on the road. But Truly Fine Citizen was basically a rush job recorded to finish out Moby Grape's contract with Columbia, and too much of the time that's just what it sounds like, despite the obvious talent of the musicians, and the jazzy "Love Song, Pt. Two" and "Now I Know High," which at 6:14 meanders twice as long as the album's second longest tune, are clear filler on an album that's barely over a half-hour long. Moby Grape were still capable of making a good album when they cut Truly Fine Citizen, but they scarcely had the opportunity to demonstrate that. [Truly Fine Citizen had never been available on compact disc when it was reissued by Sundazed Music in 2007 in a remastered and expanded edition. Bob Irwin's new master flatters the album's straightforward production, and seven bonus tracks have been added to the song list. As one might expect from an album cut in three days, there are no outtakes from Truly Fine Citizen available; instead, the disc closes out with three excellent live tunes recorded in 1968, and a demo for "Seeing," which the group recorded on Moby Grape '69. These four cuts all appeared on the out of print Moby Grape compilation Vintage, but three additional performances exclusive to this release are also included – demos of "Looper," "Soul Stew," and "Tongue-Tied," appearing under its original title, "Cockatoo Blues." A fine liner essay by Gene Sculatti and quality packaging make for an unexpectedly glossy reissue of an album with an understandably spotty reputation, though it's genuinely better than its usually given credit for.]



Review by Mark Deming, Allmusic.com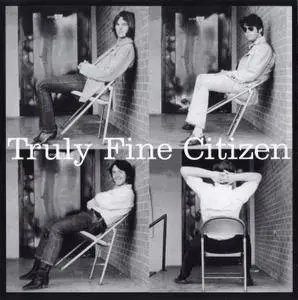 Tracklist:
01. Changes, Circles Spinning (2:30)
02. Looper (3:06)
03. Truly Fine Citizen (1:51)
04. Beautiful Is Beautiful (2:33)
05. Love Song (2:25)
06. Right Before My Eyes (2:05)
07. Open Up Your Heart (2:39)
08. Now I Know High (6:14)
09. Treat Me Bad (2:20)
10. Toungue-Tied (2:04)
11. Love Song, Part Two (2:46)

Extra Tracks: Live & Studio Recordings, 1967-1968

12. Rounder (Live - Recorded 1968) (2:03)
13. Miller's Blues (Live - Recorded 1968) (6:07)
14. Changes (Live - Recorded 1968) (4:20)
15. Skip's Song (Demo of ''Seeing'' - Recorded Nov 6, 1967) (3:30)
16. Looper (Demo - Recorded Nov 6, 1967) (2:10)
17. Soul Stew (Instrumental - Recorded May 28, 1968) (2:22)
18. Cockatoo Blues (Demo - Recorded Apr 30, 1968) (3:42)
Отчёт EAC об извлечении, выполненном 2. августа 2011, 13:46 для диска:
Moby Grape / Truly Fine Citizen (Remastered + Expanded)

Дисковод: SONY DVD RW DRU-880S Adapter: 3 ID: 0
Режим чтения: Достоверный (C2: нет, Точный поток: да, Отключение кэша: да)
Коррекция смещения при чтении: 48
Способность читать области Lead-in и Lead-out : Нет

Выходной формат: Внутренние WAV-операции
44.100 Гц; 16 бит; стерео

Другие параметры:
Заполнение пропущенных сэмплов тишиной : Да
Удаление блоков с тишиной в начале и конце : Нет
Встроенный Win32-интерфейс для Win NT/2000


Характеристики диапазона извлечения и сообщения об ошибках
Выбранный диапазон
Имя файла E:\TMP\Moby Grape - Truly Fine Citizen (Remastered + Expanded).wav

Пиковый уровень 100.0 %
Качество диапазона 100.0 %
CRC 7268B8C1
Копирование… OK

Ошибок не произошло

Конец отчёта
[CUETools log; Date: 22.03.2018 22:34:35; Version: 2.1.4]
[CTDB TOCID: xblZ15JUo9moaJ2LQxL2ukWV1zc-] found.
Track | CTDB Status
1 | (14/14) Accurately ripped
2 | (14/14) Accurately ripped
3 | (14/14) Accurately ripped
4 | (14/14) Accurately ripped
5 | (14/14) Accurately ripped
6 | (14/14) Accurately ripped
7 | (14/14) Accurately ripped
8 | (13/14) Accurately ripped
9 | (14/14) Accurately ripped
10 | (14/14) Accurately ripped
11 | (14/14) Accurately ripped
12 | (14/14) Accurately ripped
13 | (14/14) Accurately ripped
14 | (14/14) Accurately ripped
15 | (14/14) Accurately ripped
16 | (14/14) Accurately ripped
17 | (14/14) Accurately ripped
18 | (14/14) Accurately ripped
[AccurateRip ID: 0021d3a8-01cc16cf-060cd612] found.
Track [ CRC | V2 ] Status
01 [f1c69647|85cccafb] (12+09/21) Accurately ripped
02 [3d5a5b0c|08c78553] (12+09/21) Accurately ripped
03 [b66408ab|cf92e8ec] (12+09/21) Accurately ripped
04 [95afc97b|7f526233] (12+09/21) Accurately ripped
05 [93fde42c|478f83ad] (11+09/20) Accurately ripped
06 [6cab81b9|b87c43fb] (11+09/20) Accurately ripped
07 [bea811a2|50f42480] (12+09/21) Accurately ripped
08 [db8ccc6e|10e74f93] (12+09/21) Accurately ripped
09 [ea4eaac4|9ab05c28] (12+09/21) Accurately ripped
10 [d2f54e79|d4e468c4] (12+09/21) Accurately ripped
11 [01e858ca|136cc4b5] (12+09/21) Accurately ripped
12 [19cdc841|7a767973] (12+09/21) Accurately ripped
13 [6f5cb26a|b3fceab0] (12+09/21) Accurately ripped
14 [c107bef6|382ec20f] (12+09/21) Accurately ripped
15 [f6de58d2|08e0e29e] (11+09/20) Accurately ripped
16 [47878e53|4d7087cc] (12+09/21) Accurately ripped
17 [6b6fcc4d|35f0e0c9] (12+09/21) Accurately ripped
18 [e5fa37ca|37c6028a] (12+09/21) Accurately ripped

Track Peak [ CRC32 ] [W/O NULL]
– 100,0 [7268B8C1] [CF02EFEE]
01 100,0 [7C7B0B1E] [F50C881B]
02 100,0 [0B6C531D] [32B8CE7D]
03 100,0 [93518E6C] [264CC420]
04 100,0 [2FBCD92A] [B3608E43]
05 100,0 [3B1B0783] [CF98A2A3]
06 100,0 [61415BC9] [08653727]
07 83,6 [41B39930] [05A05C32]
08 99,9 [51FA6D0B] [4EC353D8]
09 100,0 [3EDB0FC8] [5F2D76D0]
10 100,0 [DE3AD98F] [907EB078]
11 100,0 [BD9EEDF7] [6B777589]
12 100,0 [1A73D3E6] [2E3DF8F7]
13 99,9 [CB43A089] [380A4724]
14 99,9 [7050BC05] [D58D2E02]
15 84,1 [75686F48] [E621A47E]
16 84,1 [8EA1B683] [4D69F1F3]
17 84,1 [49D8B89D] [4AFECC03]
18 77,7 [DEE8FE9A] [8948D5C4]
foobar2000 1.2 / Dynamic Range Meter 1.1.1
log date: 2018-03-22 23:18:43

––––––––––––––––––––––––––––––––––––––––
Analyzed: Moby Grape / Truly Fine Citizen (Remastered + Expanded)
––––––––––––––––––––––––––––––––––––––––

DR Peak RMS Duration Track
––––––––––––––––––––––––––––––––––––––––
DR12 0.00 dB -14.25 dB 2:30 01-Changes, Circles Spinning
DR12 0.00 dB -13.67 dB 3:06 02-Looper
DR11 0.00 dB -12.64 dB 1:51 03-Truly Fine Citizen
DR11 0.00 dB -13.09 dB 2:33 04-Beautiful Is Beautiful
DR14 0.00 dB -15.88 dB 2:25 05-Love Song
DR13 0.00 dB -16.80 dB 2:05 06-Right Before My Eyes
DR11 -1.55 dB -15.00 dB 2:39 07-Open Up Your Heart
DR13 0.00 dB -15.05 dB 6:14 08-Now I Know High
DR13 0.00 dB -14.61 dB 2:20 09-Treat Me Bad
DR12 0.00 dB -15.02 dB 2:04 10-Toungue-Tied
DR14 0.00 dB -17.67 dB 2:46 11-Love Song, Part Two
DR11 0.00 dB -13.22 dB 2:03 12-Rounder (Live - Recorded 1968)
DR12 0.00 dB -15.34 dB 6:07 13-Miller's Blues (Live - Recorded 1968)
DR12 0.00 dB -13.81 dB 4:20 14-Changes (Live - Recorded 1968)
DR10 -1.50 dB -13.54 dB 3:30 15-Skip's Song (Demo of ''Seeing'' - Recorded Nov 6, 1967)
DR8 -1.50 dB -11.71 dB 2:10 16-Looper (Demo - Recorded Nov 6, 1967)
DR8 -1.50 dB -11.58 dB 2:22 17-Soul Stew (Instrumental - Recorded May 28, 1968)
DR8 -2.18 dB -10.95 dB 3:42 18-Cockatoo Blues (Demo - Recorded Apr 30, 1968)
––––––––––––––––––––––––––––––––––––––––

Number of tracks: 18
Official DR value: DR11

Samplerate: 44100 Hz
Channels: 2
Bits per sample: 16
Bitrate: 804 kbps
Codec: FLAC
================================================================================