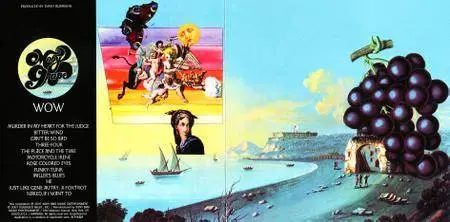 Moby Grape - Wow (1968) Expanded Remastered 2007
EAC | FLAC | Tracks (Cue&Log) ~ 340 Mb | Mp3 (CBR320) ~ 160 Mb | Scans included | 00:59:19
Psychedelic Rock, Folk-Rock, Country-Rock, Blues-Rock | Label: Sundazed Music | # SC 11191
Wow, the sophomore album by multi-talented Moby Grape, brims with ambition, adventure and a determination to show the world the San Francisco quintet could do it all. Firmly in the post-Pepper spirit of the day, the set, first issued in 1968, features everything from taut rockers and blistering blues to touching melodic ballads, country waltzes and the outright unclassifiable. The band's guitar-heavy sound is augmented in spots with piano, brass, string orchestration and, in its original vinyl incarnation, one track made to be played at 78-rpm.
Between the time that Moby Grape released their brilliant self-titled debut and when their second album Wow appeared in 1968, a little thing called Sgt. Pepper's Lonely Hearts Club Band happened, and for the next few years it was no longer enough for a band with some claim to importance to just play rock & roll, even if they approached it with the freshness and imagination Moby Grape displayed on their first LP. Bowing to the pervading influences of the day, Wow is a far more ambitious album than Moby Grape, trading in the latter's energetic simplicity for an expansive production complete with strings, horns, and lots of willful eccentricity, best typified by the helium-treated vocals on the hillbilly pastiche "Funky Tunk" and "Just Like Gene Autry: A Foxtrot," a woozy '60s dance band number complete with introduction from Arthur Godfrey (the band went so far as to master the tune at 78 rpm on the original vinyl edition). While at first glance Wow pales in comparison to the instant classic Moby Grape, repeated listening reveals this album has plenty of strengths despite the excess gingerbread; the horn-driven boogie of "Can't Be So Bad" swings hard, "Murder in My Heart for the Judge" is a tough and funky blues number, "He," "Rose Colored Eyes," and "Bitter Wind" are lovely folk-rock tunes with shimmering harmonies (even if the latter is marred by a pretentious noise collage at the close), and "Motorcycle Irene" is a witty tribute to a hard-livin' biker mama. Wow lacks the rev-it-up spirit of Moby Grape's masterpiece, but Peter Lewis, Jerry Miller, and Skip Spence's guitar work is just as impressive and richly layered, and the group's harmonies and songwriting chops are still in solid shape. While the unobtrusive production on Moby Grape showcased the group's many virtues, those attributes are visible on Wow despite the layers of studio excess, which sapped the momentum and charm of this band without snuffing them out altogether. [Sundazed's 2007 CD reissue of Wow marks its first complete appearance on compact disc (an earlier edition on San Francisco Sound lopped off "Just Like Gene Autry" and offered poor audio quality), and the remastering from Bob Irwin is excellent, giving the vintage recordings a rich, full-bodied sound that flatters the group's performances. Along with attractive graphics and liner notes from Gene Sculatti, the Sundazed release includes six bonus tracks – a harder and more straightforward take of the opening cut "The Place and the Time," an alternate version of "Miller's Blues" with plenty of gutsy guitar soloing, session outtakes "Loosely Remembered" and "What's to Choose," a demo for the otherwise unrecorded "Stop," and an early take of Skip Spence's epochal "Seeing," which the band would return to for their next album, Moby Grape '69. Wow is a better and more interesting album than its checkered reputation might lead you to expect, and Sundazed's CD is the best place to explore its qualities.]



Review by Mark Deming, Allmusic.com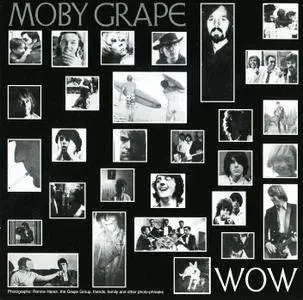 Tracklist:
01. The Place and the Time (2:07)
02. Murder in My Heart for the Judge (2:58)
03. Bitter Wind (3:09)
04. Can't Be So Bad (3:41)
05. Just Like Gene Autry; A Foxtrot (3:05)
06. He (3:36)
07. Motorcycle Irene (2:23)
08. Three-Four (5:01)
09. Funky-Tunk (2:11)
10. Rose Colored Eyes (4:00)
11. Miller's Blues (5:22)
12. Naked, If I Want To (0:52)

Extra Tracks: Studio Recordings, 1967-1968

13. The Place and the Time (alternate version) (2:27)
14. Stop (demo) (2:24)
15. Loosely Remembered (3:27)
16. Miller's Blues (alternate version) (5:23)
17. What's to Choose (2:03)
18. Seeing (5:11)
EAC extraction logfile from 10. October 2007, 19:43 for CD
Moby Grape / Wow

Used drive : PHILIPS DVD+-RW DVD8631 Adapter: 1 ID: 0
Read mode : Secure with NO C2, accurate stream, disable cache
Read offset correction : 618
Overread into Lead-In and Lead-Out : No

Used output format : C:\Program Files\Exact Audio Copy\flac.exe (User Defined Encoder)
256 kBit/s
Additional command line options : -8 -V -T "artist=%a" -T "title=%t" -T "album=%g" -T "date=%y" -T "tracknumber=%n" -T "genre=%m" %s

Other options :
Fill up missing offset samples with silence : Yes
Delete leading and trailing silent blocks : No
Installed external ASPI interface


Track 1
Filename C:\Documents and Settings\Mike\My Documents\(01) -Moby Grape -Wow - The Place and the Time.wav

Pre-gap length 0:00:02.00

Peak level 98.4 %
Track quality 100.0 %
Test CRC 4C9AEC09
Copy CRC 4C9AEC09
Copy OK

Track 2
Filename C:\Documents and Settings\Mike\My Documents\(02) -Moby Grape -Wow - Murder in My Heart for the Judge.wav

Peak level 100.0 %
Track quality 100.0 %
Test CRC F81FE690
Copy CRC F81FE690
Copy OK

Track 3
Filename C:\Documents and Settings\Mike\My Documents\(03) -Moby Grape -Wow - Bitter Wind.wav

Pre-gap length 0:00:01.42

Peak level 100.0 %
Track quality 100.0 %
Test CRC 6B3F98FC
Copy CRC 6B3F98FC
Copy OK

Track 4
Filename C:\Documents and Settings\Mike\My Documents\(04) -Moby Grape -Wow - Can't Be So Bad.wav

Pre-gap length 0:00:04.48

Peak level 100.0 %
Track quality 100.0 %
Test CRC 4D489426
Copy CRC 4D489426
Copy OK

Track 5
Filename C:\Documents and Settings\Mike\My Documents\(05) -Moby Grape -Wow - Just Like Gene Autry; A Foxtrot.wav

Pre-gap length 0:00:01.44

Peak level 77.7 %
Track quality 100.0 %
Test CRC CA32C44F
Copy CRC CA32C44F
Copy OK

Track 6
Filename C:\Documents and Settings\Mike\My Documents\(06) -Moby Grape -Wow - He.wav

Pre-gap length 0:00:01.97

Peak level 83.3 %
Track quality 99.9 %
Test CRC 5E62C294
Copy CRC 5E62C294
Copy OK

Track 7
Filename C:\Documents and Settings\Mike\My Documents\(07) -Moby Grape -Wow - Motorcycle Irene.wav

Pre-gap length 0:00:00.53

Peak level 100.0 %
Track quality 100.0 %
Test CRC DEB0AAF5
Copy CRC DEB0AAF5
Copy OK

Track 8
Filename C:\Documents and Settings\Mike\My Documents\(08) -Moby Grape -Wow - Three-Four.wav

Pre-gap length 0:00:00.68

Peak level 94.6 %
Track quality 100.0 %
Test CRC 262F36E9
Copy CRC 262F36E9
Copy OK

Track 9
Filename C:\Documents and Settings\Mike\My Documents\(09) -Moby Grape -Wow - Funky-Tunk.wav

Pre-gap length 0:00:00.44

Peak level 95.7 %
Track quality 100.0 %
Test CRC 52E1D4D6
Copy CRC 52E1D4D6
Copy OK

Track 10
Filename C:\Documents and Settings\Mike\My Documents\(10) -Moby Grape -Wow - Rose Colored Eyes.wav

Pre-gap length 0:00:01.48

Peak level 100.0 %
Track quality 100.0 %
Test CRC 5B94ECEF
Copy CRC 5B94ECEF
Copy OK

Track 11
Filename C:\Documents and Settings\Mike\My Documents\(11) -Moby Grape -Wow - Miller's Blues.wav

Pre-gap length 0:00:00.50

Peak level 100.0 %
Track quality 100.0 %
Test CRC 61A8003D
Copy CRC 61A8003D
Copy OK

Track 12
Filename C:\Documents and Settings\Mike\My Documents\(12) -Moby Grape -Wow - Naked, If I Want To.wav

Pre-gap length 0:00:00.20

Peak level 100.0 %
Track quality 100.0 %
Test CRC A097E8AF
Copy CRC A097E8AF
Copy OK

Track 13
Filename C:\Documents and Settings\Mike\My Documents\(13) -Moby Grape -Wow - The Place and the Time (alternate version).wav

Pre-gap length 0:00:04.98

Peak level 95.4 %
Track quality 100.0 %
Test CRC EEB57DD0
Copy CRC EEB57DD0
Copy OK

Track 14
Filename C:\Documents and Settings\Mike\My Documents\(14) -Moby Grape -Wow - Stop (demo).wav

Pre-gap length 0:00:02.98

Peak level 85.1 %
Track quality 100.0 %
Test CRC A7926A62
Copy CRC A7926A62
Copy OK

Track 15
Filename C:\Documents and Settings\Mike\My Documents\(15) -Moby Grape -Wow - Loosely Remembered.wav

Pre-gap length 0:00:02.98

Peak level 99.9 %
Track quality 100.0 %
Test CRC 8E397686
Copy CRC 8E397686
Copy OK

Track 16
Filename C:\Documents and Settings\Mike\My Documents\(16) -Moby Grape -Wow - Miller's Blues (alternate version).wav

Pre-gap length 0:00:03.00

Peak level 94.4 %
Track quality 100.0 %
Test CRC 450BF23D
Copy CRC 450BF23D
Copy OK

Track 17
Filename C:\Documents and Settings\Mike\My Documents\(17) -Moby Grape -Wow - What's to Choose.wav

Pre-gap length 0:00:02.98

Peak level 89.1 %
Track quality 100.0 %
Test CRC AC939C4D
Copy CRC AC939C4D
Copy OK

Track 18
Filename C:\Documents and Settings\Mike\My Documents\(18) -Moby Grape -Wow - Seeing.wav

Pre-gap length 0:00:02.98

Peak level 94.3 %
Track quality 100.0 %
Test CRC 6D5E0C27
Copy CRC 6D5E0C27
Copy OK

No errors occured


End of status report
[CUETools log; Date: 16.03.2018 21:07:29; Version: 2.1.4]
[CTDB TOCID: p1nQbZ3Au66j2yPIEH_YQNATCf8-] found.
Track | CTDB Status
1 | (18/18) Accurately ripped
2 | (18/18) Accurately ripped
3 | (18/18) Accurately ripped
4 | (18/18) Accurately ripped
5 | (18/18) Accurately ripped
6 | (18/18) Accurately ripped
7 | (18/18) Accurately ripped
8 | (18/18) Accurately ripped
9 | (18/18) Accurately ripped
10 | (18/18) Accurately ripped
11 | (18/18) Accurately ripped
12 | (18/18) Accurately ripped
13 | (18/18) Accurately ripped
14 | (18/18) Accurately ripped
15 | (18/18) Accurately ripped
16 | (18/18) Accurately ripped
17 | (18/18) Accurately ripped
18 | (18/18) Accurately ripped
[AccurateRip ID: 002520f8-01f39a35-ed0de712] found.
Track [ CRC | V2 ] Status
01 [f6c6cd6c|259797ce] (13+12/25) Accurately ripped
02 [1f09c85d|6802f3d2] (13+12/25) Accurately ripped
03 [cb040bdf|7175960c] (13+12/25) Accurately ripped
04 [12e511a2|f97744b9] (13+12/25) Accurately ripped
05 [3ae916e0|40d01f9b] (13+12/25) Accurately ripped
06 [8e6d7cde|79b22f2d] (13+12/25) Accurately ripped
07 [73e640f6|64b2a797] (13+12/25) Accurately ripped
08 [fc332bc8|464c3e56] (13+12/25) Accurately ripped
09 [f1342ef3|1666e470] (13+12/25) Accurately ripped
10 [e31041be|4d50ee58] (13+12/25) Accurately ripped
11 [6ee8765e|b26dafc1] (13+12/25) Accurately ripped
12 [91706aec|00d5b7f6] (13+12/25) Accurately ripped
13 [429834bf|abf83862] (12+12/24) Accurately ripped
14 [81d00d4a|901b19a1] (12+12/24) Accurately ripped
15 [3f28d204|0fb2bd14] (12+12/24) Accurately ripped
16 [bbfdcbeb|9dd50a26] (12+12/24) Accurately ripped
17 [a4bd70f4|54f33154] (12+12/24) Accurately ripped
18 [d3541dd1|759b75e0] (12+12/24) Accurately ripped

Track Peak [ CRC32 ] [W/O NULL] [ LOG ]
– 100,0 [F9D837C9] [E8DEAEFE]
01 98,4 [4C9AEC09] [32847C4E] CRC32
02 100,0 [F81FE690] [871F810F] CRC32
03 100,0 [6B3F98FC] [FF9A8C41] CRC32
04 100,0 [4D489426] [6C2E62E7] CRC32
05 77,7 [CA32C44F] [49465141] CRC32
06 83,3 [5E62C294] [9235672A] CRC32
07 100,0 [DEB0AAF5] [AE41649F] CRC32
08 94,6 [262F36E9] [3C5D9CEC] CRC32
09 95,7 [52E1D4D6] [6B7426F7] CRC32
10 100,0 [5B94ECEF] [81DB2273] CRC32
11 100,0 [61A8003D] [F0493AAD] CRC32
12 100,0 [A097E8AF] [AD8326A6] CRC32
13 95,4 [EEB57DD0] [EC541058] CRC32
14 85,1 [A7926A62] [22A361C7] CRC32
15 99,9 [8E397686] [C5BF5203] CRC32
16 94,4 [450BF23D] [3E9CC761] CRC32
17 89,1 [AC939C4D] [F3C5E895] CRC32
18 94,3 [6D5E0C27] [A88FFB99] CRC32
foobar2000 1.2 / Dynamic Range Meter 1.1.1
log date: 2018-03-16 21:02:26

––––––––––––––––––––––––––––––––––––––––
Analyzed: Moby Grape / Wow
––––––––––––––––––––––––––––––––––––––––

DR Peak RMS Duration Track
––––––––––––––––––––––––––––––––––––––––
DR10 -0.14 dB -13.57 dB 2:07 01-The Place and the Time
DR11 0.00 dB -12.50 dB 2:58 02-Murder in My Heart for the Judge
DR10 0.00 dB -14.31 dB 3:09 03-Bitter Wind
DR11 0.00 dB -13.41 dB 3:41 04-Can't Be So Bad
DR10 -2.19 dB -15.35 dB 3:05 05-Just Like Gene Autry; A Foxtrot
DR10 -1.59 dB -14.51 dB 3:36 06-He
DR11 0.00 dB -13.24 dB 2:23 07-Motorcycle Irene
DR10 -0.48 dB -12.99 dB 5:01 08-Three-Four
DR10 -0.38 dB -13.57 dB 2:11 09-Funky-Tunk
DR12 0.00 dB -14.82 dB 4:00 10-Rose Colored Eyes
DR10 0.00 dB -12.81 dB 5:22 11-Miller's Blues
DR11 0.00 dB -13.83 dB 0:52 12-Naked, If I Want To
DR10 -0.41 dB -12.62 dB 2:27 13-The Place and the Time (alternate version)
DR10 -1.40 dB -13.31 dB 2:24 14-Stop (demo)
DR12 0.00 dB -13.42 dB 3:27 15-Loosely Remembered
DR10 -0.50 dB -12.58 dB 5:23 16-Miller's Blues (alternate version)
DR9 -1.00 dB -12.78 dB 2:03 17-What's to Choose
DR10 -0.50 dB -12.86 dB 5:11 18-Seeing
––––––––––––––––––––––––––––––––––––––––

Number of tracks: 18
Official DR value: DR10

Samplerate: 44100 Hz
Channels: 2
Bits per sample: 16
Bitrate: 748 kbps
Codec: FLAC
================================================================================