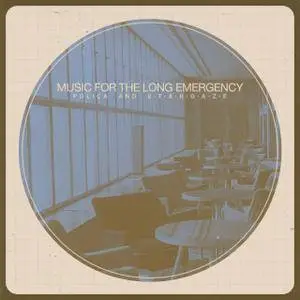 Poliça & s t a r g a z e - Music for the Long Emergency (2018)
WEB FLAC (tracks) & front cover - 228 MB | MP3 CBR 320 kbps - 87.2 MB
Label: Transgressive Records | Tracks: 07 | Time: 38:02 min
Indie Pop, Alternative, Female Vocal
Transgressive Records present Music For The Long Emergency, a full-length collaboration between POLICA, an electronic pop band based in Minneapolis, and s t a r g a z e, a Berlin-based chamber orchestra interested in pop and electronics. Having been first introduced via the Liquid Music project run by the St. Paul Chamber Orchestra in Minnesota, with the hope of a cross-genre collaboration, POLICA and s t a r g a z e first met in person in February 2016 in the Berlin living room of the conductor and 'leader' of musical collective s t a r g a z e, Andre de Ridder. Joined by POLICA, the Minneapolis-based electronic five-piece, led by vocalist Channy Leaneagh and producer Ryan Olson, the two bands talked and the s t a r g a z e musicians began to improvise - strings, brass, woodwind played over a handful of song sketches brought by Olson. "They were not even song structures, just electronic textures," de Ridder says. "And we started playing over them. But it was so important that the starting point was in the same room," de Ridder adds. "Because we could see how their faces lit up when we played. I guess that's where our minds met." Olson recorded the Berlin improvisations and incorporated them into several tracks he sent to the s t a r g a z e collective a few weeks later. "And I guess that was where the ping pong started," says de Ridder. What followed over the next 18 months was a long-distance musical romance of sorts, sustained by emails, mp3 files, video conferencing, as well as occasional meet-ups in Berlin, Minneapolis, and Eau Claire. Both bands were adamant that whatever they created - be it a single piece of music or a whole collection of songs - "not just be POLICA songs with s t a r g a z e pasted on top," as Leaneagh puts it. "We really wanted to maintain this conversation back and forth, and be a new version of both POLICA and s t a r g a z e."Coming together again in October 2016 to prepare for a week-long residency culminating in a festival at the Funkhaus in Berlin - the former headquarters of the GDR state radio - the players wrote, rehearsed, and developed the ideas they had been pinging back and forth via the internet in the venue's Studio 2, an exquisite, wood-panelled room with remarkable acoustics. "What that room created is pretty indescribable," recalls Leaneagh. "It was a little cocoon. The resultant album feels more than a simple collaboration, something more than a sum of its parts, a record with its own unique life force and distinctive voice. For de Ridder, the album's title, Music For The Long Emergency, reflects the confusion of the times. "It had a meaning of music being a haven, giving you a ray of hope," says de Ridder. "An alternative reality. And that became a theme of the music too. Quite a lot of the music is a little dark, and it does reflect what has been going on, but also incredible beauty at the same time which we hung onto because we needed to."
Tracklist:
1. Fake Like (03:54)
2. Marrow (02:48)
3. Speaking Of Ghost (04:14)
4. Agree (03:22)
5. Cursed (03:54)
6. How Is This Happening (10:07)
7. Music For The Long Emergency (09:47)
PERFORMER: auCDtect Task Manager, ver. 1.6.0 RC1 build 1.6.0.1
Copyright © 2008-2010 y-soft. All rights reserved

ANALYZER: auCDtect: CD records authenticity detector, version 0.8.2
Copyright © 2004 Oleg Berngardt. All rights reserved.
Copyright © 2004 Alexander Djourik. All rights reserved.


FILE: 07. Music For The Long Emergency.flac
Size: 62199898 Hash: 6A15725022935B76C07B92E0C8C0138E Accuracy: -m0
Conclusion: CDDA 100%
Signature: 0849FDF718F942B11BA3172E99216643C3B5C871
FILE: 06. How Is This Happening.flac
Size: 61482633 Hash: 83912EA4DA705AB251C28F2715B8C82B Accuracy: -m0
Conclusion: CDDA 100%
Signature: C536436129A87338E060A703B35DC360B890D7B1
FILE: 05. Cursed.flac
Size: 25636738 Hash: 75B2A3FC701DA7F86925CE48CB8E6EE3 Accuracy: -m0
Conclusion: CDDA 100%
Signature: 786BDDC8C408D514891E79B62EC0A14FB11FF346
FILE: 04. Agree.flac
Size: 22116116 Hash: E98FC9562BFA4F613AE5B92E74E05EA5 Accuracy: -m0
Conclusion: CDDA 99%
Signature: 50F164B6F1C02B999A4753B88D3B8A195B549251
FILE: 03. Speaking Of Ghost.flac
Size: 25260307 Hash: EDBDAF3D749495E1DF1DF3640AE1C999 Accuracy: -m0
Conclusion: CDDA 100%
Signature: 267EE1E6D4ED958C7D994060B64771A315A88424
FILE: 02. Marrow.flac
Size: 18912785 Hash: 57A307EF234DBC32839B7947BAABBA7A Accuracy: -m0
Conclusion: CDDA 100%
Signature: 118C9237181F2FFA0C8BDFBC752E87E377128FED
FILE: 01. Fake Like.flac
Size: 23635378 Hash: A3BBCD443C3DC3531AB9A33E72754682 Accuracy: -m0
Conclusion: CDDA 100%
Signature: 4A97B9DE608F0F01AC0BD32EED8831D950448FF0
Thanks to the Original customer.