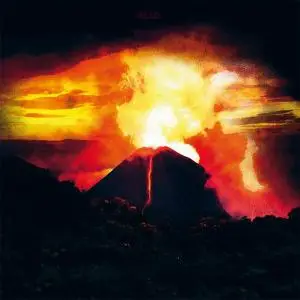 My Brother the Wind - Live At Roadburn 2013 (2014)
WEB FLAC (tracks) - 399 MB | MP3 CBR 320 kbps (LAME 3.93) - 148 MB | Front cover
Genre: Psychedelic/Space Rock | RAR 3% Rec. | Label: Burning World Records
With the outfit's four members hailing from Stockholm, Åmål, and Gothenburg, My Brother The Wind is a fully improvisational cosmic rock collective consisting of members of widely known Swedish acts Makajodama, Magnolia, Animal Daydream and most notably Anekdoten, one of the more widely recognized names in the 1990s prog rock revival.
With the focus less on guitar solos and more on group virtuosity, the instrumentation is altered to create interesting and intricately layered rock soundscapes, seemingly influenced by King Crimson, Amon Düül II and Sweden's seminal prog-pioneers, Träd, Gräs och Stenar. This particular influences serve in distinguishing My Brother the Wind's instrumental odysseys from the current crop of European jam-bands. My Brother the Wind takes the best elements of improvised kraut and prog-rock, and once the spaceship has escaped the pull of Earth's gravity, they drift into magnificent droning space rock and psychedelic orbits.
Tracklist:
01. Sulphur Valley Dawn
02. Ancient Caravan
03. The Mountain Trail
04. Further Up The Mountain Trail
05. Into The Cosmic Halo
Total time:
01:02:24

PERFORMER: auCDtect Task Manager, ver. 1.6.0 RC1 build 1.6.0.1
Copyright © 2008-2010 y-soft. All rights reserved

ANALYZER: auCDtect: CD records authenticity detector, version 0.8.2
Copyright © 2004 Oleg Berngardt. All rights reserved.
Copyright © 2004 Alexander Djourik. All rights reserved.


FILE: 5. Into The Cosmic Halo.flac
Size: 71714260 Hash: 6B95FE05C660D225D23B0C21037E90D6 Accuracy: -m0
Conclusion: CDDA 100%
Signature: A98F9A49984511B2DAC4D41F3CC188D7166DC767
FILE: 4. Further Up The Mountain Trail.flac
Size: 46372264 Hash: FFB462F267ED4129EDE8A6AC63F3854B Accuracy: -m0
Conclusion: CDDA 100%
Signature: 1A93B253CAC0FCB7AF3969FC9060252692A431FD
FILE: 3. The Mountain Trail.flac
Size: 79605955 Hash: B05B39054AAE75BB89148B522FB77DAC Accuracy: -m0
Conclusion: CDDA 100%
Signature: 0C0667D5D7120D604E46937B5FBC43DB58B7DA05
FILE: 2. Ancient Caravan.flac
Size: 73083678 Hash: BA0FD959FC37B4B2C453799ECAC357BC Accuracy: -m0
Conclusion: CDDA 100%
Signature: CE11D34ADA3A822DFE343CCE8BFE9E80C13D6A18
FILE: 1. Sulphur Valley Dawn.flac
Size: 135875037 Hash: 98C46400AE1FD289B85E4C5B15E92F0F Accuracy: -m0
Conclusion: CDDA 100%
Signature: AF672C4AF06BF3CAAD1F3BE41C80CEE1B4DA1BC6
See also:
My Brother The Wind - Discography [3 Studio Albums] (2010-2014)