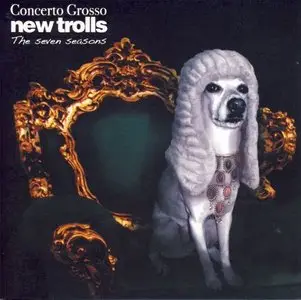 New Trolls - Concerto Grosso: The Seven Seasons (2007)
Rock | 1cd | EAC Rip | Flac + Cue + Log | covers
Marquee MICP-10706 | rel: 2007 | 440Mb
Most reunion albums by old progressive rock bands are disappointing. The latest collaboration between Nico Di Palo and Vittorio de Scalzi, arguably the most important members of the original New Trolls, is anything but. If anything this may be New Trolls' best album to date. Nico Di Palo's vocals have never sounded better and his Italian accent is now so muted at to be almost undetectable.
The style of the album is pure '70s progressive with heavy classical quotation, so this truly is a follow-up to the two previous Concerto Grosso albums (1971 & 1976). Of course, de Scalzi and Di Palo have the advantage of 21st century recording techniques and another 30 years of experience. The result is an amazingly crisp album that aptly demonstrates that the progressive rock /classic rock style is anything but dead and that new, creative, and enjoyable music can still be recorded by the right artists. Here is '70s art rock just lightly updated for the 21st century. "Concerto Grosso, The Seven Seasons" is absolutely brilliant and highly recommended for all progressive rock afficionados, not just fans of New Trolls.
~DiscogsTrack listing
01. The Knowledge (1:37)
02. Dance With The Rain (4:26)
03. Future Joy (2:51)
04. High Education (1:43)
05. The Seventh Season (5:31)
06. One Magic Night (5:54)
07. Barocco 'n' Roll (2:59)
08. Intro And Canone (1:34)
09. Testament Of Time (4:26)
10. The Ray Of White Light (4:37)
11. To Love The Land (4:45)
12. The Season Of Hope (5:00)
13. Simply Angels (6:26)
14. Ethix (3:10)
bonus:
15. So Che Ci Sei-Bonus (4:26)
16. Ethix-Bonus(Guest:Sarah Jane Morris) (3:09)
~ (62:36)
Personnel
- Acoustic Guitar, Electric Guitar, Vocals – Andrea Maddalone
- Bass, Vocals – Francesco Bellia
- Drums, Vocals – Alfio Vitanza
- Electric Guitar, Vocals – Mauro Sposito
- Oboe – Mirko Foschi
- Orchestra – White Light Orchestra, The
- Viola [1st] – Raffaele Rebaudengo
- Violin [1st] – Roberto Izzo
- Vocals, Grand Piano, Guitar [Classical], Flute – Vittorio De Scalzi
- Vocals, Keyboards – Nico Di Palo

Exact Audio Copy V0.99 prebeta 4 from 23. January 2008

Отчёт EAC об извлечении, выполненном 27. октября 2012, 13:22

New Trolls / Concerto Grosso

Дисковод: ASUS DRW-1814BL Adapter: 1 ID: 0

Режим чтения : Достоверность
Использование точного потока : Да
Отключение кэша аудио : Да
Использование указателей C2 : Нет

Коррекция смещения при чтении : 6
Способность читать области Lead-in и Lead-out : Нет
Заполнение пропущенных сэмплов тишиной : Да
Удаление блоков с тишиной в начале и конце : Нет
При вычислениях CRC использовались нулевые сэмплы : Да
Интерфейс : Установленный внешний ASPI-интерфейс

Выходной формат : Пользовательский кодировщик
Выбранный битрейт : 1024 kBit/s
Качество : Высокий
Добавление ID3-тэга : Нет
Утилита сжатия : C:\Program Files\Exact Audio Copy\FLAC\FLAC.EXE
Дополнительные параметры : -6 -V -T "ARTIST=%a" -T "TITLE=%t" -T "ALBUM=%g" -T "DATE=%y" -T "TRACKNUMBER=%n" -T "GENRE=%m" -T "COMMENT=%e" %s -o %d


TOC извлечённого CD

Трек | Старт | Длительность | Начальный сектор | Конечный сектор
––––––––––––––––––––––––––––––––––-
1 | 0:00.00 | 1:36.58 | 0 | 7257
2 | 1:36.58 | 4:26.12 | 7258 | 27219
3 | 6:02.70 | 2:51.01 | 27220 | 40045
4 | 8:53.71 | 1:43.33 | 40046 | 47803
5 | 10:37.29 | 5:30.57 | 47804 | 72610
6 | 16:08.11 | 5:53.59 | 72611 | 99144
7 | 22:01.70 | 2:58.49 | 99145 | 112543
8 | 25:00.44 | 1:34.35 | 112544 | 119628
9 | 26:35.04 | 4:26.35 | 119629 | 139613
10 | 31:01.39 | 4:37.02 | 139614 | 160390
11 | 35:38.41 | 4:45.31 | 160391 | 181796
12 | 40:23.72 | 5:00.21 | 181797 | 204317
13 | 45:24.18 | 6:26.27 | 204318 | 233294
14 | 51:50.45 | 3:10.31 | 233295 | 247575
15 | 55:01.01 | 4:25.66 | 247576 | 267516
16 | 59:26.67 | 3:08.48 | 267517 | 281664


Характеристики диапазона извлечения и сообщения об ошибках

Выбранный диапазон

Имя файла D:\loSSleSS\new trolls'07\New Trolls - Concerto Grosso.wav

Пиковый уровень 99.9 %
Качество диапазона 100.0 %
CRC теста CAE3A8B4
CRC копии CAE3A8B4
Копирование… OK

Ошибок не произошло


AccurateRip: сводка

Трек 1 точное извлечение (доверие 3) [810D8606]
Трек 2 точное извлечение (доверие 3) [66E5F898]
Трек 3 точное извлечение (доверие 3) [5F8DDB48]
Трек 4 точное извлечение (доверие 3) [0F02E029]
Трек 5 точное извлечение (доверие 3) [B69A11E7]
Трек 6 точное извлечение (доверие 3) [E7DE355D]
Трек 7 точное извлечение (доверие 3) [431CED45]
Трек 8 точное извлечение (доверие 3) [46135D90]
Трек 9 точное извлечение (доверие 3) [B990589E]
Трек 10 точное извлечение (доверие 3) [532AFFE1]
Трек 11 точное извлечение (доверие 3) [AA558B77]
Трек 12 точное извлечение (доверие 3) [533AE177]
Трек 13 точное извлечение (доверие 3) [5F5F5095]
Трек 14 точное извлечение (доверие 3) [CEDCB8F3]
Трек 15 точное извлечение (доверие 3) [62446311]
Трек 16 точное извлечение (доверие 3) [B3C4FF99]

Все треки извлечены точно

Конец отчёта



[CUETools log; Date: 2015.08.28. 14:50:40; Version: 2.1.5]
[CTDB TOCID: xFIEO89zVIbXWiIlCohyylbA1RM-] found.
Track | CTDB Status
1 | (1/1) Accurately ripped
2 | (1/1) Accurately ripped
3 | (1/1) Accurately ripped
4 | (1/1) Accurately ripped
5 | (1/1) Accurately ripped
6 | (1/1) Accurately ripped
7 | (1/1) Accurately ripped
8 | (1/1) Accurately ripped
9 | (1/1) Accurately ripped
10 | (1/1) Accurately ripped
11 | (1/1) Accurately ripped
12 | (1/1) Accurately ripped
13 | (1/1) Accurately ripped
14 | (1/1) Accurately ripped
15 | (1/1) Accurately ripped
16 | (1/1) Accurately ripped
[AccurateRip ID: 0022377e-01a5e231-d30eab10] found.
Track [ CRC | V2 ] Status
01 [810d8606|26d5b283] (3+0/3) Accurately ripped
02 [66e5f898|dae0dcec] (3+0/3) Accurately ripped
03 [5f8ddb48|ef4e82ee] (3+0/3) Accurately ripped
04 [0f02e029|4b38e670] (3+0/3) Accurately ripped
05 [b69a11e7|63665a25] (3+0/3) Accurately ripped
06 [e7de355d|4bc99fa9] (3+0/3) Accurately ripped
07 [431ced45|2505de12] (3+0/3) Accurately ripped
08 [46135d90|c6fe1585] (3+0/3) Accurately ripped
09 [b990589e|ce2573df] (3+0/3) Accurately ripped
10 [532affe1|ff7357a8] (3+0/3) Accurately ripped
11 [aa558b77|7a8b2741] (3+0/3) Accurately ripped
12 [533ae177|49f23d7c] (3+0/3) Accurately ripped
13 [5f5f5095|5d0c3e7c] (3+0/3) Accurately ripped
14 [cedcb8f3|dca936d2] (3+0/3) Accurately ripped
15 [62446311|7dbb6679] (3+0/3) Accurately ripped
16 [b3c4ff99|c5a2e160] (3+0/3) Accurately ripped

Track Peak [ CRC32 ] [W/O NULL]
– 99,9 [CAE3A8B4] [A0627C53]
01 99,9 [DC799E87] [2C89B65E]
02 99,9 [05A80C92] [03B4CA6F]
03 99,9 [759D2D6A] [154B1845]
04 96,1 [E8A71283] [A11AB339]
05 99,9 [9BF0AA7E] [0F1E2F10]
06 99,9 [7318E3F8] [0D676BD0]
07 99,9 [91594FD5] [B5F6CFC0]
08 89,0 [8099ECC3] [E9F16223]
09 89,1 [1055D5E5] [318F24CA]
10 99,9 [93B05D14] [5F44A332]
11 99,9 [AC4758D8] [9609D938]
12 99,9 [A5DB7B72] [93D97516]
13 99,9 [A35A3EF5] [D9C71DAA]
14 89,0 [23F501E3] [FAFCB344]
15 99,9 [5FA32FB5] [BF52776E]
16 99,9 [FC7FC171] [A65422B9]


Thx to vicpalbk2006