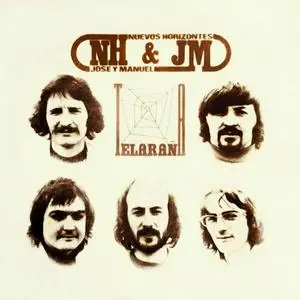 Nuevos Horizontes & Jose y Manuel - Telaraña (Remastered) (1975/2015)
FLAC tracks / MP3 320 kbps | 41:53 | 102 Mb / 322 Mb
Genre: Folk Rock, Prog Rock, Psychedelic Rock / Label: Parlophone Spain
Spanish vocal pop band founded in the middle 60s as Los Unisonos : they recorded just two singles and one EP for Philips. They changed their name to NH and signed for Columbia: Ana María (vocals, piano, organ), Tommy (vocals, guitar), Alfonso (vocals, drums) and Juan (vocals, bass). Contacting with Gloria Van Aerssen and Carmen Santonja - Vainica Doble, in those times just writers, not performers- they released some singles with their songs: El afinador de cítaras (1969), Mi mosca favorita and Mi churumbel (1970). In 1973 Ana María and Tommy left them, and were replaced by Lluis Payá (violin, keyboards, guitar) and Jose y Manuel, who had just left Solera, to record their last album, Telaraña (1974).
Track List:
01. Barcelona
02. Creías que ya nunca me iba a enamorar
03. Se me escapó una ilusión
04. Saltimbanquis
05. Si volviéramos de nuevo a vernos
06. My sunshine
07. Versallesco rococó
08. Mari
09. Dices que me quieres
10. Quizás, quizás
11. Cada día más
12. Si cierras el balcón
ANALYZER: auCDtect: CD records authenticity detector, version 0.8.2
Copyright © 2004 Oleg Berngardt. All rights reserved.
Copyright © 2004 Alexander Djourik. All rights reserved.


FILE: 9 - Dices que me quieres (Remastered 2015).flac
Size: 23441670 Hash: 63E23F4CB09EC0718A444B38584DD0E7 Accuracy: -m0
Conclusion: CDDA 100%
Signature: 38ECD9DA1328A2D118A3FA0AD8151F15771E3126
FILE: 8 - Mari (Remastered 2015).flac
Size: 21502967 Hash: BDB938E1E9BD50C4495AFE744D175DBF Accuracy: -m0
Conclusion: CDDA 100%
Signature: EFDF3108ED8808E42845DE7F399DB6FBD79CEA51
FILE: 7 - Versallesco rococó (Remastered 2015).flac
Size: 21428409 Hash: CD53D289E8117807A9E7FD0CB56666F3 Accuracy: -m0
Conclusion: CDDA 100%
Signature: A433391FCAFDB01A133D1CDC4E21FC7BD6EA13D5
FILE: 6 - My sunshine (Remastered 2015).flac
Size: 41037795 Hash: 148C8A367C62B01A23C9D93EB7D001B2 Accuracy: -m0
Conclusion: CDDA 100%
Signature: A9049A71C8017CBED2A8E004BD5E40FFBF9E4C53
FILE: 5 - Si volviéramos de nuevo a vernos (Remastered 2015).flac
Size: 20162158 Hash: 02E06A94ED712D6AE07427E2167453C2 Accuracy: -m0
Conclusion: CDDA 100%
Signature: E438709396F297BF4E03F5F04130E35A70F987C8
FILE: 4 - Saltimbanquis (Remastered 2015).flac
Size: 24270741 Hash: F187B04D7C3333B7ECD6AA1FFBE7867F Accuracy: -m0
Conclusion: CDDA 100%
Signature: F25C86409DAC1F7660FF4433E38A0C5FCAAB6EFB
FILE: 3 - Se me escapó una ilusión (Remastered 2015).flac
Size: 34851766 Hash: 426B162953C3A4B862CE3231004E14E9 Accuracy: -m0
Conclusion: CDDA 100%
Signature: 7E196B8B0025D5984D2DD701409ACAD785197974
FILE: 2 - Creías que ya nunca me iba a enamorar (Remastered 2015).flac
Size: 20246206 Hash: ED9D30C4DE972BA2256E1B93FF7B6DF6 Accuracy: -m0
Conclusion: CDDA 100%
Signature: A124642D3BA01BC474C226F9C109D6A4DB18B69F
FILE: 12 - Si cierras el balcón (Remastered 2015).flac
Size: 34461998 Hash: 935B85D760CFCEB0420F81B6713CA61B Accuracy: -m0
Conclusion: CDDA 100%
Signature: 4EC3C9646EA33C13BEC73EC6F39AD04468081097
FILE: 11 - Cada día más (Remastered 2015).flac
Size: 21785274 Hash: 08B039468B2AB278C67A6E2FA74224BC Accuracy: -m0
Conclusion: CDDA 100%
Signature: 7AC3A2D029831420B85667930ECAF9DAEE778F2B
FILE: 10 - Quizás, quizás (Remastered 2015).flac
Size: 25359791 Hash: 1A7D2A2751775170A81725BB56DF5C25 Accuracy: -m0
Conclusion: CDDA 100%
Signature: ECE1B0A3EA026B7F6BBE16F4AB898AAC2EE6833F
FILE: 1 - Barcelona (Remastered 2015).flac
Size: 32545624 Hash: A04087717FF07AA64777DE5AD8375E7C Accuracy: -m0
Conclusion: CDDA 100%
Signature: A80F49C1D43399EAC6DE5C7539F4B8A9AB0C8954