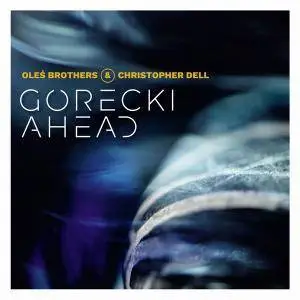 Oles Brothers & Christopher Dell - Gorecki Ahead (2018)
WEB FLAC (tracks) - 218 MB | MP3 CBR 320 kbps (LAME 3.93) - 129 MB | Front cover
Genre: Jazz, Classical | RAR 3% Rec. | Label: AudioCave
Górecki Ahead music album is an attempt to read the legacy of Henryk Mikołaj Górecki in a new way and show it in a different light than before. This record also proves how vital and inspiring is Górecki's music today, especially if its interpretations are undertaken by artists whose instrumental skills go hand in hand with creativity, imagination and the need to create an original artistic expression. Henryk Mikołaj Górecki is one of the greatest and most famous 20th-century composers. He owes his unusual popularity to the Symphony composed in 1976. Paradoxically, despite achieving success on a global scale, the composer's entire output remains virtually unknown to a wider audience.
The brothers Marcin Oleś (double bass player) and Bartłomiej Oleś (drummer), along with jazz vibraphonist Christopher Dell, are continuing the cooperation started in 2011. They reached for the composer's pieces by filtering them through the sum of their own rich experiences. For their part, they brought sensitivity of musicians who deal with jazz and improvisation on a daily basis. Górecki Ahead is not the next of many albums filled with classical music rearranged to jazz fashion. In the interpretation of the trio, sometimes significantly different from the original, a delicate balance between the fidelity of the composer's musical concept and the associated freedom of expression reveals itself in a balanced, intelligent and finesse manner.
Tracklist:
01. Three Pieces in Old Style
02. Little Requiem for a Certain Polka
03. Old Polish Music
04. The Bells are Ringing for the Angelus Domini
05. Good Night
06. Ad Matrem
07. Musiquette I
08. Diagram (from Three Diagrams)
09. Genesis III: Monodramma
10. For You, Anne-Lill
11. Lullaby (from Lullabies and Dances)
Total time:
54:27

PERFORMER: auCDtect Task Manager, ver. 1.6.0 RC1 build 1.6.0.1
Copyright © 2008-2010 y-soft. All rights reserved

ANALYZER: auCDtect: CD records authenticity detector, version 0.8.2
Copyright © 2004 Oleg Berngardt. All rights reserved.
Copyright © 2004 Alexander Djourik. All rights reserved.


FILE: 11 Lullaby (From Lullabies And Dances).flac
Size: 16833933 Hash: 59D49140F59100AE8C5854739D3A4B8E Accuracy: -m0
Conclusion: CDDA 100%
Signature: 834F98528FEDA6BDBF56E860240AA31FBABFCF54
FILE: 10 For You Anne-Lill.flac
Size: 14800953 Hash: 8D419C857F6C65B1320ABD4C3B4EC4F3 Accuracy: -m0
Conclusion: MPEG 90%
Signature: 9428340632BC579CCEC73E5D15C74209BDA49773
FILE: 09 Genesis III Monodramma.flac
Size: 11754020 Hash: 4338E7B29D95D806EB4A41A77B79C15A Accuracy: -m0
Conclusion: CDDA 100%
Signature: C9A3E58B06F6E2E0485B7FCF212CC693DA5F940A
FILE: 08 Diagram (From Three Diagrams).flac
Size: 4993226 Hash: E553180CFBE8AB44B93E9CA5F8F0B04C Accuracy: -m0
Conclusion: MPEG 100%
Signature: DCF23140522EFE05B3FD201A80D725C06EE1B776
FILE: 07 Musiquette I.flac
Size: 5315361 Hash: BC2F015B353F553A817A873F31AB88E9 Accuracy: -m0
Conclusion: CDDA 76%
Signature: FF00CF01308FDA11F1455B9303D2B09F9C5B98D7
FILE: 06 Ad Matrem.flac
Size: 24039295 Hash: 97CA8C259904529D3CFC74B7AC3097A7 Accuracy: -m0
Conclusion: CDDA 62%
Signature: EFC5125B4711626757F81C3B829735600A73B9D4
FILE: 05 Good Night.flac
Size: 11085325 Hash: 26B61B8B018CC7F624B0F342DAED1D07 Accuracy: -m0
Conclusion: CDDA 100%
Signature: 3F718B2EC09FAC5B45792A980B9A0A028448063B
FILE: 04 The Bells Are Ringing For The Angelus Domini.flac
Size: 27464599 Hash: DEA3CA5AD6758A59F3451D16E583FB72 Accuracy: -m0
Conclusion: CDDA 100%
Signature: CB8F833CC51437AF9D837AFAC5ECD830EA50468B
FILE: 03 Old Polish Music.flac
Size: 31926477 Hash: 39D469391C90AD8FFC38C6CD42502845 Accuracy: -m0
Conclusion: CDDA 100%
Signature: 82F39605F9736F69F22AF8A064A717EE9BE0997A
FILE: 02 Little Requiem For A Certain Polka.flac
Size: 33395694 Hash: 1EBB2BE2D3AE953E3B743FE6E49021FA Accuracy: -m0
Conclusion: CDDA 100%
Signature: 5AC71195AA23EFBBFBE40817FED8181B01A028F1
FILE: 01 Three Pieces In Old Styled.flac
Size: 40350103 Hash: 05CA3E2B380F7BF4051755B3840412CC Accuracy: -m0
Conclusion: CDDA 100%
Signature: 38B4CB5F3FD7299CE37AE154C453454452857F73