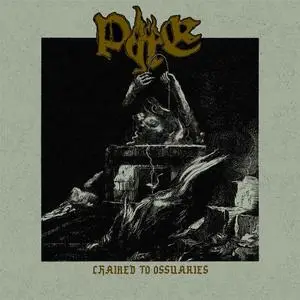 Pyre - Chained To Ossuaries (2020)
Russia | MP3 CBR 320 Kbps | 94 MB
Death Metal | Label : Memento Mori
The long-awaited sophomore full-length by this Russian band. Rising from the sewers of Saint Petersburg in 2011 and consisting of some hyperactive musicians who are/were members of other underground Russian acts such as Teitanfyre, Drama, Ulvdalir, Internal Damage, Blazing Rust, Chamber Of Torture and others, Pyre's unholy sledgehammer of rotting and caustic music is Death fucking Metal right down to its genes. It's as genuine and convincing as it can possibly get, focusing on the traditional and raw sound reminiscent of greats such as Asphyx, Grave, Morgoth, Nihilist/early Entombed, Death, Unleashed, Autopsy, Repugnant, Obituary, Dismember and Pestilence, and rivalling most of their recent peers trying to do the same thing.
Tracklist:
1. Exordium
2. Impaler the Redeemer
3. Wreath of Crucifix
4. Across the Shores of Emerald Fractals
5. Ornaments of Bones
6. Chained to Ossuaries
7. Crown of Death
8. Disgraced and Dethroned
9. Antae to the Nothingness
10. Death's Dawn Call
Total playing time 41:03