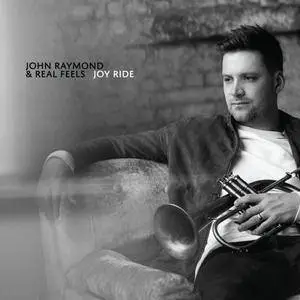 Raymond John - Joy Ride (2018)
WEB FLAC (Tracks) - 323 MB | Cover | MP3 CBR 320 kbps - 133 MB | 00:57:23
Jazz | Label: Sunnyside Records
Dubbed as a Rising Star by Downbeat Magazine, trumpeter John Raymond has performed with musicians such as Billy Hart, Kurt Rosenwinkel, Orrin Evans, Linda Oh, Dan Tepfer and Gilad Hekselman among others. Raymond wants the music of Real Feels to connect to his listeners. So rather than compose complex, over the top pieces, he focused on simplifying and writing music that people could sing along with. The majority of the music on 'Joy Ride' was written during a self-imposed summer retreat in which Raymond made sure to write every day. He also decided to compose at the piano, an instrument on which he is less in command, creating a natural handicap to insure the pieces would be more natural.
TRACKLIST
01. Joy Ride
02. I'd Do It For Your Love
03. Follower
04. Minnesota, WI
05. Be Still, My Soul
06. Fortress
07. Solsbury Hill
08. En Route
09. The Times They Are A-Changin
10. Hymn
Personnel:
John Raymond - flugelhorn
Gilad Hekselman - guitar
Colin Stranahan - drums
–––––––––––-

DON'T MODIFY THIS FILE

–––––––––––-

PERFORMER: auCDtect Task Manager, ver. 1.6.0 RC1 build 1.6.0.1
Copyright © 2008-2010 y-soft. All rights reserved

ANALYZER: auCDtect: CD records authenticity detector, version 0.8.2
Copyright © 2004 Oleg Berngardt. All rights reserved.
Copyright © 2004 Alexander Djourik. All rights reserved.


FILE: 10. Hymn.flac
Size: 12484934 Hash: 500CFD89B6F64D3C3B6F4EBA1FFE6C63 Accuracy: -m0
Conclusion: CDDA 100%
Signature: 945DA62A8CC282F44368B982398021A639AF0E5C
FILE: 09. The Times They Are A-Changin.flac
Size: 28038844 Hash: FBEA5D5F45E7885007A09734D28F0E60 Accuracy: -m0
Conclusion: CDDA 100%
Signature: 8486A7BC89319503AEB3272EEBF8BF0A3ABEE5D2
FILE: 08. En Route.flac
Size: 33076981 Hash: 830228CAC66CE55F40CB71D2C9F95E22 Accuracy: -m0
Conclusion: CDDA 100%
Signature: 837C0FDE5457A47FB39BA38B2D8D4E24BF8DC023
FILE: 07. Solsbury Hill.flac
Size: 34072220 Hash: 0A40C3F246143D5B413A211015F316C5 Accuracy: -m0
Conclusion: CDDA 100%
Signature: B195D54852861E29B8454159FACF92F54AF66408
FILE: 06. Fortress.flac
Size: 31310367 Hash: 2B55EF4D2757A8F0BD66626FCCB3763E Accuracy: -m0
Conclusion: CDDA 100%
Signature: 71EE6983F72FC4AB145D552508CBDCDEEA887B24
FILE: 05. Be Still, My Soul.flac
Size: 44328723 Hash: 3FB0F72A90DCF9688E9CA57B693F8296 Accuracy: -m0
Conclusion: CDDA 100%
Signature: 229B999DDBA2D12DEE816BB2F516AB23DA4789DB
FILE: 04. Minnesota, WI.flac
Size: 33348232 Hash: 5FCE59B616CE0BB74B39014D0D617FD2 Accuracy: -m0
Conclusion: CDDA 100%
Signature: 2E0B9C73A8616567A57B9B9DA673D1ECEF5FFC76
FILE: 03. Follower.flac
Size: 43957578 Hash: D9FCE447205723F927518179A9434EE3 Accuracy: -m0
Conclusion: CDDA 100%
Signature: 31BE9436CBA061D2E883CF2EFED732EA7A1516AC
FILE: 02. I'd Do It For Your Love.flac
Size: 41139953 Hash: 9188D5285B93D10253AE3D5FC4E73A51 Accuracy: -m0
Conclusion: CDDA 99%
Signature: 2DC654B05D73A4420FF0A56A2C13945DDAB5459D
FILE: 01. Joy Ride.flac
Size: 36930334 Hash: 329674069DD2CA40C58C76560D732A8A Accuracy: -m0
Conclusion: CDDA 100%
Signature: 609A22DB68C415EDAE60538DDD8F316E66AAFDDA
All thanks go to the original releaser