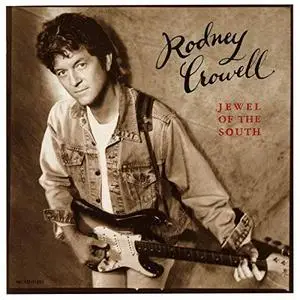 Rodney Crowell - Jewel Of The South (1995/2019)
WEB FLAC (Tracks) - 254 MB | Cover | MP3 CBR 320 kbps - 93 MB | 00:38:03
Country, Pop Rock, Singer-Songwriter | Label: MCA Nashville
Crowell tries to stretch out a bit too much on Jewel of the South, but it remains a fine album, nonetheless. Featuring guest performances by the Mavericks' Raul Malo, Bela Fleck, Vince Gill, Kim Richey, and Billy Joe Walker Jr. among others, the album tries to do too many thing, but it does enough of them well enough to make it an entertaining listen.
TRACKLIST
01. Say You Love Me
02. Candy Man
03. Please Remember Me
04. The Ballad Of Possum Potez
05. Thinking About Leaving
06. The Ladder Of Love
07. Just Say Yes
08. Storm Of Love
09. Love To Burn
10. Jewel Of The South
11. Que Es Amor (What Is Love)
–––––––––––-
DON'T MODIFY THIS FILE
–––––––––––-
PERFORMER: auCDtect Task Manager, ver. 1.6.0 RC1 build 1.6.0.1
Copyright © 2008-2010 y-soft. All rights reserved
http://y-soft.org
ANALYZER: auCDtect: CD records authenticity detector, version 0.8.2
Copyright © 2004 Oleg Berngardt. All rights reserved.
Copyright © 2004 Alexander Djourik. All rights reserved.
FILE: 9. Rodney Crowell - Love To Burn.flac
Size: 25813375 Hash: 67002F5C8EC6D6D4903DC8C60F5FABD5 Accuracy: -m0
Conclusion: CDDA 100%
Signature: BEA1DDD54533E7B9650976929ACA19F7C7F3E44B
FILE: 8. Rodney Crowell - Storm Of Love.flac
Size: 22059474 Hash: 3705FC943C9297AA2D6757038D1D525C Accuracy: -m0
Conclusion: CDDA 100%
Signature: FCE9111B7E33B06252B7ECDB9476701D3F83BFF4
FILE: 7. Rodney Crowell - Just Say Yes.flac
Size: 29443740 Hash: 8EEA9E8A57EAD778550F26E0573AEA8D Accuracy: -m0
Conclusion: CDDA 100%
Signature: 635E912DECF877B93FDFEECB21F328686710A8EE
FILE: 6. Rodney Crowell - The Ladder Of Love.flac
Size: 21021853 Hash: 4E15847879E65C5A028F4DF44541E6D9 Accuracy: -m0
Conclusion: CDDA 100%
Signature: C6513A89417906E6558EA4A07C1E061232847B11
FILE: 5. Rodney Crowell - Thinking About Leaving.flac
Size: 26613667 Hash: ED34D7287F2C8EB8AE856D4F424F53B0 Accuracy: -m0
Conclusion: CDDA 100%
Signature: 08DA41C2C8135AFA60C60DFF2AE3D762A04812FB
FILE: 4. Rodney Crowell - The Ballad Of Possum Potez.flac
Size: 25327994 Hash: E71A4233EA88F37C96EE6ED776977F87 Accuracy: -m0
Conclusion: CDDA 100%
Signature: F271BAF454A250B683BB613B516237F0A58D60D0
FILE: 3. Rodney Crowell - Please Remember Me.flac
Size: 23907260 Hash: 227E98853DF68374CBC832AECB33AB42 Accuracy: -m0
Conclusion: CDDA 99%
Signature: F287860C82840CA410E478DDEB46DF36E9666317
FILE: 2. Rodney Crowell - Candy Man.flac
Size: 22787210 Hash: 30660A6480DE4ABDAA382FCDBB7FBA8E Accuracy: -m0
Conclusion: CDDA 100%
Signature: E19280AA59D55974F7D82F62D7C3B97562DF3A44
FILE: 11. Rodney Crowell - Que Es Amor (What Is Love).flac
Size: 9876461 Hash: 5CBA862E66D015A6F0825EEABBB4A4D6 Accuracy: -m0
Conclusion: CDDA 100%
Signature: 152D9259A01ED01DE17E6B594D789FFED2483078
FILE: 10. Rodney Crowell - Jewel Of The South.flac
Size: 29016680 Hash: 284D7ECFCE177B39F61211C26FE8095A Accuracy: -m0
Conclusion: CDDA 100%
Signature: 1EF9AF3C3E48C50A96F0B2D1BA039720F34728B9
FILE: 1. Rodney Crowell - Say You Love Me.flac
Size: 29916297 Hash: D017FE6EB6F558B2EEB5134A9FE21BF6 Accuracy: -m0
Conclusion: CDDA 100%
Signature: 34FF033E68756ED470E61103109B3A670AA74F3C
All thanks go to the original releaser