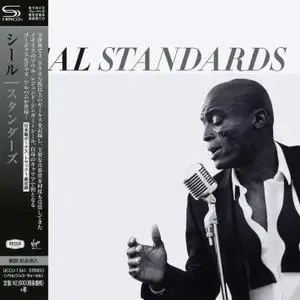 Seal - Standards (2017) [Japanese SHM-CD]
Pop/Rock, Soul, Jazz, Vocal Pop, Standards | XLD Rip | FLAC, Img+CUE+LOG+Scans (PNG) | 55:15 | 662,93 Mb
Label: Decca/Virgin EMI Records (Japan) | Cat.# UCCU-1561 | Released: 2017-11-10
"Standards" is the 10th studio album by British soul and R&B singer-songwriter Seal. The album was released on 10 November 2017 by Decca Records and Virgin EMI Records. With the release of 7, Seal ended his recording contract with Warner Bros. Records. In an interview with Billboard in August 2017, Seal said he doesn't plan on releasing albums in the future. In September 2017, Universal Music announced the release of Standards. Seal said of the album: "This is the album I have always wanted to make. I grew up listening to music from the Rat Pack era, so recording these timeless tunes was a lifelong dream. It was a true honour to collaborate with the same musicians who performed with Frank Sinatra and so many of my favourite artists, in the very same studios where the magic was first made – it was one of the greatest days of my recording career."
~Wikipedia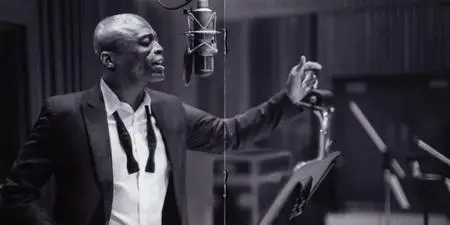 Albums of reworked pop and jazz classics released in November bear warnings of creative resignation and commercial opportunism. Seal, however, evidently entered the historic Capitol Studios and United Recording more delighted than a kid in a candy store who just had his braces removed. Going by his liner notes, in which he raves about performing with a 65-piece orchestra, cutting the set, his first for Republic, had an invigorating effect on him. Conducted and arranged by Grammy nominee Chris Walden, Standards was recorded with first-rate studio veterans, some of whom worked with Nat King Cole and Frank Sinatra. Seal doesn't waste the grand setting, exhibiting full-effort sincerity, winking charm, and even rare flashes of vivacity at all the right moments, as if this was the album the gravelly tenor was born to make. With the exception of early-'60s selections "It Was a Very Good Year" and "Anyone Who Knows What Love Is" -- the latter coincidentally reworked by Boyz II Men for Under the Streetlight, released only a month prior -- all the source material dates from the '30s, '40s, and '50s. The likes of "Luck Be a Lady," "My Funny Valentine," "I've Got You Under My Skin," and "They Can't Take That Away from Me" must be among the songs least in need of new faithful interpretations, but it all plays out with studied finesse. Seal wasn't merely thrown a stack of sheet music and told to crank out the product. It's a treat for fans, as well as the singer, which is part of the appeal.
~Review by Andy Kellman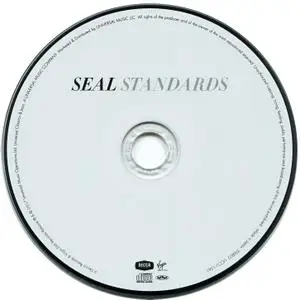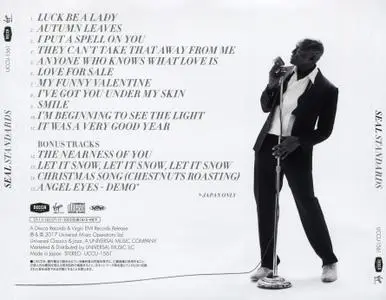 Release of this album/CD:
2017, November, 10 [CD Decca/Virgin EMI Records (Japan), Cat.# UCCU-1561 / EAN: 4988031250099]
A Decca Records & Virgin EMI Records release.
℗&© 2017 Universal Music Operations Ltd.
Universal Classics & Jazz, A Universal Music Company.
Marketed and Distributed by Universal Music LLC.
Made in Japan
Credits:
Engineer – Don Murray
Mastered By – Al Isler, Daniel Rowland
Mixed By – Jochem van der Saag
Producer – Nick Patrick
Tracklist:
01. Luck Be A Lady (04:36)
02. Autumn Leaves (02:56)
03. I Put A Spell On You (02:56)
04. They Can't Take That Away From Me (03:16)
05. Anyone Who Knows What Love Is (04:32)
06. Love For Sale (03:46)
07. My Funny Valentine (04:33)
08. I've Got You Under My Skin (03:14)
09. Smile (04:31)
10. I'm Beginning To See The Light (03:06)
11. It Was A Very Good Year (04:43)
Bonus Tracks:
12. The Nearness Of You (03:53)
13. Let It Snow, Let It Snow, Let It Snow (02:39)
14. Christmas Song (Chestnuts Roasting) (03:38)
15. Angel Eyes - Demo
(Track for Japan only)
(02:56)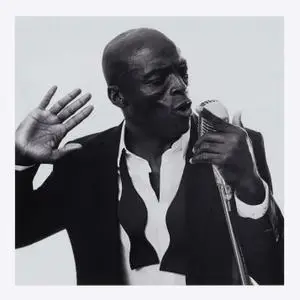 X Lossless Decoder version 20170729 (150.3)

XLD extraction logfile from 2017-12-05 21:25:12 +0300

Seal / Standards (Japan SHM-CD UCCU-1561)

Used drive : ASUS SDRW-08D3S-U (revision F501)
Media type : Pressed CD

Ripper mode : XLD Secure Ripper
Disable audio cache : OK for the drive with a cache less than 1375KiB
Make use of C2 pointers : NO
Read offset correction : 6
Max retry count : 20
Gap status : Analyzed, Appended

TOC of the extracted CD
Track | Start | Length | Start sector | End sector
––––––––––––––––––––––––––––-
1 | 00:00:00 | 04:36:30 | 0 | 20729
2 | 04:36:30 | 02:55:49 | 20730 | 33903
3 | 07:32:04 | 02:56:30 | 33904 | 47133
4 | 10:28:34 | 03:16:05 | 47134 | 61838
5 | 13:44:39 | 04:31:57 | 61839 | 82220
6 | 18:16:21 | 03:45:57 | 82221 | 99152
7 | 22:02:03 | 04:32:44 | 99153 | 119596
8 | 26:34:47 | 03:14:21 | 119597 | 134167
9 | 29:48:68 | 04:31:26 | 134168 | 154518
10 | 34:20:19 | 03:06:33 | 154519 | 168501
11 | 37:26:52 | 04:42:67 | 168502 | 189718
12 | 42:09:44 | 03:52:63 | 189719 | 207181
13 | 46:02:32 | 02:39:30 | 207182 | 219136
14 | 48:41:62 | 03:37:46 | 219137 | 235457
15 | 52:19:33 | 02:55:47 | 235458 | 248629

AccurateRip Summary
Disc not found in AccurateRip DB.

All Tracks
Filename : /Users/schloss/Desktop/XLD/Standards (Japan SHM-CD UCCU-1561).flac
CRC32 hash : BF0C0DFE
CRC32 hash (skip zero) : 68E48DC8
Statistics
Read error : 0
Jitter error (maybe fixed) : 0
Retry sector count : 0
Damaged sector count : 0

Track 01
Pre-gap length : 00:02:00

CRC32 hash : 94CD676F
CRC32 hash (skip zero) : 8E15A807
AccurateRip v1 signature : B78A00EA
AccurateRip v2 signature : 0F94D393
->Track not present in AccurateRip database.
Statistics
Read error : 0
Jitter error (maybe fixed) : 0
Retry sector count : 0
Damaged sector count : 0

Track 02
Pre-gap length : 00:00:37

CRC32 hash : B66D43D9
CRC32 hash (skip zero) : 9F28D261
AccurateRip v1 signature : 615EA924
AccurateRip v2 signature : 41A8E496
->Track not present in AccurateRip database.
Statistics
Read error : 0
Jitter error (maybe fixed) : 0
Retry sector count : 0
Damaged sector count : 0

Track 03
Pre-gap length : 00:00:37

CRC32 hash : 0BAE409E
CRC32 hash (skip zero) : 5E1E62CC
AccurateRip v1 signature : B4E0D703
AccurateRip v2 signature : D444C857
->Track not present in AccurateRip database.
Statistics
Read error : 0
Jitter error (maybe fixed) : 0
Retry sector count : 0
Damaged sector count : 0

Track 04
Pre-gap length : 00:00:37

CRC32 hash : B4019CEC
CRC32 hash (skip zero) : 0ECAC237
AccurateRip v1 signature : 6B40D319
AccurateRip v2 signature : 07F5AF49
->Track not present in AccurateRip database.
Statistics
Read error : 0
Jitter error (maybe fixed) : 0
Retry sector count : 0
Damaged sector count : 0

Track 05
Pre-gap length : 00:00:37

CRC32 hash : 228BFE38
CRC32 hash (skip zero) : 18EEC492
AccurateRip v1 signature : 3D8A11C7
AccurateRip v2 signature : 455EB774
->Track not present in AccurateRip database.
Statistics
Read error : 0
Jitter error (maybe fixed) : 0
Retry sector count : 0
Damaged sector count : 0

Track 06
Pre-gap length : 00:00:37

CRC32 hash : 9B5E1D5A
CRC32 hash (skip zero) : 15F10337
AccurateRip v1 signature : 4368F588
AccurateRip v2 signature : 20B69FD0
->Track not present in AccurateRip database.
Statistics
Read error : 0
Jitter error (maybe fixed) : 0
Retry sector count : 0
Damaged sector count : 0

Track 07
Pre-gap length : 00:00:37

CRC32 hash : 6C6E35BF
CRC32 hash (skip zero) : 806C1617
AccurateRip v1 signature : 4DB36360
AccurateRip v2 signature : 54C77022
->Track not present in AccurateRip database.
Statistics
Read error : 0
Jitter error (maybe fixed) : 0
Retry sector count : 0
Damaged sector count : 0

Track 08
Pre-gap length : 00:00:37

CRC32 hash : 288F2171
CRC32 hash (skip zero) : 749AE543
AccurateRip v1 signature : 5C35C552
AccurateRip v2 signature : B2F1AC06
->Track not present in AccurateRip database.
Statistics
Read error : 0
Jitter error (maybe fixed) : 0
Retry sector count : 0
Damaged sector count : 0

Track 09
Pre-gap length : 00:00:37

CRC32 hash : F7E27732
CRC32 hash (skip zero) : 4D577B64
AccurateRip v1 signature : 057019DD
AccurateRip v2 signature : 7D6C78C4
->Track not present in AccurateRip database.
Statistics
Read error : 0
Jitter error (maybe fixed) : 0
Retry sector count : 0
Damaged sector count : 0

Track 10
Pre-gap length : 00:00:37

CRC32 hash : FBE651A5
CRC32 hash (skip zero) : 25C41631
AccurateRip v1 signature : 04613AA9
AccurateRip v2 signature : B4CEC1E3
->Track not present in AccurateRip database.
Statistics
Read error : 0
Jitter error (maybe fixed) : 0
Retry sector count : 0
Damaged sector count : 0

Track 11
Pre-gap length : 00:00:37

CRC32 hash : 83ED249E
CRC32 hash (skip zero) : FC7C020C
AccurateRip v1 signature : EDB71334
AccurateRip v2 signature : FBB7E502
->Track not present in AccurateRip database.
Statistics
Read error : 0
Jitter error (maybe fixed) : 0
Retry sector count : 0
Damaged sector count : 0

Track 12
Pre-gap length : 00:00:37

CRC32 hash : 8A766CB8
CRC32 hash (skip zero) : 7DD4B04B
AccurateRip v1 signature : E402DABF
AccurateRip v2 signature : 951455DA
->Track not present in AccurateRip database.
Statistics
Read error : 0
Jitter error (maybe fixed) : 0
Retry sector count : 0
Damaged sector count : 0

Track 13
Pre-gap length : 00:00:37

CRC32 hash : 2C0FB269
CRC32 hash (skip zero) : 6001A672
AccurateRip v1 signature : 3E188761
AccurateRip v2 signature : D2BA1980
->Track not present in AccurateRip database.
Statistics
Read error : 0
Jitter error (maybe fixed) : 0
Retry sector count : 0
Damaged sector count : 0

Track 14
Pre-gap length : 00:00:37

CRC32 hash : E92198FD
CRC32 hash (skip zero) : 18100D97
AccurateRip v1 signature : F0469919
AccurateRip v2 signature : 34D44544
->Track not present in AccurateRip database.
Statistics
Read error : 0
Jitter error (maybe fixed) : 0
Retry sector count : 0
Damaged sector count : 0

Track 15

CRC32 hash : B20C97BD
CRC32 hash (skip zero) : 6F86794D
AccurateRip v1 signature : 6891A4A4
AccurateRip v2 signature : ED5324BC
->Track not present in AccurateRip database.
Statistics
Read error : 0
Jitter error (maybe fixed) : 0
Retry sector count : 0
Damaged sector count : 0

No errors occurred

End of status report
––––––––––––––––––––––––––––––––––––––––
Analyzed: Seal / Standards (Japan SHM-CD UCCU-1561)
––––––––––––––––––––––––––––––––––––––––

DR Peak RMS Duration Track
––––––––––––––––––––––––––––––––––––––––
DR5 -0.62 dB -8.51 dB 4:36 01-Luck Be A Lady
DR8 -0.03 dB -11.94 dB 2:56 02-Autumn Leaves
DR5 -0.59 dB -8.29 dB 2:56 03-I Put A Spell On You
DR6 -0.59 dB -8.82 dB 3:16 04-They Can't Take That Away From Me
DR6 -0.43 dB -8.44 dB 4:32 05-Anyone Who Knows What Love Is
DR7 0.00 dB -8.82 dB 3:46 06-Love For Sale
DR7 -0.02 dB -11.01 dB 4:33 07-My Funny Valentine
DR7 0.00 dB -8.97 dB 3:14 08-I've Got You Under My Skin
DR7 -0.02 dB -10.09 dB 4:31 09-Smile
DR6 0.00 dB -7.61 dB 3:06 10-I'm Beginning To See The Light
DR7 -0.01 dB -10.73 dB 4:43 11-It Was A Very Good Year
DR7 -0.01 dB -9.03 dB 3:53 12-The Nearness Of You
DR6 0.00 dB -8.15 dB 2:39 13-Let It Snow, Let It Snow, Let It Snow
DR7 -0.01 dB -9.64 dB 3:38 14-Christmas Song (Chestnuts Roasting)
DR8 -1.10 dB -13.71 dB 2:56 15-Angel Eyes - Demo
––––––––––––––––––––––––––––––––––––––––

Number of tracks: 15
Official DR value: DR7

Samplerate: 44100 Hz
Channels: 2
Bits per sample: 16
Bitrate: 856 kbps
Codec: FLAC
================================================================================
Thanks to the original releaser
See also:
Seal - 7 (2015) [Official Digital Download 24bit/48kHz]