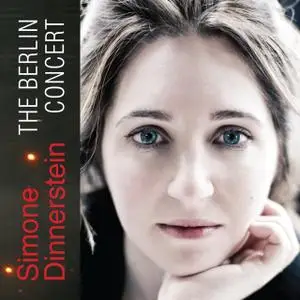 Simone Dinnerstein - The Berlin Concert (2019)
MP3 (CBR 320 kbps) | 01:14:36| 194 MB
Genre: Classical | Label: Telarc
Exciting young pianist Simone Dinnerstein picks up where her acclaimed recording of Bach's Goldberg Variations left off with The Berlin Concert, which takes her label Telarc out, unusually, on the road. This concert was given in November 2003 at the Berlin Philharmonie and was engineered by ace classical recording veteran Adam Abeshouse; the sound quality is not significantly different from a studio recording, and while it does not capture the crackling electricity of some live dates, it is free of coughs, fidgeting, and other kinds of aural distractions. It opens with a very fine Bach French Suite No. 5 in G major, and Bach really seems to be Dinnerstein's strong suit – there are moments where the very manner in which she negotiates rests in this music is breathtaking and catches the listener off guard. Bach is also front and center in the Twelve Variations on a Chorale by J.S. Bach, "Nimm von uns, Herr, du treuer Gott" by contemporary composer Philip Lasser, who teaches at the Juilliard School and once studied composition with David Diamond. It is a striking piece in that Lasser develops his variations from the Bach original in a manner not unlike what a nineteenth century composer might have done, but includes rhythmic gestures and harmonic movement that does not belong to past eras and is strictly contemporary. The overall impression, however, is that the Twelve Variations are tonal and very well crafted, and Dinnerstein makes the most of it.
Beethoven's Piano Sonata No. 32 in C minor, Op. 111, follows. This complex, valedictory work is viewed in some quarters as an anomaly among Beethoven's sonatas, but pianists have developed ways of dealing with it that have become more or less well established. Dinnerstein's interpretation does not draw from this line of thinking, which emphasizes very flexible rhythms and various kinds of dramatic flourishes, such as pounding out the three-note theme in octaves that is the core to the first movement. Her reading is lean, classical, and generally even in tempo, which leads to some funkiness in certain figures in the second movement that ties the work back to similar elements in the second movement of the "Moonlight" Sonata. While some listeners might not be able to relate to an Op. 111 that is lacking in its usual weight and gravity, the upside of Dinnerstein's approach is that it makes the work seem less like an anomaly and more like Beethoven's other pieces of this kind; being both valedictory and summary.
Thankfully, applause from the concert at the ends of tracks is kept to a minimum; Dinnerstein also picks a choice Goldberg Variation to use as an encore. Dinnerstein impresses not only through her virtuosity and precocious depth, but also in her ability to separate her interpretive facilities from her peers, and that is certainly a plus.
AllMusic
Track List:
01. French Suite No. 5 in G Major, BWV 816: I. Alleman
02. French Suite No. 5 in G Major, BWV 816: II. Courante
03. French Suite No. 5 in G Major, BWV 816: III. Sarabande
04. French Suite No. 5 in G Major, BWV 816: IV. Gavotte
05. French Suite No. 5 in G Major, BWV 816: V. Bourrée
06. French Suite No. 5 in G Major, BWV 816: VI. Loure
07. French Suite No. 5 in G Major, BWV 816: VII. Gigue
08. Philip Lasser 12 Variations on a Chorale by J.S. Bach: Nimm von uns, Herr, du treuer Gott, BWV 101
09. Philip Lasser 12 Variations on a Chorale by J.S. Bach: Variation 1 - Sempre espressivo e molto legato
10. Philip Lasser 12 Variations on a Chorale by J.S. Bach: Variation 2 - Più vivo
11. Philip Lasser 12 Variations on a Chorale by J.S. Bach: Variation 3 - Più vivo - Sempre leggero e poco staccato
12. Philip Lasser 12 Variations on a Chorale by J.S. Bach: Variation 4 - Evenly, maintaining a strange disembodied expressivity
13. Philip Lasser 12 Variations on a Chorale by J.S. Bach: Variation 5 - Largo
14. Philip Lasser 12 Variations on a Chorale by J.S. Bach: Variation 6 - Allegro vivace
15. Philip Lasser 12 Variations on a Chorale by J.S. Bach: Variation 7 - Robusto
16. Philip Lasser 12 Variations on a Chorale by J.S. Bach: Variation 8 - Maestoso
17. Philip Lasser 12 Variations on a Chorale by J.S. Bach: Variation 9 - Largo
18. Philip Lasser 12 Variations on a Chorale by J.S. Bach: Variation 10 - Presto, quasi una Toccata
19. Philip Lasser 12 Variations on a Chorale by J.S. Bach: Variation 11 - Variation of Variations - Allegro Amabile
20. Philip Lasser 12 Variations on a Chorale by J.S. Bach: Variation 12 - Andante con moto
21. Piano Sonata No. 32 in C Minor, Op. 111: I. Maestoso - Allegro con brio ed appassionato
22. Piano Sonata No. 32 in C Minor, Op. 111: II. Arietta - Adagio molto semplice e cantabile
23. Goldberg Variations, BWV 988: Variation 13
Performers:
Simone Dinnerstein, piano
Download: