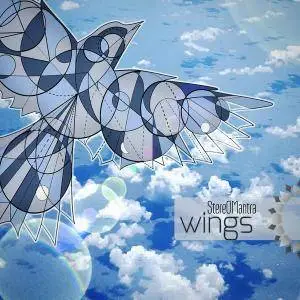 StereOMantra - Wings (2018)
WEB FLAC (tracks) - 465 MB | MP3 CBR 320 kbps (LAME 3.93) - 166 MB | Front cover
Genre: Psychill, Trance | RAR 3% Rec. | Label: OM Mantra Records
As the title implies, the 5th StereOMantra album was entirely based on, inspired by and dedicated to the grace and joy of Traveling. Moving out of comfort, experiencing sublime moments of being just a small tiny spot on Earth… is our greatest teacher. A recent expedition to remote shores and lands, being just an unknowing admirer of foreign cultures and nature proved again that happiness only comes from the inside. As long as we are curious, kind and showing full respect to the World, it will smile back on us. Creativity is clearly fuelled by being aware of the power of solitude and becoming One with the infinite space around.
Tracklist:
01. We Will Fly
02. Wings
03. Waterfall
04. Are We Dreaming
05. Behind Your Mind
06. Rhythm Of Life
07. Sail Away
08. Cyclone
09. Sugar Beach
Total time:
01:10:02

PERFORMER: auCDtect Task Manager, ver. 1.6.0 RC1 build 1.6.0.1
Copyright © 2008-2010 y-soft. All rights reserved

ANALYZER: auCDtect: CD records authenticity detector, version 0.8.2
Copyright © 2004 Oleg Berngardt. All rights reserved.
Copyright © 2004 Alexander Djourik. All rights reserved.


FILE: 09 - Sugar Beach.flac
Size: 57496766 Hash: 32DF9D57CE5E7DE8B3D64F2955647CF2 Accuracy: -m0
Conclusion: CDDA 100%
Signature: E1EFF1B4E16E43084B9882FE8D2FEE5099CBFED8
FILE: 08 - Cyclone.flac
Size: 57337863 Hash: 73CAC23B324C3855D7D21A43A28827BC Accuracy: -m0
Conclusion: CDDA 100%
Signature: 2E9D1232A0397C1C63E01DA0643696CA30D81780
FILE: 07 - Sail Away.flac
Size: 47072503 Hash: C7F9F49494B847D96984A23047BDC0AB Accuracy: -m0
Conclusion: CDDA 100%
Signature: 1B530152F5E517AE68785B0F2E6C74F22041B365
FILE: 06 - Rhythm Of Life.flac
Size: 55330420 Hash: 69551BE3BBD7BA261D8B13C5B125B358 Accuracy: -m0
Conclusion: CDDA 100%
Signature: 79FB87543C77CF20BBCC313129254A6B0E7B85E8
FILE: 05 - Behind Your Mind.flac
Size: 54637174 Hash: 731F2686526C368ACD07D73EAFBDE5E2 Accuracy: -m0
Conclusion: CDDA 100%
Signature: E93E67F9C77938E91641A3B0317CA08D213E7BDE
FILE: 04 - Are We Dreaming.flac
Size: 52872966 Hash: 0A5E0FA20456125252E2D6C13984FE2D Accuracy: -m0
Conclusion: CDDA 100%
Signature: 5330929F3987015412969966B42D7B2C0DE72549
FILE: 03 - Waterfall.flac
Size: 44956471 Hash: 761E339EEFC22F9D873BCF8DB589DE4C Accuracy: -m0
Conclusion: CDDA 100%
Signature: 4E74C2B478A3F6B3932AEF008E2A99FA7B24D9D2
FILE: 02 - Wings.flac
Size: 50599334 Hash: 71108E19F040268CC242931CD87532C7 Accuracy: -m0
Conclusion: CDDA 99%
Signature: B36603E04B80B84868B20CB3690308F0B0B72E2E
FILE: 01 - We Will Fly.flac
Size: 52794815 Hash: EF3E9F8D583B435940972A12420D1C13 Accuracy: -m0
Conclusion: CDDA 100%
Signature: 589A0E43CEA584274034C9CBAD1CCF23D127EC41