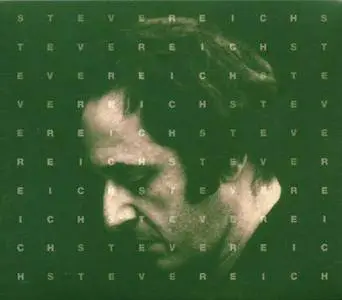 Steve Reich - Works (1965-1995): Box Set 10CDs (1997)
Classical, Minimalism | MP3 CBR 320 kbps | 1,29 Gb | Scans 261 Mb
Label: Nonesuch | Release Year: 1997
In the afterglow of his 60th birthday in 1997, Nonesuch Records delivered Steve Reich and his listeners an immense gift, this 10-CD retrospective of his work for the label, extending from his earliest tape-manipulation pieces to his most recent compositions utilizing samplers and the video artistry of Beryl Korot. Aside from the ear's liquid sense-making when it hears the dense and limber marimbas of Reich's Six Marimbas or his taut, dizzying Piano Phase, there is a physical response almost inevitable in Reich's music. It stuns and holds you. And he knows it. It's Gonna Rain struck an early chord of inventiveness, featuring an African American Pentecostal preacher's sermon and eventually spinning the title phrase into a jangling repetition of single words. Percussion works abound here: Clapping and Drumming stun with their deceptive similarity and warm clarity. Perennial favorite Piano Phase features pianists Nurit Tilles and Eduard Neumann synched up on two pianos and careening at full tilt in unison before their four hands fall out of time and phrase with each other, only to realign in a powerful swooping demonstration of energy and focus. The latter CDs hold abundant delights, many revealing Reich's late-discovered spiritualism and Judaica: Different Trains' examination of the Holocaust; Tehillim's shimmering Hebrew texts sung with fascinating choral power; Proverb's invocation of Perotin. Closing the set are recent pieces: Nagoya Marimbas, and the sampler-rich City Life and The Cave.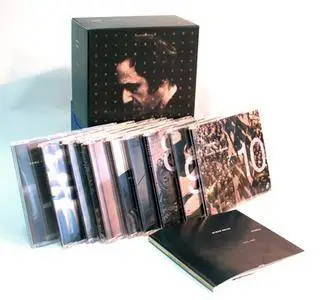 Tracklist:Works (Disc 01) - Come Out / Piano Phase / It's Gonna Rain / Four Organs (67:23)
01. Come out [00:12:58]
02. Piano Phase [00:20:36]
03. It's Gonna Rain [00:17:55]
04. Four Organs [00:15:52]
Works (Disc 02) - Drumming (56:44)
Drumming
01. Part I [00:17:31]
02. Part II [00:18:10]
03. Part III [00:11:12]
04. Part IV [00:09:50]
Works (Disc 03) - Music for Mallet Instruments, Voices and Organ / Clapping Music / Six Marimbas (38:07)
01. Music for Mallet Instruments, Voices and Organ [00:16:59]
02. Clapping Music [00:04:48]
03. Six Marimbas [00:16:19]
Works (Disc 04) - Music For 18 Musicians (67:42)
01. Pulses [00:05:26]
02. Section I [00:03:58]
03. Section II [00:05:13]
04. Section IIIA [00:03:55]
05. Section IIIB [00:03:45]
06. Section IV [00:06:36]
07. Section V [00:06:48]
08. Section VI [00:04:54]
09. Section VII [00:04:19]
10. Section VIII [00:03:34]
11. Section IX [00:05:23]
12. Section X [00:01:50]
13. Section XI [00:05:44]
14. Pulses [00:06:10]
Works (Disc 05) - Eight Lines / Tehillim (48:06)
01. Eight Lines [00:17:36]
Tehillim
02. (Part I) [00:11:45]
03. (Part II) [00:06:01]
04. (Part III) [00:06:18]
05. (Part IV) [00:06:23]
Works (Disc 06) - The Desert Music (48:04)
The Desert Music
01. (Part I) [00:07:54]
02. (Part II) [00:06:59]
03. (Part III) [00:06:59]
04. (Part IV) [00:05:53]
05. (Part V) [00:05:54]
06. (Part VI) [00:03:35]
07. (Part VII) [00:10:47]
Works (Disc 07) - New York Counterpoint / Sextet / The Four Sections (63:54)
New York Counterpoint
01. (Part I) [00:05:03]
02. (Part II) [00:02:43]
03. (Part III) [00:03:40]
Sextet
04. (Part I) [00:10:29]
05. (Part II) [00:04:12]
06. (Part III) [00:02:27]
07. (Part IV) [00:03:14]
08. (Part V) [00:05:59]
The Four Sections
09. (Part I) [00:11:25]
10. (Part II) [00:02:29]
11. (Part III) [00:05:54]
12. (Part IV) [00:06:13]
Works (Disc 08) - Different Trains / Electric Counterpoint / Three Movements (56:36)
Different Trains
01. (Part I) [00:08:58]
02. (Part II) [00:07:30]
03. (Part III) [00:10:30]
Electric Counterpoint
04. (Part I) [00:06:51]
05. (Part II) [00:03:22]
06. (Part III) [00:04:39]
Three Movements
07. (Part I) [00:06:43]
08. (Part II) [00:03:41]
09. (Part III) [00:04:18]
Works (Disc 09) - Excerpts From The Cave (71:56)
01. Act 1 (Part I) [00:02:58]
02. Act 1 (Part II) [00:01:33]
03. Act 1 (Part III) [00:04:42]
04. Act 1 (Part IV) [00:02:32]
05. Act 1 (Part V) [00:02:36]
06. Act 1 (Part VI) [00:05:25]
07. Act 1 (Part VII) [00:03:27]
08. Act 1 (Part VIII) [00:01:20]
09. Act 1 (Part IX) [00:04:30]
10. Act 2 (Part I) [00:04:40]
11. Act 2 (Part II) [00:05:19]
12. Act 3 (Part I) [00:06:29]
13. Act 3 (Part II) [00:04:23]
14. Act 3 (Part III) [00:04:40]
15. Act 3 (Part IV) [00:04:04]
16. Act 3 (Part V) [00:04:28]
17. Act 3 (Part VI) [00:08:42]
Works (Disc 10) - Proverb / Nagoya Marimbas / City Life (41:59)
01. Proverb [00:14:09]
02. Nagoya Marimbas [00:04:35]
City Life
03. (Part I) [00:05:51]
04. (Part II) [00:03:53]
05. (Part III) [00:04:47]
06. (Part IV) [00:03:59]
07. (Part V) [00:04:42]