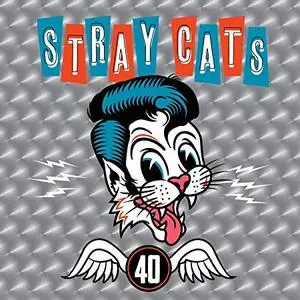 Stray Cats - 40 (2019)
WEB FLAC (Tracks) 214 MB | Cover | 35:38 minutes | MP3 320Kbps | 83 MB
Rock, Rockabilly | Label: Surfdog Records Inc.
Brian Setzer (guitar, vocals), Lee Rocker (bass, vocals) and Slim Jim Phantom (drums, vocals)–original founding members of the iconic and acclaimed American rock and roll trio–are celebrating their 40th anniversary with a new album. STRAY CATS have titled the album 40. Marking their first new album in 26 years, it will be released via Surfdog Records (CD, vinyl, digital). The song titles alone–including "Cat Fight (Over A Dog Like Me)," "Rock It Off," "Mean Pickin' Mama," and "Devil Train"—instantly let listeners know they're in for a non-stop rocking time.
TRACKLIST
1 Cat Fight (Over A Dog Like Me)
2 Rock It Off
3 I've Got Love If You Want It
4 Cry Danger
5 I Attract Trouble
6 Three Time's A Charm
7 That's Messed Up
8 When Nothing's Going Right
9 Desperado
10 Mean Pickin' Mama
11 I'll Be Looking Out For You
12 Devil Train
–––––––––––-
DON'T MODIFY THIS FILE
–––––––––––-
PERFORMER: auCDtect Task Manager, ver. 1.6.0 RC1 build 1.6.0.1
Copyright © 2008-2010 y-soft. All rights reserved
http://y-soft.org
ANALYZER: auCDtect: CD records authenticity detector, version 0.8.2
Copyright © 2004 Oleg Berngardt. All rights reserved.
Copyright © 2004 Alexander Djourik. All rights reserved.
FILE: 9 - Desperado.flac
Size: 18124702 Hash: 0BDA2902ED76954C8F202E8D8A1B6648 Accuracy: -m0
Conclusion: CDDA 100%
Signature: 3EFAAB0F2E9670D5B4040538684E716D921CBB24
FILE: 8 - When Nothing's Going Right.flac
Size: 20716522 Hash: C6D19BDDDD1D756667CF4EB7EB3CD00C Accuracy: -m0
Conclusion: CDDA 100%
Signature: 2BCE5889C48111FB54753EC6489CCEA9C9A3B52F
FILE: 7 - That's Messed Up.flac
Size: 26574189 Hash: 9BB590FD59398E100E0E05F94DA202CF Accuracy: -m0
Conclusion: CDDA 99%
Signature: 717BB97D2A1DDED4D0F70BFE5335F876B71657E6
FILE: 6 - Three Time's A Charm.flac
Size: 14200604 Hash: F5FDFB6F2E4D13AAC6AC44BAED40D414 Accuracy: -m0
Conclusion: CDDA 100%
Signature: EEE6879E6BCF50DCF5CD8718CB0F860C1E68E05C
FILE: 5 - I Attract Trouble.flac
Size: 25798839 Hash: 39E8B0B894C6D96E88597B3805379407 Accuracy: -m0
Conclusion: CDDA 100%
Signature: 56A799AAD19BED3733F0F5C732767A48091BCB38
FILE: 4 - Cry Danger.flac
Size: 22371930 Hash: 84424D25BD5CFA9324F53A22A745F33E Accuracy: -m0
Conclusion: CDDA 100%
Signature: 889F1C83793642B351786167C6C93339AB244602
FILE: 3 - I've Got Love If You Want It.flac
Size: 20306046 Hash: F3A8D7F3A1CDE995CE08637A6465A6AA Accuracy: -m0
Conclusion: CDDA 99%
Signature: 12694AA3963694F90819870CECF77E8EAF30C3B7
FILE: 2 - Rock It Off.flac
Size: 19979782 Hash: F6E760F05989012B7852BFCB4A1D020C Accuracy: -m0
Conclusion: CDDA 100%
Signature: 10B02EAE9F6C4E67E0E581F484967882C60256A9
FILE: 12 - Devil Train.flac
Size: 22704033 Hash: 5E52666ADB681ED31E9ED134425713C6 Accuracy: -m0
Conclusion: CDDA 100%
Signature: D016AED5206BA16D779B9C5861264A506C02ABFE
FILE: 11 - I'll Be Looking Out For You.flac
Size: 17915709 Hash: 2D6DAAD4173BE2F55DFE112FE0D20879 Accuracy: -m0
Conclusion: CDDA 100%
Signature: 2E694677BCBFDB6A4ABA55467B0DE5BB209EA5BE
FILE: 10 - Mean Pickin' Mama.flac
Size: 17437319 Hash: AEB5C0843E0788FA522445F0C58B7D8F Accuracy: -m0
Conclusion: CDDA 100%
Signature: CEFC068127BA75DD3CAC635B02AADB14168710DC
FILE: 1 - Cat Fight (Over A Dog Like Me).flac
Size: 14874539 Hash: 2ED37A74306A4C6F9E36A5E271DCA10A Accuracy: -m0
Conclusion: CDDA 100%
Signature: D3772D0FBEBDFA58AE9767E47942DD373FA17D5D