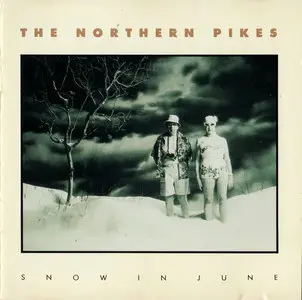 The Northern Pikes - Snow In June (1990)
EAC | FLAC | Tracks (Cue&Log) ~ 362 Mb | Mp3 (CBR320) ~ 136 Mb | Scans included
Genre: Rock | Label: Virgin Records Canada | # CDV3084 | Time: 00:56:43
Snow In June is the third major label album by The Northern Pikes released in 1990. It featured three hit singles - "Kiss Me You Fool", "She Ain't Pretty", and "Girl With a Problem". This was the band's most successful album and garnered them three nominations at the 1991 Juno Awards. The nominations were: Group of the Year, Single of the Year for "She Ain't Pretty", and Best Video for "She Ain't Pretty".
The Northern Pikes were founded in Saskatoon, Saskatchewan in 1983 out of the relics of three Canadian prairie bands – the Idols, Seventeen Envelope, and Doris Daye. The band released two self-financed independent albums, The Northern Pikes and Scene in North America, which attracted the attention of Virgin Records Canada, then in the process of expanding and looking for Canadian acts. Signed to a six-album international deal in 1985, their major-label debut was Big Blue Sky, which contained the singles and videos "Teenland" and "The Things I Do for Money." In that same year, the band opened on tours by Duran Duran, David Bowie and the Fixx, vaulting them into international stardom. The band's next album, Secrets of the Alibi, was ignored by critics and given less than complimentary reviews, but British pop star Robert Palmer saw potential in the band and had them as opening slot on his 1989 North American tour. In 1990, Snow in June became their third major release; this album was sort of a comeback, boasting three Top 40 hits in "She Ain't Pretty," "Girl with a Problem," and "Kiss Me You Fool." This album pulled out all the stops with mixes by Hugh Padgham and Bob Clearmountain and production by Rick Hutt, Fraser Hill and the Pikes themselves. The album also had an impressive roster special guest performers, including Garth Hudson (the Band) and John Sebastian (Lovin' Spoonful). Despite all of the attention the album received, Virgin America passed on its U.S. release, and the band ended up having it released by Scotti Brothers in 1991. The album would go on to sell double platinum, much to Virgin's loss. In 1992, the band released the album Neptune to very little fanfare, as their popularity began to dwindle. The album sank without a trace, but at the end of 1993 they released a live album called Gig, with songs taken from a set of the band's last shows together. In 1993, bandleader Jay Semko quit in frustration and the Northern Pikes were no more.



Keith Pettipas, Allmusic.com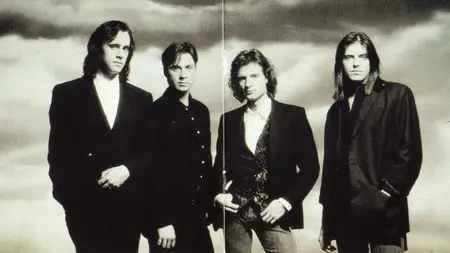 Tracklist:
01. Dream Away (04:41)
02. Love These Hands (04:11)
03. Kiss Me You Fool (04:24)
04. She Ain't Pretty (02:43)
05. Tomorrow Never Comes (04:52)
06. Shadow of Doubt (05:03)
07. Shotgun Morning (03:55)
08. Isn't It Lovely (06:18)
09. Unimportant (02:41)
10. Am I In Your Way (03:46)
11. Girl With A Problem (03:59)
12. Green Fields (04:07)
13. Snow In June (05:57)
Exact Audio Copy V1.0 beta 3 from 29. August 2011

Отчёт EAC об извлечении, выполненном 6. сентября 2015, 10:21

The Northern Pikes / Snow In June

Дисковод: ASUS DRW-1814BLT Adapter: 4 ID: 0

Режим чтения : Достоверность
Использование точного потока : Да
Отключение кэша аудио : Да
Использование указателей C2 : Нет

Коррекция смещения при чтении : 6
Способность читать области Lead-in и Lead-out : Нет
Заполнение пропущенных сэмплов тишиной : Да
Удаление блоков с тишиной в начале и конце : Нет
При вычислениях CRC использовались нулевые сэмплы : Да
Интерфейс : Встроенный Win32-интерфейс для Win NT/2000
Обработка зазоров : Добавлено к предыдущему треку

Выходной формат : Пользовательский кодировщик
Выбранный битрейт : 128 kBit/s
Качество : Высокий
Добавление ID3-тега : Нет
Утилита сжатия : C:\Program Files\Exact Audio Copy\Flac\flac.exe
Дополнительные параметры : -V -8 -T "Genre=%genre%" -T "Artist=%artist%" -T "Title=%title%" -T "Album=%albumtitle%" -T "Date=%year%" -T "Tracknumber=%tracknr%" -T "Comment=EAC1.0b2 FLAC -8" %source%


TOC извлечённого CD

Трек | Старт | Длительность | Начальный сектор | Конечный сектор
––––––––––––––––––––––––––––––––––-
1 | 0:00.00 | 4:41.15 | 0 | 21089
2 | 4:41.15 | 4:11.72 | 21090 | 39986
3 | 8:53.12 | 4:24.23 | 39987 | 59809
4 | 13:17.35 | 2:43.57 | 59810 | 72091
5 | 16:01.17 | 4:52.50 | 72092 | 94041
6 | 20:53.67 | 5:03.53 | 94042 | 116819
7 | 25:57.45 | 3:55.45 | 116820 | 134489
8 | 29:53.15 | 6:18.47 | 134490 | 162886
9 | 36:11.62 | 2:41.28 | 162887 | 174989
10 | 38:53.15 | 3:46.30 | 174990 | 191969
11 | 42:39.45 | 3:59.32 | 191970 | 209926
12 | 46:39.02 | 4:07.65 | 209927 | 228516
13 | 50:46.67 | 5:57.00 | 228517 | 255291


Трек 1

Имя файла R:\Раздача 53\The Northrn Pikes - 1990 - Snow In June\01 Dream Away.wav

Длина предзазора 0:00:02.00

Пиковый уровень 95.0 %
Скорость извлечения 3.9 X
Качество трека 99.9 %
CRC теста F8A2486A
CRC копии F8A2486A
Точное извлечение (достоверность 2) [60916C1C] (AR v2)
Копирование… OK

Трек 2

Имя файла R:\Раздача 53\The Northrn Pikes - 1990 - Snow In June\02 Love These Hands.wav

Длина предзазора 0:00:00.10

Пиковый уровень 97.2 %
Скорость извлечения 4.3 X
Качество трека 99.9 %
CRC теста C760B451
CRC копии C760B451
Точное извлечение (достоверность 2) [AF70D432] (AR v2)
Копирование… OK

Трек 3

Имя файла R:\Раздача 53\The Northrn Pikes - 1990 - Snow In June\03 Kiss Me You Fool.wav

Длина предзазора 0:00:00.07

Пиковый уровень 97.2 %
Скорость извлечения 6.3 X
Качество трека 100.0 %
CRC теста 19630D21
CRC копии 19630D21
Точное извлечение (достоверность 2) [1D2646EA] (AR v2)
Копирование… OK

Трек 4

Имя файла R:\Раздача 53\The Northrn Pikes - 1990 - Snow In June\04 She Ain't Pretty.wav

Пиковый уровень 97.2 %
Скорость извлечения 6.2 X
Качество трека 100.0 %
CRC теста 3588479A
CRC копии 3588479A
Точное извлечение (достоверность 2) [0ABE5391] (AR v2)
Копирование… OK

Трек 5

Имя файла R:\Раздача 53\The Northrn Pikes - 1990 - Snow In June\05 Tomorrow Never Comes.wav

Пиковый уровень 97.2 %
Скорость извлечения 7.1 X
Качество трека 100.0 %
CRC теста DE258CCC
CRC копии DE258CCC
Точное извлечение (достоверность 2) [4B54961F] (AR v2)
Копирование… OK

Трек 6

Имя файла R:\Раздача 53\The Northrn Pikes - 1990 - Snow In June\06 Shadow of Doubt.wav

Пиковый уровень 97.2 %
Скорость извлечения 7.7 X
Качество трека 100.0 %
CRC теста 21C681C1
CRC копии 21C681C1
Точное извлечение (достоверность 2) [AFC0623B] (AR v2)
Копирование… OK

Трек 7

Имя файла R:\Раздача 53\The Northrn Pikes - 1990 - Snow In June\07 Shotgun Morning.wav

Длина предзазора 0:00:04.05

Пиковый уровень 97.2 %
Скорость извлечения 7.8 X
Качество трека 100.0 %
CRC теста DE0791B7
CRC копии DE0791B7
Точное извлечение (достоверность 2) [7488EDBD] (AR v2)
Копирование… OK

Трек 8

Имя файла R:\Раздача 53\The Northrn Pikes - 1990 - Snow In June\08 Isn't It Lovely.wav

Длина предзазора 0:00:01.68

Пиковый уровень 97.2 %
Скорость извлечения 8.7 X
Качество трека 100.0 %
CRC теста 1BD76496
CRC копии 1BD76496
Точное извлечение (достоверность 2) [1508C700] (AR v2)
Копирование… OK

Трек 9

Имя файла R:\Раздача 53\The Northrn Pikes - 1990 - Snow In June\09 Unimportant.wav

Длина предзазора 0:00:01.67

Пиковый уровень 51.2 %
Скорость извлечения 7.9 X
Качество трека 100.0 %
CRC теста 5B1F6552
CRC копии 5B1F6552
Точное извлечение (достоверность 2) [444A0B5F] (AR v2)
Копирование… OK

Трек 10

Имя файла R:\Раздача 53\The Northrn Pikes - 1990 - Snow In June\10 Am I In Your Way.wav

Длина предзазора 0:00:00.18

Пиковый уровень 97.2 %
Скорость извлечения 6.4 X
Качество трека 99.9 %
CRC теста A94BA615
CRC копии A94BA615
Точное извлечение (достоверность 2) [5E855696] (AR v2)
Копирование… OK

Трек 11

Имя файла R:\Раздача 53\The Northrn Pikes - 1990 - Snow In June\11 Girl With A Problem.wav

Пиковый уровень 97.2 %
Скорость извлечения 9.0 X
Качество трека 100.0 %
CRC теста E2D571BD
CRC копии E2D571BD
Точное извлечение (достоверность 2) [D4749064] (AR v2)
Копирование… OK

Трек 12

Имя файла R:\Раздача 53\The Northrn Pikes - 1990 - Snow In June\12 Green Fields.wav

Пиковый уровень 91.0 %
Скорость извлечения 9.3 X
Качество трека 100.0 %
CRC теста 0BAC1059
CRC копии 0BAC1059
Точное извлечение (достоверность 2) [68681860] (AR v2)
Копирование… OK

Трек 13

Имя файла R:\Раздача 53\The Northrn Pikes - 1990 - Snow In June\13 Snow In June.wav

Пиковый уровень 97.2 %
Скорость извлечения 10.1 X
Качество трека 100.0 %
CRC теста FA34230E
CRC копии FA34230E
Точное извлечение (достоверность 2) [4B33DD4B] (AR v2)
Копирование… OK


Все треки извлечены точно

Ошибок не произошло

Конец отчёта

==== Контрольная сумма отчёта 41468A9F595D011B21CEC76D1B9CDAC4BF95A8F75BE3A60481E479D148B6001E ====
foobar2000 1.2 / Dynamic Range Meter 1.1.1
log date: 2015-09-16 16:26:24

––––––––––––––––––––––––––––––––––––––––
Analyzed: The Northern Pikes / Snow In June
––––––––––––––––––––––––––––––––––––––––

DR Peak RMS Duration Track
––––––––––––––––––––––––––––––––––––––––
DR12 -0.44 dB -15.13 dB 4:41 01-Dream Away
DR12 -0.24 dB -14.09 dB 4:12 02-Love These Hands
DR11 -0.24 dB -13.94 dB 4:24 03-Kiss Me You Fool
DR11 -0.24 dB -13.11 dB 2:44 04-She Ain't Pretty
DR14 -0.24 dB -17.31 dB 4:53 05-Tomorrow Never Comes
DR13 -0.24 dB -15.80 dB 5:04 06-Shadow of Doubt
DR12 -0.24 dB -13.97 dB 3:56 07-Shotgun Morning
DR13 -0.24 dB -15.50 dB 6:19 08-Isn't It Lovely
DR14 -5.81 dB -23.30 dB 2:41 09-Unimportant
DR12 -0.24 dB -15.20 dB 3:46 10-Am I In Your Way
DR13 -0.24 dB -14.95 dB 3:59 11-Girl With A Problem
DR12 -0.82 dB -17.39 dB 4:08 12-Green Fields
DR11 -0.24 dB -14.69 dB 5:57 13-Snow In June
––––––––––––––––––––––––––––––––––––––––

Number of tracks: 13
Official DR value: DR12

Samplerate: 44100 Hz
Channels: 2
Bits per sample: 16
Bitrate: 876 kbps
Codec: FLAC
================================================================================