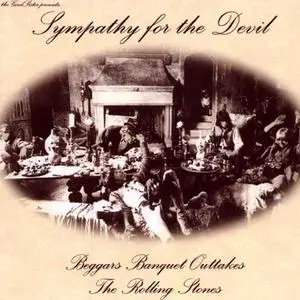 The Rolling Stones - Sympathy for the Devil: Beggars Banquet Outtakes (1968)
Flac(Image) + Cue & MP3 CBR 320Kbps
2002 | Sister Morphine, Morph 21 | ~ 452 or 176 Mb
Rock & Roll / Classic Rock
Following the long sessions for the previous album in 1967, Mick Jagger and Keith Richards decided that the band needed more direction in the studio and in early 1968 hired Jimmy Miller, who had produced the Spencer Davis Group and Traffic. The partnership would prove to be a success and Miller would work with the band until 1973.

In March, the band began recording their new album, aiming for a July release. One of the first tracks cut, "Jumpin' Jack Flash", was released as a single that May, becoming a major hit.

Beggars Banquet was Brian Jones' last effort with The Rolling Stones. In addition to his slide work on "No Expectations," he played harmonica on "Parachute Woman", "Dear Doctor"(possibly Dave Mason) and "Prodigal Son", sitar and tambura on "Street Fighting Man" and mellotron on both "Jigsaw Puzzle" and "Stray Cat Blues".


By June, the sessions were nearly completed in England, with some final overdubbing and mixing to be done in Los Angeles during July. However, both Decca Records in England and London Records rejected the planned cover design - a graffiti-covered lavatory, and the band held back the album. By November, however, The Rolling Stones gave in, allowing the album to be released in December with a simple imitation invitation card cover. The idea for a plain album cover was also implemented by the Beatles for the White Album, which was released one month prior to Beggars Banquet. This similarity, coupled with Beggars Banquet's later release, garnered the Rolling Stones accusations of imitating the Beatles. In 1984, the original cover art was released with the initial CD remastering of Beggars Banquet.
The Rolling Stones - Sympathy for the Devil: Beggars Banquet Outtakes (1968):
Tracklist:
01. Intro: Fallen Angels (0:33)
02. Sympathy For The Devil (Take 1) (1:30)
03. No Expectations (4:20)
04. Dear Doctor (Take 1) (3:30)
05. Dear Doctor (Take 2) (3:24)
06. Parachute Woman (2:15)
07. Sympathy For The Devil (Take 2) (5:09)
08. Family (4:01)
09. Jig Saw Puzzle (6:06)
10. Pay Your Dues (3:08)
11. Street Fighting Man (3:19)
12. Prodigal Son (2:55)
13. Still A Fool (6:43)
14. Stray Cat Blues (4:17)
15. Sweet Lucy (3:47)
16. Factory Girl (2:10)
17. Salt of The Earth (4:48)
18. Sympathy For The Devil (Take 3) (1:41)
19. Sympathy For The Devil (Take 4) (6:22)
20. Jumpin' Jack Flash (3:55)
[CUETools log; Date: 08.05.2021 9:52:00; Version: 2.1.4]
[AccurateRip ID: 00317c60-02eef411-09116b14] found.
Track [ CRC | V2 ] Status
01 [171762b7|e4f1c036] (0+0/1) No match
02 [8c1619c5|fba137a4] (0+0/1) No match
03 [39b4a60f|23d9d8f7] (0+0/1) No match
04 [d83e4a34|3ab49da3] (0+0/1) No match
05 [de58bd11|074081e9] (0+0/1) No match
06 [0be0521e|de38193f] (0+0/1) No match
07 [26abfa9e|7e05f655] (0+0/1) No match
08 [06b5ca20|26176b24] (0+0/1) No match
09 [c427fb2c|d0baa99d] (0+0/1) No match
10 [f3c40bb4|765e879b] (0+0/1) No match
11 [9a0c1390|dd480045] (0+0/1) No match
12 [43c1b0e3|d9ad353e] (0+0/1) No match
13 [6a95a94f|87d39d33] (0+0/1) No match
14 [01155fcb|f3583a14] (0+0/1) No match
15 [2e141408|2862da65] (0+0/1) No match
16 [53849de0|471614ca] (0+0/1) No match
17 [67094664|6c86dc03] (0+0/1) No match
18 [4f47621a|6696c6cb] (0+0/1) No match
19 [14a546e1|bbba1cd8] (0+0/1) No match
20 [9e0c739a|c9320894] (0+0/1) No match
Offsetted by 6:
01 [c475e735] (0/1) No match (V2 was not tested)
02 [59dfe4d5] (0/1) No match (V2 was not tested)
03 [c483b43c] (0/1) No match (V2 was not tested)
04 [72225ccc] (0/1) No match (V2 was not tested)
05 [801fae28] (0/1) No match (V2 was not tested)
06 [275c70ea] (0/1) No match (V2 was not tested)
07 [aa77bada] (0/1) No match (V2 was not tested)
08 [5cac6e7d] (0/1) No match (V2 was not tested)
09 [edcc14f1] (0/1) No match (V2 was not tested)
10 [2ea5e808] (0/1) No match (V2 was not tested)
11 [70e3b0db] (0/1) No match (V2 was not tested)
12 [dd145293] (0/1) No match (V2 was not tested)
13 [c76cf618] (0/1) No match (V2 was not tested)
14 [ebb2741c] (0/1) No match (V2 was not tested)
15 [f4199194] (0/1) No match (V2 was not tested)
16 [77eaeba5] (0/1) No match (V2 was not tested)
17 [f39e61d9] (0/1) No match (V2 was not tested)
18 [54a7908e] (0/1) No match (V2 was not tested)
19 [41de7cea] (0/1) No match (V2 was not tested)
20 [e6f8dfa4] (0/1) No match (V2 was not tested)

Track Peak [ CRC32 ] [W/O NULL]
– 96,5 [1C77BDE2] [4E0FAF3F]
01 96,5 [30D9842D] [52253DCA]
02 96,5 [EB8FAAAC] [0A213BAB]
03 96,5 [D727CFB0] [6A25FC99]
04 96,5 [601BD210] [E610D70D]
05 96,5 [C5FDA1F6] [9D32FFCC]
06 96,5 [7769E232] [7F905B49]
07 96,5 [1CD504B4] [261C815B]
08 96,5 [4E651CD5] [EC49B8AB]
09 96,5 [C2D93E32] [A450FB37]
10 96,5 [DEDE257F] [3EAD0E90]
11 96,5 [968DF52E] [D8EB580F]
12 96,5 [7DE3CDD9] [7DC94CEE]
13 96,5 [DD083AC7] [932321F2]
14 96,5 [7CE6F887] [9DCAC7CF]
15 96,5 [AE1A6623] [83873E85]
16 96,5 [7E3FD565] [76ACDA5D]
17 96,5 [AD632AD8] [378507A3]
18 96,5 [C759DCC0] [23342863]
19 96,5 [60527983] [3420A49F]
20 96,5 [52C87292] [234F6C8E]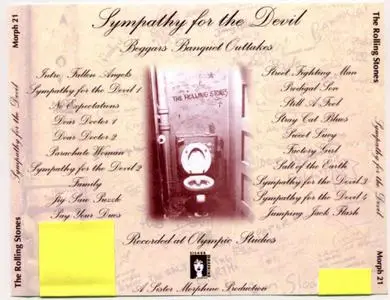 All thanks go to the original releaser
Rolling Stones
in my Blog
Download The Rolling Stones - Sympathy for the Devil: Beggars Banquet Outtakes (1968):