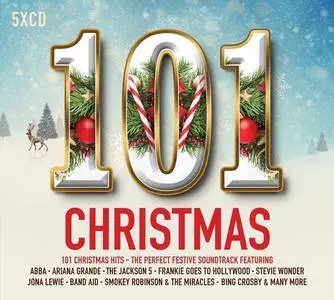 VA - 101 Christmas (5CD, 2017)
MP3 CBR 320 kbps | 5:41:05 | 807 Mb
Genre: Pop, Christmas Music / Label: Universal Music
Universal Music launch the brand new festive addition to the 101 Hits series. 101 Christmas careful compiled across 5 discs presenting some of the finest repertoire ever available at this price point. 101 Christmas features the likes of Band Aid, Elton John, Bing Crosby, Jackson 5 and many more.
Track List:
Disc: 1
1. Do They Know It's Christmas? - 1984 Version
2. Stop The Cavalry - Jona Lewie
3. In Dulci Jubilo - Mike Oldfield
4. Step Into Christmas - Elton John
5. All I Want For Christmas - Samantha Mumba
6. Last Christmas - Ariana Grande
7. I Wish It Could Be Christmas Everyday - Girls Aloud
8. Rockin' Around The Christmas Tree - Mel & Kim
9. Merry Christmas Baby - Hanson
10. Run Rudolph Run - Chuck Berry
11. Rudolph The Red - Nosed Reindeer
12. Merry Christmas Baby - James Brown
13. Christmas Song - Gilbert O'Sullivan
14. Happy Christmas (War Is Over) - Maroon 5
15. Driving Home For Christmas - Michael Ball
16. Have Yourself A Merry Little Christmas - Ronan Keating
17. Winter World Of Love - Engelbert Humperdinck
18. A Spaceman Came Travelling - Chris De Burgh
19. Caravan Of Love - The Housemartins
20. Only You - The Flying Pickets
Disc: 2
1. White Christmas - Bing Crosby
2. The Power Of Love - Frankie Goes To Hollywood
3. A Christmas We Deserve - ABC
4. A Winter's Tale - David Essex
5. I Saw Mommy Kissing Santa Claus - The Jackson 5
6. Let It Snow - Album Version
7. Santa Claus Go Straight To The Ghetto - James Brown
8. Christmas Rappin' - Kurtis Blow
9. It May Be Winter Outside (But In My Heart It's Spring) - Love Unlimited
10. Someday At Christmas - The Temptations
11. What Christmas Means To Me - Stevie Wonder
12. I Want To Come Home For Christmas - Marvin Gaye
13. It Won't Be Long 'Til Christmas - Diana Ross & The Supremes
14. O Holy Night - Patti LaBelle
15. O Little Town Of Bethlehem - Aaron Neville
16. God Rest Ye Merry Gentlemen - Ella Fitzgerald
17. Winter Wonderland - Chet Baker
18. Have Yourself A Merry Little Christmas - Judy Garland
19. Rudolph, The Red - Nosed Reindeer
20. Traditional: Amazing Grace - Lesley Garrett
Disc: 3
1. Do They Know It's Christmas? - Band Aid 20
2. Jingle Bell Rock - Girls Aloud
3. Rockin' Around The Christmas Tree - Brenda Lee
4. Santa Claus Is Coming To Town - Jackson 5
5. Winter Wonderland - The Miracles
6. Wish You A Merry Christmas - Kim Weston
7. Joy To The World - The Supremes
8. My Christmas Tree - The Temptations
9. The Little Drummer Boy - Stevie Wonder
10. Soulful Christmas - James Brown
11. Frosty The Snowman - The Jackson 5
12. Please Come Home For Christmas - Aaron Neville
13. Lonely This Christmas - KT Tunstall
14. I Wanna Kiss You So - Girls Aloud
15. Warm This Winter - Gabriella Cilmi
16. Portsmouth - Mike Oldfield
17. Silent Night - Ronan Keating
18. Christmas In Killarney - Bing Crosby
19. Blue Christmas - Glen Campbell
20. Hallelujah - Katherine Jenkins
Disc: 4
1. When A Child Is Born - Michael Ball
2. It's Beginning To Look A Lot Like Christmas - Bing Crosby
3. O Come All Ye Faithful - Tenor: Aled Jones
4. The Prayer - Katherine Jenkins
5. It's Only Christmas - with Hayley Westenra Ronan Keating
6. Winter Wonderland - André Rieu
7. Darke: In The Bleak Midwinter - Blake
8. God Rest Ye Merry Gentlemen - Bing Crosby
9. Mary's Boy Child - Peters & Lee
10. Silent Night - Tenor: Aled Jones
11. Adeste Fideles - Russell Watson
12. Give Love On Christmas Day - The Jackson 5
13. Silver Bells - The Temptations
14. Away In A Manger/ Coventry Carol - Medley
15. Winter Song - Ronan Keating
16. Count The Days - Girls Aloud
17. River - Michael Ball
18. 2000 Miles - KT Tunstall
19. The Perfect Year - Dina Carroll
20. White Christmas - Girls Aloud
Disc: 5
1. Do They Know It's Christmas? - 2014
2. Super Trouper - Abba
3. Make A Daft Noise For Christmas - The Goodies
4. Thank God It's Not Christmas - Sparks
5. Christmas Day - Squeeze
6. It's Christmas Time - Status Quo
7. Christmas In Heaven - James Brown
8. I'll Be Home For Christmas - The Miracles
9. White Christmas - The Supremes
10. Little Drummer Boy - Ronan Keating
11. Christmas Lullaby - Smokey Robinson & The Miracles
12. Gruber: Silent Night - Boyz II Men
13. Brunning: Pie Jesu - All Angels
14. Walking In The Air - Aled Jones
15. Winter Wonderland - Patrizio Buanne
16. (Everybody's Waitin' For) The Man With The Bag - Kay Starr
17. Christmas Wrapping - The Saturdays
18. Hark! The Herald Angels Sing - Busted
19. A Merry Jingle - The Greedies
20. Feels Like Christmas - The Feeling
21. Fairytale Of New York - KT Tunstall