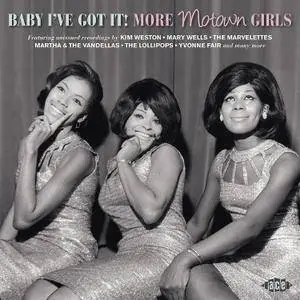 VA - Baby I've Got It: More Motown Girls (2018)
MP3 CBR 320 kbps | 1:04:26 | 153 Mb
Genre: Pop, Vocal / Label: Ace Records
Many moons have passed since Ace's last Motown Girls project was released but these things take time and a great deal of patience. Ace are confident followers of the series will find this new volume well worth the wait. The collection opens with In My Heart I Know It s Right, the first song Gladys Knight & the Pips recorded for Motown, and closes with the great Kim Weston in torch singer mode. In between you'll find some of the company's biggest stars - the Marvelettes, Brenda Holloway, Martha & the Vandellas alongside lesser-known collector's favourites such as Liz Lands and LaBrenda Ben. Of the 24 tracks here on Baby I've Got It!, 14 are previously unissued in any format and 10 were first made available as Motown Unreleased downloads between 2014 and 2017. The selections were recorded between 1961 and 1969, and although predominantly uptempo, which should please most Motown fans represent several variations of the Motown sound. Compiled by Keith Hughes and Mick Patrick.
Track List:
1. In My Heart I Know It's Right - Gladys Knight and The Pips
2. Without Love You Lose a Good Feelin' - Brenda Holloway
3. It's Been a Long Time Happenin' - Rita Wright
4. Honey Don't Leave Me - The Lewis Sisters
5. Baby I've Got It - Brenda Holloway
6. It's Crazy Baby - Liz Lands
7. There Are Things - Ann Bogan
8. I'm Willing to Pay the Price - Martha and The Vandellas
9. Bad News - LaBrenda Ben
10. When Someone's Good to You - Oma Page
11. Is This Why (I Gave My Love to You) - Gladys Knight and The Pips
12. I Up and Think of You - Kim Weston
13. It's All Right - LaBrenda Ben
14. She Don't Love You (With Strings) - Mary Wells
15. Mr. Misery (Let Me Be) - Martha and The Vandellas
16. Playboy - The Marvelettes
17. Cookie Boy - Thelma Brown
18. Keep Away - Little Lisa
19. Sweet Talkin' Guy - The Marvelettes
20. I Know (You Don't Love Me No More) - Yvonne Fair
21. You've Got Possibilities - Barbara McNair
22. In Your Heart - Patrice Holloway
23. There Was - The Lollipops
24. So Long - Kim Weston