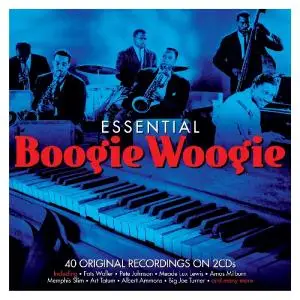 VA - Essential Boogie Woogie (2CD, 2019)
FLAC tracks | 1:57:20 | 358 Mb
Genre: Jazz, Pop, R&B, Rock / Label: Not Now Music
In December 1938 three pianists, Pete Johnson, Albert Ammons and Meade Lux Lewis sat onstage at New York's Carnegie Hall and dispensed an intriguing and exciting line in Boogie Woogie. What they played is now considered to be a major influence on R&B and rock and roll. Almost overnight, eight-to-a-bar became part of America's Swing Scene, as virtually every big band dashed to the recording studio to cut a piano boogie-led hit. Enjoy!
Track List:
Disc: 1
1. Blues On The Downbeat - Pete Johnson
2. Olympia Boogie - Memphis Slim
3. Hallelujah Boogie Woogie - Dorothy Donegan
4. Cecil's Boogie - Cecil Gant
5. Hold 'Em Hootie - Jay McShann
6. Cow Cow Blues - Cow Cow Davenport
7. Riff Boogie - Meade Lux Lewis
8. Blackout Boogie - Freddie Slack
9. Swanee River Boogie - Albert Ammons
10. Boogie Woogie Country Girl - Big Joe Turner
11. Tiger Rag - Art Tatum
12. Yancey Stomp - Jimmy Yancey
13. Handful Of Keys - Fats Waller
14. Basie Boogie - Count Basie
15. Cuban Sugar Mill - Freddie Slack
16. The Hustler - Memphis Slim
17. Chicago Breakdown - Big Maceo
18. Chicago Stomps - Jimmy Blythe
19. Honky Tonk Train Blues - Meade Lux Lewis
20. My Baby's Booging - Amos Milburn
Disc: 2
1. Central Avenue Breakdown - Lionel Hampton
2. Down The Road Apiece - Amos Milburn
3. Dive Bomber - Pete Johnson
4. Barrel House Boogie - Albert Ammons & Pete Johnson
5. Panic Street - Memphis Slim
6. Jukebox Boogie - Gene Rodgers
7. Boogie Woogie - Cleo Brown
8. Rollin' The Stone - Jimmy Yancey
9. Smashing Thirds - Fats Waller
10. Nasty Boogie - Champion Jack Dupree
11. Boogie Woogie Stomp - Albert Ammons
12. Bass On Top Meade - Lux Lewis
13. Death Ray Boogie - Pete Johnson
14. Pinetop's Boogie Woogie - Pinetop Smith
15. Tatum Pole Boogie - Art Tatum
16. Dearborn Street Breakdown - Charles Avery
17. Boo Woo - Harry James & The Boogie Woogie Trio
18. Boozie Boogie - Cecil Gant
19. The Boogie Rocks - Albert Ammons
20. Mess Around - Ray Charles