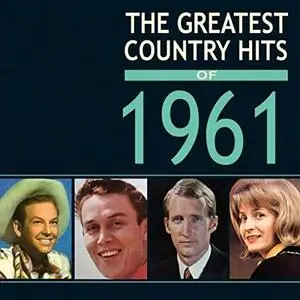 VA - Greatest Country Hits Of 1961 (2019)
MP3 320 kbps | 04:43:28 | 637 Mb
Genre: Country / Label: ACROBAT
This release continues the series of 4-CD sets which comprises selected annual collections of the biggest US country hits of each year. This great-value 113-track collection covers the year of 1961, during which time Billboard published a country Top 30 called Hot C&W Sides, and it comprises every record which appeared in the top 22 places in that chart during the year, excluding one or two records which are unavailable for copyright reasons. Despite the fact that the pop landscape had been transformed over the preceding years by rock 'n' roll and its aftermath, and with the new decade the British Invasion was only a couple of years away, the charts still had a familiar look about them for country fans, with many traditional established country stars well-represented, like Ernest Tubb, Webb Pierce, Kitty Wells and Ray Price. However, the smoother Nashville sound certainly characterised many of the hits and there was more than a smattering of artists who enjoyed big crossover hits, notably Leroy Van Dyke returning to the charts with his long-running No. 1 "Walk On By", as well as Jim Reeves, Marty Robbins, Hank Locklin, and Faron Young. There were also some hot new kids on the block like Buck Owens, Roy Drusky, and Jimmy Dean, along with some collectable obscurities among the one-hit wonders. It's a fascinating and entertaining musical snapshot of the country scene during a dynamic era, and with an in-depth 12,000+ word booklet with background notes on every record, it gives a solid overview of the most popular country music of the year.
Track List:
CD1
1. Ferlin Husky - On The Wings of A Dove
2. Jim Reeves - I Missed Me
3. Buck Owens - Excuse Me
4. Webb Pierce - Fallen Angel
5. Jim Reeves - Am I Losing You
6. Marion Worth - I Think I Know
7. Ernest Ashworth - You Can't Pick A Rose In December
8. Jimmy Newman - Wanting You (With Me Tonight)
9. Johnny Horton - North To Alaska
10. Floyd Cramer - Last Date
11. Elvis Presley - Are You Lonesome Tonight
12. Lester Flatt & Earl Scruggs - Polka On A Banjo
13. Don Gibson - Sweet Dreams
14. Faron Young - Forget The Past
15. Skeeter Davis - My Last Date (With You)
16. George Jones - Window Up Above
17. Hank Locklin - One Step Ahead Of My Past
18. Bob Gallion - Loving You (Was Worth This Broken Heart)
19. Bill Anderson - Walk Out Backward
20. Marty Robbins - Don't Worry (Like All The Other Times)
21. Johnny Cash - Oh Lonesome Me
22. Rose Maddox - Kissing My Pillow
23. James O'Gwynn - House Of Blue Lovers
24. Webb Pierce - Let Forgiveness In
25. Don Gibson - What About Me
26. Buck Owens - Foolin' Around
27. Rose Maddox - I Want To Live Again
28. Roy Drusky - I'd Rather Loan You Out
29. Porter Wagoner - Your Old Love Letters
CD2
1. Warren Smith - Odds And Ends (Bits And Pieces)
2. Kitty Wells - The Other Cheek
3. Claude Gray - I'll Have Another Cup Of Coffee
4. Rusty & Doug - Louisiana Man
5. Lou Smith - I'm Wondering
6. Jim Nesbit and Lasses Sapper - Please Mr. Kennedy
7. Jim Reeves - The Blizzard
8. Roger Miller - You Don't Want My Love
9. Faron Young - Hello Walls
10. Jimmy Smart - Shorty
11. Lewis Pruitt - Crazy Bullfrog
12. Johnny Horton - Sleepy-Eyed John
13. Ray Price - The Twenty-Fourth Hour
14. Louvin Brothers - I Love You Best Of All
15. Ray Price - Heart Over Mind
16. Connie Hall - Sleep, Baby, Sleep
17. Marion Worth - There'll Always Be Sadness
18. Ernest Ashworth - Forever Gone
19. Skeeter Davis - The Hand You're Holding Now
20. Jimmy Newman - Everybody's Dyin' For Love
21. George Jones - Family Bible
22. Johnny Hardy - In Memory Of Johnny Horton
23. Ray Sanders - Lonelyville
24. Ernest Tubb - Thoughts Of A Fool
25. Roy Drusky - Three Hearts In A Tangle
26. Buck Owens & Ruth Maddox - Mental Cruelty
27. Benny Barnes - Yearning
28. Buck Owens & Ruth Maddox - Loose Talk
CD3
1. Hank Locklin - From Here To There To You
2. Wilma Lee & Stoney Cooper - Wreck On The Highway
3. Ralph Emery - Hello Fool
4. Bob Gallion - One Way Street
5. Hank Thompson & The Brazos Valley Boys - Oklahoma Hills
6. Kitty Wells - Heartbreak U.S.A.
7. Kitty Wells - There Must Be Another Way To Live
8. Webb Pierce - Sweet Lips
9. Patti Page - Mom And Dad's Waltz
10. Hank Snow - Beggar To A King
11. Floyd Cramer - San Antonio Rose
12. Roger Miller - When Two Worlds Collide
13. Patsy Cline - I Fall To Pieces
14. Jim Reeves - What Would You Do'
15. Margie Bowes - Little Miss Belong To No-one
16. George Jones - Tender Years
17. George Hamilton IV - Three Steps To The Phone (Millions Of Miles)
18. Don Winters - Too Many Times
19. Carl Smith - Kisses Never Lie
20. Wilburn Brothers - Blue Blue Day
21. Wanda Jackson - Right Or Wrong
22. Jerry Lee Lewis - Cold Cold Heart
23. Claude Gray - My Ears Should Burn
24. Claude King - Big River, Big Man
25. Rose Maddox - Conscience I'm Guilty
26. Rex Allen - Marines, Let's Go
27. Tex Ritter - I Dreamed Of A Hillbilly Heaven
28. Roy Drusky - I Went Out Of My Way (To Make You Happy)
CD4
1. Rusty & Doug - Diggy Liggy Lo
2. Leroy Van Dyke - Walk On By
3. George Jones & Margie Singleton - Did I Ever Tell You
4. Joe South - You're The Reason
5. Don Gibson - Sea Of Heartbreak
6. Skeeter Davis - Optimistic
7. Jim Reeves - Stand At Your Window
8. Eddy Arnold - One Grain Of Sand
9. Marty Robbins - It's Your World
10. Hank Thompson with The Brazos Valley Boys - Hangover Tavern
11. Buck Owens - Under The Influence Of Love
12. Webb Pierce - Walking The Streets
13. Hank Locklin - Happy Birthday To Me
14. Bill Anderson - Po' Folks
15. Faron Young - Backtrack
16. Jimmy Dean - Big Bad John
17. Leon McAuliffe - Cozy Inn
18. Bobby Edwards - You're The Reason
19. Hank Snow - The Restless One
20. Hank Locklin - You're The Reason
21. George Hamilton IV - To You And Yours (From Me And Mine)
22. Ernest Tubb - Through That Door
23. Webb Pierce - How Do You Talk To A Baby
24. Del Reeves - Be Quiet Mind
25. Bob Gallion - Sweethearts Again
26. Ray Price - Soft Rain
27. Flatt & Scruggs - Go Home
28. Wynn Stewart - Big, Big Love