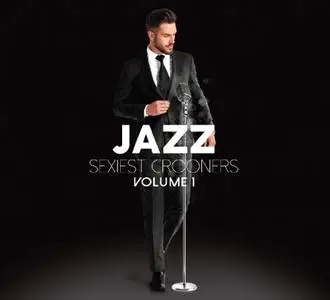 VA - Jazz Sexiest Crooners Vol.1 (2019)
FLAC tracks | 2:15:12 | 754 Mb
Genre: Jazz / Label: Music Brokers Arg
Three CD collection. After the stellar success of the Jazz Sexiest Ladies series, Music Brokers releases the first Volume of it's male counterpart: Jazz Sexiest Crooners. As usual, this set features 36 sultry and sexy songs from the last four decades, reinvented in lounge form. Classics from Lenny Kravitz, Billy Joel, James Taylor, Lionel Richie and Led Zeppelin are combined with recent smashes from Beyoncé, Amy Winehouse and Bruno Mars in fantastic reworked versions by jazz artists such as Jamie Lancaster, Apollinare Rossi, James Farrelli and The George White Group. With stellar artwork and remastered sound, this is another essential addition to your lounge music collection.
Track List:
CD1:
1. George White Group Feat Luca Giacco - Halo
2. Beluga's Trio Feat. Celso Mendes - It Ain't Over Til' It' Over
3. Fabio Cadore Feat. Benjamin - I Love It
4. Adrian Deno - Cry Baby Cry
5. Apollinare Rossi - Just the Way You Are
6. Jamie Lancaster - Boys Don't Cry
7. Freedom Dub Feat. Angie - Somebody That I Used to Know
8. Urban Love Feat. Benjamin - from the Beginning (Psychedelic Chill Mix)
9. James Farrelli - King
10. York - When Love Takes Over
11. The Bryan J. White Trio - Shout
12. George White Group - You've Got a Friend
CD2:
1. Jamie Lancaster & Ituana - Candy
2. Karen Souza & Toku - You Got That Something
3. Jamie Lancaster & Michelle Simonal - Endless Love
4. Renauld & Karen Souza - Wake Up and Make Love with Me
5. Eve St. Jones & Jamie Lancaster - (I've Had) the Time of My Life
6. James Farrelli & Sarah Menescal - Eye in the Sky
7. Dinah Washington & Luca Giacco - Body and Soul
8. Jamie Lancaster & Karen Souza - Billie Jean
9. Jamie Lancaster & Cassandra Beck - I Finally Found Someone
10. Jamie Lancaster & Shelly Sony - Easy Lover
11. Adrian Deno & Shelly Sony - I Need Your Love
12. Jamie Lancaster & Cassandra Beck - Woman in Chains
CD3:
1. Jamie Lancaster - Something Just Like This
2. James Farrelli - in the Air Tonight
3. Jazzystics Feat. Jamie Lancaster - Love Is a Losing Game
4. The Bryan J. White Trio - Honey Pie
5. Adrian Deno - Soul Me
6. Groove Messengers - I Feel You
7. Rever Sound - Dance for Me
8. Jamie Lancaster - I Want It That Way
9. Jamie Lancaster - 24K Magic
10. Groovy Waters - Super Freak
11. The Bryan J. White Quartet - Stairway to Heaven
12. The Style Project Feat. James Farrelli - Born to Be Yours
ANALYZER: auCDtect: CD records authenticity detector, version 0.8.2
Copyright © 2004 Oleg Berngardt. All rights reserved.
Copyright © 2004 Alexander Djourik. All rights reserved.


FILE: 1 George White Group Feat Luca Giacco - Halo.flac
Size: 27318920 Hash: 052908F9D8076EECE51F542782402F91 Accuracy: -m40
Conclusion: CDDA 100%
Signature: 713C63A7AD289F7FBFBE83E354E33A38B1F0DB11
FILE: 10 York - When Love Takes Over.flac
Size: 23713777 Hash: F38BC95015A48F9C2A3B83592DC028A1 Accuracy: -m40
Conclusion: CDDA 100%
Signature: BF84E2E8549EDA1319838F20392610EFA569CF61
FILE: 11 The Bryan J White Trio - Shout.flac
Size: 23158267 Hash: F410CBD2C7CC0F7EFDBEA5BA88A71083 Accuracy: -m40
Conclusion: CDDA 100%
Signature: 13986E6FC92FDCE55E0777D4018308C122E3C9A1
FILE: 12 George White Group - You've Got a Friend.flac
Size: 23806375 Hash: 66ECC2B2AB47C938FC876265C368563A Accuracy: -m40
Conclusion: CDDA 99%
Signature: 78ED22D2483B876F06D7B35D6269DD91472D1C8A
FILE: 13 Jamie Lancaster & Ituana - Candy.flac
Size: 25735200 Hash: 5337C28DC752E670E431E38F6093DEBB Accuracy: -m40
Conclusion: CDDA 100%
Signature: 913EF954CB8A91AB2B8856084994C929356C06E2
FILE: 14 Karen Souza & Toku - You Got That Something.flac
Size: 23504511 Hash: 2AE827516B8D2964F7D3FDEF075F3B14 Accuracy: -m40
Conclusion: CDDA 100%
Signature: B736E7B27B172EAE8E88C68A1F965B2714F5C91A
FILE: 15 Jamie Lancaster & Michelle Simonal - Endless Love.flac
Size: 16630014 Hash: 1FA8AF4F88F8CC8BACC9A352531BB8BA Accuracy: -m40
Conclusion: CDDA 58%
Signature: 7BC2070FE1823289F6F357F644B245BFADA3937D
FILE: 16 Renauld & Karen Souza - Wake Up and Make Love with Me.flac
Size: 21945070 Hash: 5D1B342B2A5BAAE6D4CE4D376EF110EB Accuracy: -m40
Conclusion: CDDA 100%
Signature: B48C9A488DE4D6EA5BC3EE9067333E8FCDB70884
FILE: 17 Eve St. Jones & Jamie Lancaster - (I've Had) the Time of My Life.flac
Size: 19039664 Hash: FAE6B076547E7D1E3DC410A5A5C53BAE Accuracy: -m40
Conclusion: CDDA 87%
Signature: BA1AD9D8EEA645F662E365B8E80D1333767D3F48
FILE: 18 James Farrelli & Sarah Menescal - Eye in the Sky.flac
Size: 21463334 Hash: F1666B3A49697C44A0B6CAD19103069E Accuracy: -m40
Conclusion: CDDA 94%
Signature: 65AF82C4DA3F2B398EDA33104EF8EA616F03DF35
FILE: 19 Dinah Washington & Luca Giacco - Body and Soul.flac
Size: 15118935 Hash: CF32273D326949BA7953CEEDA87AB2CC Accuracy: -m40
Conclusion: CDDA 100%
Signature: F7C0BB716C9EB0E01A7AFFDC05F3E0AFB3B57871
FILE: 2 Beluga's Trio Feat. Celso Mendes - It Ain't Over Til' It' Over.flac
Size: 24595847 Hash: C4D362D90185F5F32D3F403ABFF8D0A4 Accuracy: -m40
Conclusion: CDDA 100%
Signature: BE4AEBFD20A3CA118775CD7319A66A2340095289
FILE: 20 Jamie Lancaster & Karen Souza - Billie Jean.flac
Size: 24691525 Hash: 1DB731EE25D6775CF797A73DCF498FEE Accuracy: -m40
Conclusion: CDDA 100%
Signature: 6A94A8CBC9F17D00C2353A2F977144D11789DFE7
FILE: 21 Jamie Lancaster & Cassandra Beck - I Finally Found Someone.flac
Size: 19560912 Hash: A91C18A2BF2DE191DB04CE01E47A62F9 Accuracy: -m40
Conclusion: CDDA 100%
Signature: 4EFCAA1BB8AF1B1817B0A891CC101942B202EF7E
FILE: 22 Jamie Lancaster & Shelly Sony - Easy Lover.flac
Size: 25727811 Hash: 3A53C180044D03CA9CB06C009F1AC091 Accuracy: -m40
Conclusion: CDDA 100%
Signature: 96A190A6F13F62DC8CC7C5ABF448074123EE1B58
FILE: 23 Adrian Deno & Shelly Sony - I Need Your Love.flac
Size: 18000569 Hash: 0BBCBA8E8B32C73E752D3133E5804179 Accuracy: -m40
Conclusion: CDDA 58%
Signature: D7807F388CADB718B1713FED788129249CD35680
FILE: 24 Jamie Lancaster & Cassandra Beck - Woman in Chains.flac
Size: 24034769 Hash: C8FA6D7EBE3DD5A2693207BA856CE5D8 Accuracy: -m40
Conclusion: CDDA 100%
Signature: 42BD0006BA4FE53F0C90E46F050A88D51A68CC49
FILE: 25 Jamie Lancaster - Something Just Like This.flac
Size: 16086774 Hash: 593B03DE8480C80F1459871F4C399FE3 Accuracy: -m40
Conclusion: CDDA 99%
Signature: D614B59928CD084D4BDB698CE525C163D7AED093
FILE: 26 James Farrelli - in the Air Tonight.flac
Size: 28447106 Hash: F997B40C841FBB1657A400067E4D158C Accuracy: -m40
Conclusion: CDDA 87%
Signature: 498797C908B658F7265B293B03FD4802630F578D
FILE: 27 Jazzystics Feat. Jamie Lancaster - Love Is a Losing Game.flac
Size: 14326030 Hash: 2EC4304B035124CAFC245AE9FB0DE815 Accuracy: -m40
Conclusion: CDDA 100%
Signature: 3E153D12743609D00457B20D0D18A7113EBC3764
FILE: 28 The Bryan J White Trio - Honey Pie.flac
Size: 15700903 Hash: 48316B3F82F43DA0AE19B4DACCE26531 Accuracy: -m40
Conclusion: CDDA 100%
Signature: 6B9043DECA05D2DAEACA90DBD6D2C56838923FB3
FILE: 29 Adrian Deno - Soul Me.flac
Size: 20460580 Hash: A73B733C273B58636C67E1A90D3F425B Accuracy: -m40
Conclusion: CDDA 100%
Signature: A997F8B9766FFD77B2B662BE55B4218922C8B7C0
FILE: 3 Fabio Cadore Feat. Benjamin - I Love It.flac
Size: 12522333 Hash: 131227B0D23FBD898B08ADE23A72D032 Accuracy: -m40
Conclusion: MPEG 97%
Signature: 31CBECBCEDEE6A0DBBF829F26F2731F9EA208CA7
FILE: 30 Groove Messengers - I Feel You.flac
Size: 28171346 Hash: 28F58DF4A1E8AAA87B884866435D1314 Accuracy: -m40
Conclusion: CDDA 100%
Signature: C0676DDC4ADC8D71BFA6FE7826D3BB6491CB9FE9
FILE: 31 Rever Sound - Dance for Me.flac
Size: 25308797 Hash: B9FAA42DE6D8200ECE14A3B8FB5C58EA Accuracy: -m40
Conclusion: MPEG 95%
Signature: 758DFED2DD25D90B989C2AEA5C3CE444A101B738
FILE: 32 Jamie Lancaster - I Want It That Way.flac
Size: 17556619 Hash: 863AB50D35CC5673C372E793C051DA5B Accuracy: -m40
Conclusion: CDDA 100%
Signature: 103E27FAB87925C2AC54E89AC85D2630229ABFD0
FILE: 33 Jamie Lancaster - 24K Magic.flac
Size: 21504697 Hash: D759B82C834DF37FDBE6D0531B7B445E Accuracy: -m40
Conclusion: CDDA 100%
Signature: 7A775FBDE0441B8DC0D7F69538DB81209A1DA475
FILE: 34 Groovy Waters - Super Freak.flac
Size: 20214174 Hash: AC02EDC358E7BE25D9A659CA9651C156 Accuracy: -m40
Conclusion: CDDA 100%
Signature: 954DE817D3A8BEFB393C28741532A82A120B4CB4
FILE: 35 The Bryan J White Quartet - Stairway to Heaven.flac
Size: 34283342 Hash: 06ED42F68D0D9A45A74C3B902872F67E Accuracy: -m40
Conclusion: CDDA 100%
Signature: 6EB4F4117FD204EF31317AAD475B8A8403255BEB
FILE: 36 The Style Project Feat James Farrelli - Born to Be Yours.flac
Size: 13631694 Hash: A3EF853F38789A846D4B4A702929FEA7 Accuracy: -m40
Conclusion: CDDA 86%
Signature: E22BA6F54B24CC272ADBDED40E5339F79699F6B8
FILE: 4 Adrian Deno - Cry Baby Cry.flac
Size: 25337452 Hash: A0DBF6993AFC3F7CECCA7BA836E20FB6 Accuracy: -m40
Conclusion: CDDA 100%
Signature: 8E48B1381A3BC12152F10B41D59F57EB78B08CCE
FILE: 5 Apollinare Rossi - Just the Way You Are.flac
Size: 32106603 Hash: 6089441976624F95AC2DA639D55008F2 Accuracy: -m40
Conclusion: CDDA 100%
Signature: 8E478A564DEEBF4DAED7998996AF360E889515E3
FILE: 6 Jamie Lancaster - Boys Don't Cry.flac
Size: 19170565 Hash: 4D9DA47C2146F22144407B45F232DD14 Accuracy: -m40
Conclusion: CDDA 100%
Signature: 688075E7AE3E5305D601054CA8771D196E62AF32
FILE: 7 Freedom Dub Feat. Angie - Somebody That I Used to Know.flac
Size: 23885358 Hash: 5E83F0439D2DBCB97D44A21891323BC8 Accuracy: -m40
Conclusion: CDDA 100%
Signature: BFC6719DAE73CB61C67EB321052AE095AFD46E7E
FILE: 8 Urban Love Feat. Benjamin - from the Beginning (Psychedelic Chill Mix).flac
Size: 22143455 Hash: 79A2FD09CFAEE507C237F6081C8F976D Accuracy: -m40
Conclusion: MPEG 80%
Signature: BD3F90F894AF62BDA68614017008AC8CCC7E9633
FILE: 9 James Farrelli - King.flac
Size: 22809403 Hash: 3E31440C99EA0E42443265729B43A5FA Accuracy: -m40
Conclusion: CDDA 100%
Signature: BAE7713D895E7978D170CAD30E22F88F5E4FCB14