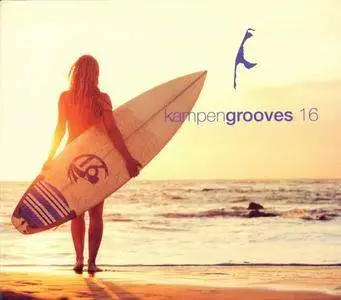 VA - Kampengrooves Vol.16 - Lounging At Redkliff (2018)
WEB FLAC (tracks) / MP3 CBR 320 kbps | 1:16:23 | 174 Mb / 461 Mb
Genre: Future Jazz, Disco, Chillout, Lounge / Label: Redkliff Records
A new year, a new summer, a new kampengrooves. But this year Sylt is a very special event: the kampengrooves celebrates its anniversary. For the fifteenth time the kampengrooves banned the flair of Germany's most beautiful island on CD. And for the fifteenth time, the kampengrooves invites you to chill, dance and celebrate with their gentle beats and harmonious interpretations. Sylt - with this name one thinks of the crashing sea, kilometers of sandy beaches all the other beautiful memories and feelings that one connects with this dream island. Kampengrooves has been recording music for 15 years now. In the fifteenth volume of the successful chill-out series, relaxed beats and tasteful interludes are paired with the very special feeling you only find here - on the most beautiful island in Germany.
Track List:
1 Make U Smile - Tuccinelli, Dj Pippi
2 Tupical - Nightmares on Wax feat. Jordan Rakei
3 Tomorrow - Nightmares on Wax feat. LSK
4 Dangerous - Dj Pippi, JL
5 So Beautiful - Barbara Tucker
6 You Make My Heart Sing - Bjarno
7 Save Us - Koni feat. James Delaney & Gabriella
8 Meixner - Tosca LTJ X-Perience Mix
9 Your Love - Kellerkind
10 Eyes - Borneland, Line Gøttsche, Kenneth Bager (The Kenneth Bager Experience Remix)
11 Walk With The Dreamers - Ambala, Laidback (Leo Mas & Fabrice Extended Remix Feat. Giorgio Li Calzi)
12 Bumper - Keinemusik (Rampa, Adam Port, &ME), Nomi Ruiz
13 Round Around - Zouzoulectric (Jojo Effect Remix)
ANALYZER: auCDtect: CD records authenticity detector, version 0.8.2
Copyright © 2004 Oleg Berngardt. All rights reserved.
Copyright © 2004 Alexander Djourik. All rights reserved.


FILE: 1 Make U Smile - Tuccinelli, Dj Pippi.flac
Size: 36503669 Hash: E58C38650501DC9CBA1B3CE89ED11463 Accuracy: -m40
Conclusion: CDDA 99%
Signature: 3B6C8870D8DE94113089624AD60C5BCBD68ED6CE
FILE: 10 Eyes - Borneland, Line Gøttsche, Kenneth Bager (The Kenneth Bager Experience Remix).flac
Size: 43172886 Hash: 4217CD86DA72508EF7D22BD03301E60E Accuracy: -m40
Conclusion: CDDA 100%
Signature: 7DF21E759EC74F688641B957C102264C4C41CE50
FILE: 11 Walk With The Dreamers - Ambala, Laidback (Leo Mas & Fabrice Extended Remix Feat. Giorgio Li Calzi).flac
Size: 43747153 Hash: D3BD85AE96C7EC9D3AB1421EF05948F3 Accuracy: -m40
Conclusion: CDDA 100%
Signature: 28620778E6283C9E3985347381801B231EAE17C4
FILE: 12 Bumper - Keinemusik (Rampa, Adam Port, &ME), Nomi Ruiz.flac
Size: 27444841 Hash: 38905DD1DAFDEAD71A5DF974BE097CB9 Accuracy: -m40
Conclusion: CDDA 100%
Signature: 39AA8D56E91330B3BD261F3286955C2A959C9448
FILE: 13 Round Around - Zouzoulectric (Jojo Effect Remix).flac
Size: 21790370 Hash: 332FE7B09DAD84983C899E93A78D814C Accuracy: -m40
Conclusion: CDDA 100%
Signature: 11C036262B05F200464F3297790A34B904C1760E
FILE: 2 Tupical - Nightmares on Wax feat. Jordan Rakei.flac
Size: 26275502 Hash: F8524C61CFD8E52D49C31F224BEE24A8 Accuracy: -m40
Conclusion: CDDA 100%
Signature: FCED1E992CD7EEF5FF81DEB08BFCFA6EE831D20E
FILE: 3 Tomorrow - Nightmares on Wax feat LSK.flac
Size: 24922373 Hash: 97EDFCBAB125A7A2DCBAC4CDDD4FF9BE Accuracy: -m40
Conclusion: CDDA 58%
Signature: 8DA8FF583E1AB7B0CA737F498636D7C05068C961
FILE: 4 Dangerous - Dj Pippi, JL.flac
Size: 49491650 Hash: D05945596444ECF9F22BEE38CE2949EA Accuracy: -m40
Conclusion: CDDA 100%
Signature: 841D68695F48363C354F638F515E556CDF3FD28B
FILE: 5 So Beautiful - Barbara Tucker.flac
Size: 43945365 Hash: FC2FA1B35DBD8277A930246617D94F6A Accuracy: -m40
Conclusion: CDDA 100%
Signature: 1E4957C6EBB87A49297751097700419173A60D9D
FILE: 6 You Make My Heart Sing - Bjarno.flac
Size: 53174063 Hash: FE4EE5CD5DC5298F2F30135A71B16F1F Accuracy: -m40
Conclusion: CDDA 100%
Signature: BCA3BA5BFCCB31B4D9AEDBB04CDE327150FA7F59
FILE: 7 Save Us - Koni feat. James Delaney & Gabriella.flac
Size: 31105160 Hash: 4BD818858C518CB6C7F6E2692ADE0629 Accuracy: -m40
Conclusion: CDDA 100%
Signature: FDB930F451982017A6D0AA87F869805902E533FF
FILE: 8 Meixner - Tosca LTJ X-Perience Mix.flac
Size: 50493111 Hash: 1B73DA9FB3CA14015036C3EB79FEB50A Accuracy: -m40
Conclusion: CDDA 100%
Signature: 65A71B06737CFFD38568E45674F41FC9F5C77CEA
FILE: 9 Your Love - Kellerkind.flac
Size: 31729118 Hash: FB4D1BC39B3E6AB23C02BD006F7CEEC8 Accuracy: -m40
Conclusion: CDDA 100%
Signature: 13F305A4140A20AF05DBA0347C9EAB7861308B9E