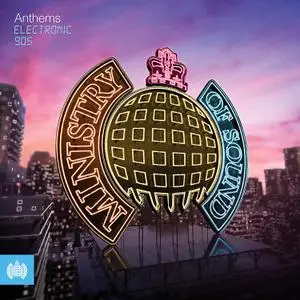 VA - Ministry Of Sound Anthems Electronic 90S (3CD, 2019)
MP3 320 kbps | 4:17:58 | 598 Mb
Genre: Dance, House / Label: Ministry Of Sound
The album charts the birth of synthesized pop music in the 1990s and ultimately the roots of contemporary electronic dance music.
Track List:
CD1
1 Faithless Insomnia
2 The Prodigy Breathe
3 Underworld Born Slippy (Nuxx)
4 The Chemical Brothers Hey Boy Hey Girl
5 Fatboy Slim Praise You
6 Bomfunk MC's Freestyler
7 Leftfield Phat Planet
8 Armand Van Helden Feat. Duane Harden You Don't Know Me
9 Mr. Oizo Flat Beat
10 Deee-Lite Groove Is In The Heart
11 Wild Child Renegade Master
12 Babylyon Zoo Spaceman
13 EMF Unbelievable
14 David Morales Presents The Face Feat. Juliet Rogers Needin' U (I Needed U') (Original Mistake Edit)
15 Kenny "Dope" Presents The Bucketheads The Bomb! (These Sounds Fall Into My Mind)
16 Ultra Nate Free (Mood II Swing Edit)
17 Adamski Feat. Seal Killer
18 Age Of Love The Age Of Love (Jam & Spoon Watch Out For Stella Edit)
19 N-Joi Anthem
20 Opus III It's A Fine Day
CD2
1 The Source Feat. Candi Staton You Got The Love (New Voyager Edit)
2 Corona The Rhythm Of The Night
3 Robert Miles Children
4 Olive You're Not Alone
5 Planet Perfecto Feat. Grace Not Over Yet '99
6 Moloko Sing It Back (Boris Edit)
7 Rozalla Everybody's Free (To Feel Good)
8 Sonique It Feels So Good
9 Strike U Sure Do
10 Jamiroquai Space Cowboy
11 Xpansions Move Your Body
12 Gala Freed From Desire
13 Atlantic Ocean Waterfall
14 SNAP! Rhythm Is a Dancer
15 The Original I Luv U Baby
16 K-Klass Rhythm Is a Mystery
17 Technotronic Pump Up The Jam
18 Livin' Joy Don't Stop Movin'
19 Hardrive Deep Inside
20 The Beloved Sweet Harmony
CD3
1 Groove Armada At the River
2 Moby Go!
3 Morcheeba The Sea
4 Zero 7 feat. Sia & Sophie Barker Destiny
5 Tricky Hell Is Round The Corner
6 Everything But The Girl Missing (Todd Terry Remix)
7 Goldfrapp Utopia
8 Smoke City Underwater Love
9 Kinobe Slip into Something More Comfortable
10 Blue Boy Remember Me
11 The Cardigans Erase / Rewind
12 Stereo MC's Connected
13 Happy Mondays Step On
14 The Stone Roses Fools Gold (Remastered)
15 Primal Scream Loaded
16 The All Seeing I Beat Goes On
17 The Future Sound of London Papua New Guinea
18 Guru Josh Infinity
19 808 State Pacific 707
20 Orbital Halcyon