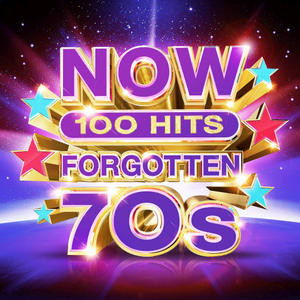 VA - NOW 100 Hits Forgotten 70s (5CD, 2019)
MP3 320 kbps | 05:54:52 | 838 Mb
Genre: Disco, Reggae, RnB, Pop, Blues, Rock / Label: Sony Music
NOW 100 Hits Forgotten 70s is designed and signed as a reference on your choice of several exchangers file. Below youll see a price comparison of NOW 100 Hits Forgotten 70s - we compare as many UK shops as we can to determine the best price that we can. Convenience, reliability and availability, is the property of our portal, efficiency and commitment to new heights, as well as the immensity of the creative transformation! Pussycat, Eddy Hilberts, Marianne Hensen, Lou Wille, Theo Wetzels, John Theunissen, Theo Coumans, Diana Ross, Michael Masser, Lee Holdridge. Then we list the cheapest price we found below and then the full price comparison for NOW 100 Hits Forgotten 70s in the table you can see under that.
Track List:
CD1:
01. Emerson, Lake & Palmer - Fanfare For The Common Man (Single Edit) 2:59
02. Slade - Gudbuy T'jane 3:33
03. The Mixtures - The Pushbike Song 2:31
04. Middle Of The Road - Chirpy Chirpy Cheep Cheep 2:58
05. Sweet Sensation - Sad Sweet Dreamer 3:20
06. Mr. Bloe - Groovin' With Mr Bloe 2:40
07. The Floaters - Float On 4:10
08. Hotlegs, Lol Creme, Kevin Godley, Eric Stewart - Neanderthal Man 4:13
09. Fox - Only You Can (A's & B's) 3:06
10. David Dundas - Jeans On 3:20
11. Gilbert O'sullivan - Get Down 2:40
12. Sailor - A Glass Of Champagne 2:40
13. Mcguinness Flint - When I'm Dead And Gone 3:41
14. Mungo Jerry - Baby Jump 4:11
15. The Rubettes, Alan Williams, Mick Clarke, Tony Thorpe, John Richardson, Bill Hurd - Juke Box Jive 3:03
16. The Fortunes - Storm In A Teacup 3:15
17. Guys 'n' Dolls - There´s A Whole Lot Of Loving 3:13
18. Lynsey De Paul - Sugar Me 3:40
19. Pussycat, Wim Jongbloed, Paul Natte, Eddy Hilberts, Toni Willé, Betty Dagstra, Marianne Hensen, Lou Wille, Theo Wetzels, John Theunissen, Theo Coumans - Mississippi 4:38
20. John Miles - Music 5:54
CD2:
21. Bonnie Tyler - It's A Heartache 3:30
22. Elkie Brooks, Isaac Guillory, Steve York, Jean Roussel, Trevor Morais - Pearl's A Singer 3:42
23. David Parton - Isn't She Lovely 4:08
24. Gallagher And Lyle, Bernard Gallagher, Graham Lyle - I Wanna Stay With You 2:59
25. Brotherhood Of Man - Angelo 3:04
26. Carole Bayer Sager - You're Moving Out Today 3:35
27. Lieutenant Pigeon - Mouldy Old Dough 2:48
28. Johnny Wakelin - In Zaire 3:17
29. The Pipkins - Gimme Dat Ding 2:14
30. The Tams - Hey Girl Don't Bother Me 2:31
31. Blue Mink - The Banner Man 3:27
32. Cilla Black - Something Tells Me (Something's Gonna Happen Tonight) (2003 Remaster) 2:25
33. New World - Tom Tom Turnaround 3:31
34. Diana Ross, Michael Masser, Lee Holdridge, Donna Summer - Theme From Mahogany (Do You Know Where You're Going To) 3:25
35. Johnny Mathis, Deniece Williams - Too Much, Too Little, Too Late 2:59
36. David Soul - Don't Give Up On Us 3:39
37. The Stylistics, Russell Thompkins Jr., James Dunn, James Smith, Herb Murrell, Airrion Love - Can't Give You Anything (But My Love) 3:15
38. Johnny Bristol, H.B. Barnum - Hang On In There Baby 3:20
39. The Miracles, Freddie Perren, Wade Marcus, Billy Griffin, Warren "Pete" Moore, Ronald White - Love Machine 3:00
40. The Moments - Girls 3:03
CD3:
41. Dee D. Jackson - Automatic Lover (Original) 4:06
42. The Flying Lizards - Money 5:38
43. Ba Robertson - Bang Bang 3:23
44. Lindisfarne, Rod Clements, Simon Cowe, Alan Hull, Ray Jackson, Ray Laidlaw - Run For Home 4:22
45. Mary Macgregor - Torn Between Two Lovers 3:50
46. Pickettywitch - That Same Old Feeling 3:05
47. The Motors, Nick Garvey, Andy Mcmaster, Bram Tchaikovsky, Rick Slaughter - Airport 4:39
48. Clout - Substitute 3:27
49. Johnny Johnson & The Bandwagon - (Blame It) On The Pony Express 3:05
50. Jimmy James & The Vagabonds - Now Is The Time 3:35
51. Andy Kim - Rock Me Gently 3:28
52. Shirley & Company - Shame, Shame, Shame 4:52
53. The Hotshots - Snoopy Vs. The Red Baron 3:09
54. Jimmy Ruffin, Paul Riser - Farewell Is A Lonely Sound 2:56
55. Brian & Michael - Matchstalk Men And Matchstalk Cats And Dogs 4:27
56. Driver 67 - Car 67 3:14
57. C.W. Mccall - Convoy 3:53
58. Clarence Carter - Patches 3:11
59. East Of Eden, David Arbus, Geoff Nicholson, Ron Caines - Jig-A-Jig 3:44
60. Deodato - Also Sprach Zarathustra 8:59
CD4:
61. David Essex - Rock On 3:24
62. Slik - Forever And Ever 3:38
63. Sweet - Teenage Rampage 3:33
64. Bay City Rollers - All Of Me Loves All Of You 3:03
65. Clodagh Rodgers - Jack In The Box 3:00
66. Lena Martell - One Day At A Time 3:13
67. The New Seekers - Never Ending Song Of Love 3:10
68. R. Dean Taylor, David Van De Pitte - Indiana Wants Me 3:47
69. Lobo - I'd Love You To Want Me 4:02
70. Patsy Gallant - From New York To L.A. 4:51
71. Eruption - I Can't Stand The Rain 3:06
72. Darts - The Boy From New York City 3:03
73. Showaddywaddy - I Wonder Why 3:16
74. Racey - Lay Your Love On Me 3:18
75. Mr Big - Romeo 3:25
76. Robin Sarstedt - My Resistance Is Low 2:48
77. Peter Skellern - You're A Lady 4:34
78. Vicky Leandros - Come What May 3:33
79. Arrival - Friends 3:57
80. Helen Reddy - Angie Baby 3:31
CD5:
81. Peters & Lee, Lennie Peters, Dianne Lee - Welcome Home 3:32
82. Roger Whittaker, Roland Shaw And His Orchestra - The Last Farewell 3:59
83. Perry Como - It's Impossible (Digitally Mastered - May - June, 1988) 3:14
84. Dana - All Kinds Of Everything 3:01
85. Lynsey De Paul - Won't Somebody Dance With Me 3:55
86. The Stylistics, Russell Thompkins Jr., James Dunn, James Smith, Herb Murrell, Airrion Love - Let's Put It All Together 3:29
87. Gladys Knight & The Pips - The Way We Were / Try To Remember 4:34
88. The Manhattans - Kiss And Say Goodbye 4:27
89. The New Seekers - Circles 4:04
90. Marmalade - Reflections Of My Life 4:11
91. Smokie - If You Think You Know How To Love Me 3:26
92. Yvonne Fair - It Should Have Been Me 3:25
93. Gary Shearston - I Get A Kick Out Of You 3:40
94. Johnny Cash - A Thing Called Love 2:31
95. Melanie - Brand New Key 2:25
96. The Dooleys - The Chosen Few 3:07
97. Esther Phillips - What A Difference A Day Makes 4:31
98. Gerry Monroe - Sally 2:33
99. The Congregation - Softly Whispering I Love You 3:02
100. Edison Lighthouse - Love Grows (Where My Rosemary Goes) 2:48