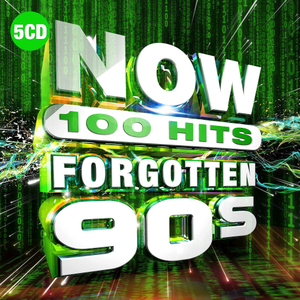 VA - NOW 100 Hits Forgotten 90s (5CD, 2019)
MP3 320 kbps | 06:35:38 | 1 Gb
Genre: Dance, Disco, RnB, Pop, Rap, Rock / Label: Universal Music
Music played an integral role in 90s popular culture, with the battle of boy vs girl bands as they reached record-breaking fame, the breakthrough of Britpop with its serious debates about whether Blur or Oasis were better and the ultimate power ballads from the likes of Whitney and Sinead O Connor. From cassette tapes to CDs, NOW Music has been there through it all, as the 90s saw the way we listen to music change dramatically. Britpop, Garage, RnB, Boybands, girl groups and more.
Track List:
01. Blue Boy - Remember Me (Sure Is Pure 7" Edit) 3:49
02. White Town - Your Woman 4:20
03. Ann Lee - 2 Times (Original Radio Edit) 3:51
04. Doop - Doop - Urge 2 Merge Radio Mix 3:34
05. Perfecto Allstarz - Reach Up (Papa's Got A Brand New Pig Bag) (Radio Edit) 3:31
06. Betty Boo - Where Are You Baby? 4:14
07. Backstreet Boys - Quit Playing Games (With My Heart) 3:53
08. Kylie Minogue - Confide In Me (Radio Mix) 4:26
09. All Saints - Bootie Call (Single Version) 3:36
10. Destiny's Child, Wyclef Jean - No, No, No Pt. 2 3:28
11. Shola Ama - You Might Need Somebody 4:50
12. Britney Spears - Sometimes (Radio Edit Remastered) 4:05
13. Incognito - Always There 5:04
14. The Soup Dragons, Sean Dickson, Jim Mcculloch, Sushil K. Dade, Paul Quinn - I'm Free (Remastered) 3:58
15. The Farm - Groovy Train 4:12
16. Jimmy Nail - Ain't No Doubt 4:08
17. Zoe - Sunshine On A Rainy Day 4:46
18. Alisha's Attic - I Am, I Feel 4:02
19. B*Witched - Rollercoaster 3:24
20. Gloria Estefan - Get On Your Feet (Album Version) 3:38
21. Crash Test Dummies - Mmm Mmm Mmm Mmm 3:53
22. Melanie C - Northern Star 4:41
23. Tasmin Archer - Sleeping Satellite 4:42
24. Tin Tin Out, Emma Bunton, Lindsay Edwards, Marcus Cliffe, John Jorgenson, Preston Heyman - What I Am (Radio Edit) 3:55
25. Michelle Gayle - Sweetness 3:36
26. Billie, Wendy Page, Jim Marr, Reverend Bazil Meade, London Community Gospel Choir - Honey To The Bee (Single Version) 5:05
27. Emilia - Big Big World 3:22
28. S Club 7, Tina Barrett, Paul Cattermole, Jon Lee, Bradley Mcintosh, Jo O'meara, Rachel Stevens, Hannah Spearitt, Steve Hilton - S Club Party 3:30
29. Kavana - I Can Make You Feel Good 3:29
30. Londonbeat - I've Been Thinking About You 3:49
31. The Beloved - Sweet Harmony 4:50
32. Len - Steal My Sunshine (Remastered Anniversary Edition) 3:32
33. Divinyls, Chrissy Amphlett, Mark Mcentee, Charley Drayton - I Touch Myself 3:48
34. Gun - Word Up 4:21
35. The Lightning Seeds, Ian Broudie, Simon Rodgers - Lucky You 4:20
36. Pj & Duncan - Let's Get Ready To Rhumble 4:01
37. Pm Dawn - Set Adrift On Memory Bliss 4:12
38. Mc Hammer, M.C. Hammer - Addams Groove 3:59
39. Kris Kross - Jump 3:15
40. Louchie Lou & Michie One - Shout 3:32
41. Billy Joel - The River Of Dreams 4:07
42. Del Amitri, Justin Currie, Iain Harvie - Nothing Ever Happens 3:54
43. The Beautiful South, Paul Heaton, Roddy Lorimer, Simon Clarke, Tim Sanders, David Rotheray, Sean Welch, David Stead, Jacqueline Abbott, Damon Butcher, Gary Hammond, Annie Whitehead, Paul Weller - Perfect 10 3:38
44. They Might Be Giants - Birdhouse In Your Soul (45 Version) 3:16
45. Kula Shaker, Crispian Mills - Tattva 3:45
46. Garbage - Queer 4:36
47. Enigma - Return To Innocence 4:16
48. Youssou N'dour Featuring Neneh Cherry - 7 Seconds (Duet With Neneh Cherry) 5:06
49. Robson & Jerome - I Believe 2:07
50. Gabrielle, Andy Caine, Tracey Ackerman, Louis Jardim, Ben Barson, Geoff Dugmore, The Kick Horns, Nick Ingman, The London Session Orchestra, Gavyn Wright - Give Me A Little More Time 4:57
51. Five - Got The Feelin' (Radio Edit) 3:28
52. Mn8 - I've Got A Little Something For You 3:40
53. *Nsync - I Want You Back (Radio Edit) 3:21
54. Partners In Kryme - Turtle Power 4:21
55. Rob N Raz, Leila K - Got To Get (Feat. Leila K) 3:22
56. Scatman John - Scatman (Ski-Ba-Bop-Ba-Dop-Bop) (Basic-Radio) 3:34
57. Aqua, Johnny Jam, Delgado, Søren Rasted, Claus Norreen - Doctor Jones 3:23
58. The Outhere Brothers - La La La Hey Hey (Ohb Extended Mix) 4:51
59. Haddaway - Life (Radio Edit) 4:17
60. D:Ream - U R The Best Thing (Perfecto Radio Mix) 4:25
61. Dodgy, Andy Miller, Nigel Clark, Mathew Priest - Good Enough 4:01
62. Madness - Lovestruck 3:50
63. Terrorvision - Tequila (Mint Royale Shot) 4:09
64. Perez Prado Y Su Orquesta - Guaglione 2:23
65. Touch & Go, Charlie Gillett, David Lowe, Vanessa Lancaster - Would You…? 3:11
66. T-Spoon - Sex On The Beach (Original Mix) 3:52
67. Shaft, Donna Canale - (Mucho Mambo) Sway 3:29
68. The Tamperer, Maya - Feel It (Radio Version) 2:59
69. Sash! - La Primavera (Uk Radio Edit) 3:37
70. Doctor Spin, Nigel Wright, Andrew Lloyd Webber - Tetris (7" Mix) 3:39
71. Cleopatra - Cleopatra's Theme 4:09
72. Voice Of The Beehive - Monsters And Angels 3:38
73. The Woolpackers - Hillbilly Rock, Hillbilly Roll ('97 Remix) 3:02
74. Meat Loaf, Todd Rundgren, Kasim Sulton, Bill Payne, Eddie Martinez, Steve Buslowe, Brian Meagher Jr, Justin Meagher, Jeff Bova, Lorraine Crosby, Max Haskett, Rick Marotta, Michael Lee Aday - Rock And Roll Dreams Come Through 5:51
75. Cast, John Power, Peter Wilkinson, Liam Tyson, Keith O'neill - Walkaway 3:52
76. Electronic - Disappointed (Single Mix) 4:21
77. The Human League - Tell Me When 4:43
78. Lonnie Gordon - Happenin' All Over Again (Hip House Radio Mix) 3:17
79. Louise - Arms Around The World (Radio Mix) 4:05
80. Gary Barlow - Forever Love 4:51
81. Dina Carroll - Don't Be A Stranger 4:22
82. David A. Stewart, Candy Dulfer - Lily Was Here 4:08
83. Jon Secada - Just Another Day 5:27
84. Lutricia Mcneal - Ain't That Just The Way 3:36
85. Neneh Cherry - Woman 4:29
86. Wyclef Jean - Gone Till November 3:32
87. Another Level - Freak Me 4:56
88. Omc - How Bizarre 3:45
89. Julian Lennon - Saltwater 4:07
90. Boyzone, Ray "Madman" Hedges, Martin Brannigan - Isn't It A Wonder 3:44
91. Inspiral Carpets - This Is How It Feels 3:14
92. Sleeper - Inbetweener 3:20
93. West End, Sybil - The Love I Lost (Feat. Sybil) 3:26
94. Kenny Thomas - Outstanding 3:29
95. Steps - After The Love Has Gone 4:36
96. Berri - Sunshine After The Rain 3:30
97. Maxx - Get A Way 3:47
98. Double Trouble - Street Tuff (Scar Radio Mix) 3:31
99. The Wiseguys - Ooh La La 5:53
100. The Mike Flowers Pops - Wonderwall 2:44