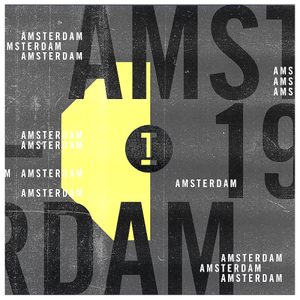 VA - Toolroom Amsterdam 2019 (Extended Mixes) (2019)
MP3 320 kbps | 10:12:08 | 1370 Mb
Genre: House, Techno / Label: Toolroom Records
As thousands of dance musics officials and enthusiasts flock to one of the most exciting hubs for Electronic music, Toolroom's on hand with another huge compilation Toolroom Amsterdam 2019! Featuring essential ADE weapons from CamelPhat, Weiss, Alan Fitzpatrick, Eli Brown, Will Clarke, Huxley, Jansons, Sidney Charles. Amongst these heavy dance floor hitters, Toolroom have signed 13 brand new exclusives from Javi Bora, Miane & Husko. For this year's Toolroom Amsterdam compilation, Mendo and Sllash & Doppe to mix the album!
Track List:
01. Mendo - Lemonade 5:43
02. Sllash And Doppe - Makeba 6:25
03. Dirty Vegas - Days Go By (Camelphat Extended Remix) 6:53
04. Eli Brown - Rush 6:17
05. Weiss (Uk) - Let Me Love You (Extended Club Mix) 5:24
06. Alan Fitzpatrick - The Approach 7:12
07. Sharam Jey And Andruss - Right Back (Feat Dewitt Sound) 6:24
08. Dakar - Private Show 5:38
09. Will Clarke - 4 Da Club 5:45
10. Huxley - Made Up My Mind 5:42
11. Javi Bora - Blasting (Extended Mix) 6:23
12. Mendo - Twisted 6:13
13. Catz N Dogz Feat Zensofly And Maxville - Wave (Extended Club Mix) 5:56
14. Sllash.. Doppe - Gingoba 6:16
15. Cassimm - Not Worth Enough (Feat Marck Jamz) 6:22
16. Jansons And Senzala - Take Me Away 7:07
17. Siege Vs Cevin Fisher - Consciousness 6:07
18. Max Chapman And George Smeddles - We Take You There 6:09
19. Danny Howard - If You Were (Feat Eli And Fur) 6:15
20. Kormak Amine Edge - Keep On (Dance Extended Remix) 5:58
21. Husko - The Tribe 6:43
22. Simone Liberali - Landslide (Feat Jinadu) 7:35
23. David Tort - Let Me Hear Ya (Feat Story) 7:02
24. Wally Lopez And Betoko - Soonrize 8:26
25. Danny Rhys - Something Special 6:13
26. Ben Remember - Wurkin 6:43
27. Jacky (Uk) And Example - Another 24 5:21
28. Junior Sanchez - Be So Deep 5:45
29. Mr Kavalicious - Transformation 6:07
30. Farius - Make This Last (Frederick And Kusse Extended Mix) 6:10
31. Maxinne - The Message 6:12
32. Sidney Charles - Mono Pulse 7:15
33. Umek - Vibrancy 6:50
34. Vikthor And Muter - Yes 6:55
35. Siege - Paradigm (Extended Mix) 6:13
36. Hector Couto - Trico Trico 6:37
37. Mant - Lonely Days (Feat Hayla) 7:03
38. Cashio - Dancing (With Me) 5:13
39. Miane - Look Alive 6:05
40. Fabio Ferro - Krazy Gee 7:31
41. Martin Ikin - Pwr 5:39
42. Kadian - Tribe Vibe 5:08
43. Jay De Lys And Jamie Roy - Loveland 6:00
44. Wheats - Slip 6:12
45. Mark Jenkyns And Mizbee - Fantasize 7:09
46. Budd - Shift The Needle 6:41
47. Mason - Rhythm In My Brain 5:18
48. Dj Boris - What We Need 8:35
49. Lutzenhouse - Checkmate 6:57
50. Gorge - Be Yourself 6:58
51. Frederick And Kusse - In My Strutt (Feat Frankco) 5:35
52. My Friend And Dezza - Dream Weaver 7:06
53. Mark Reeve - Golden 7:16
54. Wh0 - The Poet (Feat Chuck Roberts) 7:11
55. Martin Badder - Push Me 6:00
56. Danny Howells - Players 8:20
57. Kaniun - There's No City (Like Miami) 6:47
58. Sous Sol - Dizzy Rhythm (Mihai Popoviciu Extended Remix) 7:17
59. Alex Twitchy - The Drums 6:24
60. Matt Fax - Abenaki 3:21
61. Astronomar - Navy Cheeto 6:37
62. Piemont - The Random 6:23
63. Matt Caseli - Busted (Extended X Rated Mix) 6:31
64. Rodg - Derange 6:26
65. Omnom - Number One Fan 5:38
66. John Summit - Addiction 5:37
67. Ferdinand Weber - Back In The Building (Yahlic Extended Remix)-320kb S Mp3 4:31
68. Carlos Kinn And Rio Dela Duna - No Jack 5:43
69. Sasha Virus - Things We Do 6:38
70. Niqw - Quiet Life 7:22
71. Va - Toolroom Amsterdam 2019 (Sllash And Doppe Continuous Dj Mix) 1:26:31
72. Va - Toolroom Amsterdam 2019 (Mendo Continuous Dj Mix) 1:18:06