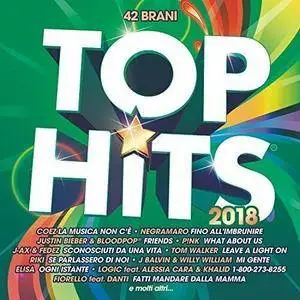 VA - Top Hits (2CD, 2018)
MP3 CBR 320 kbps | 2:21:28 | 325 Mb
Genre: Pop, Dance / Label: Sony Music
Friends is a song by Canadian singer Justin Bieber and American record producer and songwriter BloodPop. It was written by Bieber, Julia Michaels, Justin Tranter and BloodPop, with production handled by BloodPop. Elisa has released the video of her new single Ogni Istante, of which she was responsible for the screenplay and direction. The artist, at the first test behind the camera, appears sitting at a wooden table surrounded by nature! Unforgettable is a song by Moroccan-American rapper French Montana. It was released through Epic Records and Bad Boy Records as the lead singles from his second studio album Jungle Rules along with No Pressure. Third excerpt from Canadian Dragonette's Royal Blues album, High Five appeals to the audience and grabs the listener with its merry and joyful mood.
Track List:
CD1
01. Negramaro - Fino All'imbrunire 4:13
02. Justin Bieber - Friends 3:10
03. P!Nk - What About Us 4:32
04. Coez - La Musica Non C'e 3:43
05. Logic - 1-800-273-8255 4:10
06. French Montana - Unforgettable 3:54
07. Betta Lemme - Bambola 3:35
08. Francesco Gabbani - Pachidermi E Pappagalli 3:23
09. J-Ax - Sconosciuti Da Una Vita 3:00
10. Elisa - Ogni Istante 3:46
11. Tom Walker - Leave A Light On 3:06
12. Riki - Se Parlassero Di Noi 3:25
13. Portugal. The Man - Feel It Still 2:43
14. Dragonette - High Five 2:38
15. Gue Pequeno - Guersace 3:14
16. Achille Lauro - Non Sei Come Me 3:06
17. C. Tangana - Mala Mujer 3:43
18. J Balvin - Mi Gente 3:09
19. Enrico Nigiotti - L'amore E 3:44
20. Luca D´aversa - Voleranno Via 3:34
21. Lorenzo Licitra - In The Name Of Love 3:08
22. Fiorello - Fatti Mandare Dalla Mamma 2:58
CD2
23. Klingande - Pumped Up 2:57
24. Avicii - Without You 3:02
25. Purple Disco Machine - Devil In Me 3:16
26. Sofi Tukker - Best Friend 3:05
27. Vanotek - No Sleep 3:24
28. Flying Decibels - The Road 3:06
29. Dennis Lloyd - Nevermind 2:37
30. Riton - Deeper 4:09
31. Samuele Sartini - Love U Seek (2k18 Rework Edit) 3:11
32. Oyadi - Time Again 3:38
33. Kideko - Dum Dum 3:28
34. Didy - Slow Motion 2:27
35. Marshmello - Silence 3:01
36. Paloma Faith - Crybaby 3:54
37. Julian Perretta - Private Dancer 3:09
38. Kygo - Stargazing 3:57
39. Lost Frequencies - Crazy 2:33
40. Alan Walker - All Falls Down 3:19
41. Dashiki - Forget You 3:41
42. Calvin Harris - Feels 3:43