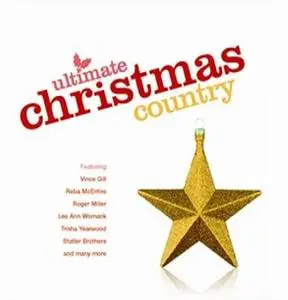 VA - Ultimate Country Christmas (2007)
WEB FLAC (Tracks) 280 MB | Cover | 50:49 | MP3 CBR 320 kbps | 117 MB
Country, Holiday, Wedding | Label: Spectrum
The glorious music of Christmas brings cheer to the heart, joy to the spirit and puts a smile on the face of even the toughest of men. To say that Holiday music is magical is an understatement! This collection features great performances of 18 yuletide classics by many of your favorite Country artists including Reba McEntire, Sammy Kershaw, Kathy Mattea, Brenda Lee, Bobby Helms, Lee Ann Womack, The Oak Ridge Boys, Trisha Yearwood, Loretta Lynn, Bill Anderson and others. Universal. 2007.
TRACKLIST
1. Vince Gill - O Holy Night (Album Version)
2. Reba McEntire - The Christmas Song (Chestnuts Roasting On An Open Fire)
3. Sammy Kershaw - Please Come Home For Christmas
4. Bobby Helms - Jingle Bell Rock
5. Brenda Lee - Rockin' Around The Christmas Tree
6. Bill Monroe & The Bluegrass Boys - Footprints In The Snow
7. The Statler Brothers - White Christmas (Album Version)
8. Ernest Tubb - Blue Christmas
9. Lee Ann Womack - What Are You Doing New Year's Eve?
10. The Oak Ridge Boys - Silver Bells (Album Version)
11. Bill Anderson - Santa Claus Is Coming To Town
12. Roger Miller - Silent Night
13. Steve Wariner - The Most Wonderful Time Of The Year (Album Version)
14. Loretta Lynn - Frosty The Snowman
15. Trisha Yearwood - Away In A Manger
16. Patti Page - Jingle Bells
17. Connie Francis - Winter Wonderland
18. Kathy Mattea - There's A New Kid In Town (Album Version)
–––––––––––-
DON'T MODIFY THIS FILE
–––––––––––-
PERFORMER: auCDtect Task Manager, ver. 1.6.0 RC1 build 1.6.0.1
Copyright © 2008-2010 y-soft. All rights reserved
http://y-soft.org
ANALYZER: auCDtect: CD records authenticity detector, version 0.8.2
Copyright © 2004 Oleg Berngardt. All rights reserved.
Copyright © 2004 Alexander Djourik. All rights reserved.
FILE: 9 - What Are You Doing New Year's Eve_.flac
Size: 29093805 Hash: 10627F5D2408F1C4E4ABE41DB935423B Accuracy: -m0
Conclusion: CDDA 100%
Signature: B564F1FD0E09E9A073544DCF54FE42D6A86844DB
FILE: 8 - Blue Christmas.flac
Size: 13620980 Hash: BB3887A39D62A74B7B3DF43BE52B44A5 Accuracy: -m0
Conclusion: CDDA 62%
Signature: 80D238EC7300375EE87BA144E8C7FD57645DC2EB
FILE: 7 - White Christmas (Album Version).flac
Size: 12524774 Hash: 0D827FEEF318D70BA13320052F979B2A Accuracy: -m0
Conclusion: CDDA 85%
Signature: B203BFBEE26C67CD35D3BD7E94875959D4C24847
FILE: 6 - Footprints In The Snow.flac
Size: 16073097 Hash: F82979C9DD5AAFBF188C62EF2C4B7634 Accuracy: -m0
Conclusion: CDDA 100%
Signature: 6183E3652B0E47D2446EACFAB9460E92A865B524
FILE: 5 - Rockin' Around The Christmas Tree.flac
Size: 13995312 Hash: 61FA9F2DB8B3807A54D7E243A91B0644 Accuracy: -m0
Conclusion: CDDA 99%
Signature: FCDA7561860C023BA2F87FC1AFE049B4BE05E117
FILE: 4 - Jingle Bell Rock.flac
Size: 14969407 Hash: 5A9BE672F92C42AB96F2CEE8DA5E2460 Accuracy: -m0
Conclusion: CDDA 100%
Signature: FFE65FA548F4E7ECEAD1FA4AC1D687F56248F0E3
FILE: 3 - Please Come Home For Christmas.flac
Size: 17794079 Hash: A094A4CFAD10C4129D0E2C84ED240ABF Accuracy: -m0
Conclusion: MPEG 95%
Signature: 5B2B24A703DCC03709FFEA6173151A474BA94AA5
FILE: 2 - The Christmas Song (Chestnuts Roasting On An Open Fire).flac
Size: 18275926 Hash: 9BE42D541951BD3AD1A0D1DDB87A2098 Accuracy: -m0
Conclusion: MPEG 95%
Signature: 664B934A23220A16DEF8DBCAAEAA71C47B406DC9
FILE: 18 - There's A New Kid In Town (Album Version).flac
Size: 22152242 Hash: 582151B160B1E7E79E6C5C7FF35266A9 Accuracy: -m0
Conclusion: CDDA 100%
Signature: 3FD81D63C88C6154E4C68C3189D66605BD075AF9
FILE: 17 - Winter Wonderland.flac
Size: 15455068 Hash: 4A3C2076E08D98D43000479E825E15E0 Accuracy: -m0
Conclusion: CDDA 100%
Signature: 8B399E153565D941C88A351CA9AD3A32B762131C
FILE: 16 - Jingle Bells.flac
Size: 8616403 Hash: E885CA6F84DC45EA4AAEFE266B5EEC52 Accuracy: -m0
Conclusion: CDDA 100%
Signature: 09CE5E6E9183999529C922402131EE7079C60BEA
FILE: 15 - Away In A Manger.flac
Size: 14353256 Hash: E553C961045F5616CF55E4C91E8C3A77 Accuracy: -m0
Conclusion: CDDA 99%
Signature: BD4C59E867878DDD9178FD44ABDA2BF3E872477A
FILE: 14 - Frosty The Snowman.flac
Size: 10757561 Hash: ECDADE4C2D9465610D84260F0445E990 Accuracy: -m0
Conclusion: CDDA 100%
Signature: 76DC34D471A4631406B137744460BD3BB3A6BB14
FILE: 13 - The Most Wonderful Time Of The Year (Album Version).flac
Size: 19418266 Hash: BB20112E6E780ED19D49643B37F9FDC9 Accuracy: -m0
Conclusion: CDDA 100%
Signature: 4470D7DFEEDE2B31A7E2E0F8A9256F6680749AB2
FILE: 12 - Silent Night.flac
Size: 8034471 Hash: 45CB6FC6FB71001FDE13E0FF482990A4 Accuracy: -m0
Conclusion: CDDA 99%
Signature: 84352ADF9F6BBBEDC81D79AD12EAF99478B4228D
FILE: 11 - Santa Claus Is Coming To Town.flac
Size: 13942047 Hash: 3DA5F0EFB95D68F71B156A3847E7C0C0 Accuracy: -m0
Conclusion: CDDA 100%
Signature: BA9F5FD1500593CE16EDE653E33A6FC024F0E4F3
FILE: 10 - Silver Bells (Album Version).flac
Size: 18440460 Hash: 9EB86554F67BE4634DBDEA2E51AA63A0 Accuracy: -m0
Conclusion: CDDA 100%
Signature: E25D66B214E5C35E0D750A473A24C8361E20105D
FILE: 1 - O Holy Night (Album Version).flac
Size: 26321604 Hash: 9937EA1005AC36589C33FB8632CA6CA4 Accuracy: -m0
Conclusion: CDDA 100%
Signature: A3F8187F9AC5414C02CBFD22824A69809AD80B68