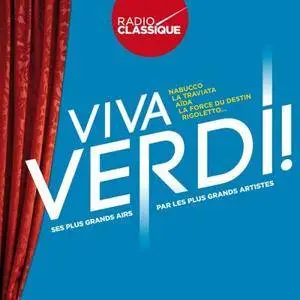 VA - Viva Verdi! - Radio Classique (2017)
Classical | MP3 CBR 320 kbps | 02:03:42 | 284 MB
Label: Warner Classics
After the success of its concert Offenbach en Fête in 2016, Radio Classique brings to life the most beautiful emotions of the opera with one of the undisputed masters of the genre. From Nabucco to La Traviata, from Rigoletto to Aida, come listen to Verdi's most beautiful and popular operatic arias performed by today's and tomorrow's stars under the direction of maestro Giampaolo Bisanti, a great specialist Of the Verdian repertoire! Like Victor Hugo in France, Verdi is THE emblematic and federating figure of 19th century Italy. Each of his operas, now deeply rooted in Italian popular culture, ended with the acclamations of the audience: "Viva Verdi! ", Also the rallying cry of patriots for Italian unification. An ideal title for this great lyrical and festive concert, which promises to make the hearts beat in unison … Viva the opera! Viva Verdi!
TRACKLIST
01. Nabucco: Overture to Act 1 - Riccardo Muti
02. Nabucco, Act 3 Scene 4: No. 11a, Coro, "Va, pensiero, sull'ali dorate" (Chorus) - Riccardo Muti
03. Macbeth, Act 3: Ballo - Riccardo Muti
04. Rigoletto, Act 1: "Questa o quella" (Il Duca) - Riccardo Muti
05. Rigoletto, Act 2: "Sì, vendetta, tremenda vendetta" (Rigoletto, Gilda) - Julius Rudel
06. Rigoletto, Act 3 Scene 2: "La donna è mobile" (Duca) - Rolando Villazon
07. Rigoletto, Act 3: "Bella figlia dell'amore" (Il Duca, Maddalena, Gilda, Rigoletto) - Riccardo Muti
08. Il trovatore, Act 1: "Di geloso amor sprezzato" (Count di Luna, Leonora, Manrico) - Maria Callas
09. Il trovatore, Act 2: "Vedi le fosche notturne" (Chorus) - Maria Callas
10. Il trovatore, Act 2: "Stride la vampa!" (Azucena) - Fedora Barbieri, Orchestra del Teatro alla Scala di Milano, Herbert Karajan
11. Il trovatore, Act 4: "D'amor sull'ali rosee" (Leonora) - Maria Callas
12. La traviata, Act 1 Scene 2: No. 2b, Brindisi, "Libiamo ne' lieti calici" (Alfredo, Violetta, Flora, Marchese, Barone, Dottore, Gastone, Chorus) - Riccardo Muti
13. La traviata, Act 1: "Sempre libera" (Violetta, Alfredo) - Riccardo Muti
14. La traviata, Act 3: "Parigi, o cara, noi lasceremo" (Violetta, Alfredo) - Riccardo Muti
15. La traviata, Act 2 Scene 10: "Noi siamo zingarelle" (Zingare, Flora, Marchese, Dottore) - Riccardo Muti
16. La traviata, Act 3: "Addio, del passato" (Violetta) - Maria Callas
17. I Vespri Siciliani, Act 1: Sinfonia - Riccardo Muti
18. I Vespri Siciliani, Act 3: L'Estate - Riccardo Muti
19. I Vespri Siciliani, Act 5: "Mercè, dilette amiche" (Elena) - Riccardo Muti
20. La forza del destino: Overture to Act 1 - Riccardo Muti
21. La forza del destino, Act 2: "La Vergine degli angeli" (Leonora, Chorus) - Anton Guadagno
22. Aïda, Act 2: "Gloria all'Egitto, ad Iside" (Chorus, Priests) - Antonio Pappano
23. Aïda, Act 2: Triumphal march - Antonio Pappano
24. Aïda, Act 2: Ballet - Antonio Pappano
25. Aïda, Act 2: "Vieni, o guerriero vindice" (Chorus, Priests) - Antonio Pappano
26. Don Carlo, Act 2: "Dio, che nell'alma infondere amor" (Don Carlo, Rodrigo, Chorus, Il Frate) - Carlo Maria Giulini
27. Don Carlo, Act 4: "Ah! più non vedrò la Regina! O don fatale, o don crudel" (Eboli) - Carlo Maria Giulini
28. Otello, Act 1: "Fuoco di gioia!" (Chorus) - Lorin Maazel
29. Falstaff, Act 3: "Sul fil d'un soffio etesio" (Nannetta) - Sumi Jo
30. Messa da Requiem : VIIa. Libera me, Domine - Antonio Pappano
31. Messa da Requiem: VIIb. Dies irae - Antonio Pappano
32. Messa da Requiem: VIIc. Requiem aeternam - Antonio Pappano
33. Messa da Requiem: VIId. Libera me, Domine - Antonio Pappano