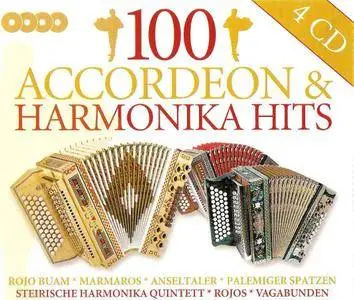 V.A. - 100 Accordeon & Harmonika Hits (4CD Box Set, 2007)
Instrumental | MP3 CBR 320 kbps | 744 Mb | Scans 2,66 Mb
Label: PINK Records (Holland)
A rich parade of folk music with accordion and harmonica bands mainly from Austria, Bavaria and Netherlands. Five hours with rhythmic and happy polkas, waltzes and marches from the famous Tyrol region of the Alps. The oldest name for these groups is Harmonika (from the greek "armonia" for harmony). The sound of accordion is so rich that often there is no need of further accompanying instruments. It is like an orchestra by itself. When two or more accordions unite their music and they are backed by brass instruments, percussions and often vocals and yodeling the result is the definition of happy and uplifting music.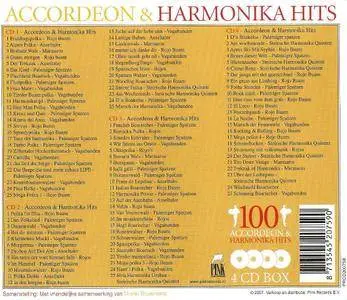 Tracklist:CD 1
01. Rojo Buam - Fruhlingspolka
02. Die Anseltaler - Alpen Polka
03. De Marmaros - Brabantpolka
04. Rojo Buam - Guten Morgen
05. Die Anseltaler - Der Trekzak
06. De Palemiger Spatzen - Ein Kind
07. Die Vagabunden - Flachland Boarisch
08. De Palemiger Spatzen - Fluitpolka
09. Die Vagabunden - Frau Maier
10. Die Vagabunden - Tiroler Buam Polka
11. Die Palemiger Spatzen - Harmonikatijd
12. Die Vagabunden - Hey man Polka
13. De Palemiger Spatzen - Kreuz und Quer
14. Die Vagabunden - Ritmo del Ansa
15. Rojo Buam - Servus
16. Rojo Buam - Speedypolka
17. De Palemiger Spatzen - Tanz der Harmonika
18. De Palemiger Spatzen - Turbo Polka
19. Die Vagabunden - Zillertaler Hochzeitsmarch
20. Die Vagabunden - Camilla
21. De Palemiger Spatzen - Das Lied der Berge
22. De Palemiger Spatzen - Die Berge, die sind mein Zuhaus (live)
23. Die Vagabunden - Korenblumenwalzer
24. Die Vagabunden - Pico bello
25. Rojo Buam - Mega Polka 1
CD 2
01. Rojo Buam - Polka fur Elsa
02. Palemiger Spatzen - Das Polkalied
03. Vagabunden - Damenwahl
04. Palemiger Spatzen - Bei dir zuhause
05. Vagabunden - Klarimetten Muckl
06. Palemiger Spatzen - Morgentau
07. Anseltaler - Droben Auf Der Am
08. Rojos - Ein stern der vom himmel fallt
09. Palemiger Spatzen - Im Himmel
10. Rojo Buam - Himmelswalzer
11. Anseltaler - Polka Doble
12. Rojo Buam - in den bergen
13. Vagabunden - Juche auf der hohe alm
14. Anseltaler - Lustige Buben
15. Marmaros - Lindenwals
16. Rojo Buam - Mutter ich danke dir
17. Vagabunden - Ohne musik geht nit
18. Vagabunden - RegenBoogTango
19. Rojos - Spanisches feuer
20. Vagabunden - Spatzen Walzer
21. Rojo Buam - Woodlog Boarischer
22. Steirische Harmonika Quintett - Steirer Polka
23. Steirische Harmonika Quintett - Am Wochenende
24. Palemiger Spatzen - Dґn Bakelse
25. Vagabunden - Marsch der Harmonika
CD 3
01. Palemiger Spatzen - Fanclub Boarischer
02. Rojos - Boricka Polka
03. Palemiger Spatzen - Sonidos Estivales
04. Vagabunden - Wir fahren ins Grune
05. Rojoґs - Okkipolka
06. Marmaros - Bavaria Wals
07. Vagabunden - Buragaudi
08. Palemiger Spatzen - halli galli
09. Palemiger Spatzen - Bohmerwald
10. Anseltaler - Frans de Lepelaar
11. Rojo Buam - Indian Boarischer
12. Palemiger Spatzen - Harmonika Power
13. Anseltaler - Auf der Autobahn
14. Rojo Buam - Vohla
15. Palemiger Spatzen - Van Veurenwals
16. Rojos - Im mondenschein
17. Vagabunden - Hegl Boarischer
18. Rojo Buam - Rosenwalser
19. Palemiger Spatzen - Schneewalzer
20. Vagabunden - Spasspolka
21. Vagabunden - Stampfer Boarisch
22. Rojo Buam - Tiroler trampeltanz
23. Rojo Buam - Mega Polka 3
24. Vagabunden - Hansґl Polka
25. Harmonika Quintett - Steir.Harmonika Gruben
CD 4
01. De Palemiger Spatzen - Boakelse boarischer (instr)
02. Steirische Harmonika Quintet - Am Wochenende (instr)
03. Rojo Buam - Apres ski mit Sophie
04. De Palemiger Spatzen - Rosen dieser Welt (instr)
05. Steirische Harmonika Quintett - Blutenzauber (instr)
06. Steirische Harmonika Quintett - Circus Renz (instr)
07. Rojo Buam - Der Junge miit der Quetschbuel (instr)
08. Rojo Buam - Ein Gruss aus Limburg
09. De Palemiger Spatzen - Frohe Stunden (instr)
10. De Palemiger Spatzen - Rock mich
11. Rojo Buam - Eine Rose von dem Grab
12. Rojo Buam - El Loco (instr)
13. Rojo Buam - Festzelt Gaudi (instr)
14. De Palemiger Spatzen - La noche (instr)
15. Die Vagabunden - Marsch der Feuerwehr (instr)
16. Rojo Buam - Rocking & rolling (instr)
17. Rojo Buam - Mega Polka 4 (instr)
18. Sterirische Harmonika Quintett - Schneeflocken (instr)
19. Rojos - Stimmung mit Volksmusik
20. Steirischer Harmonika Quintett - Steirische Harmonika (instr)
21. Marmaros - Ton doux visage (instr)
22. Marmaros - Trekzak of harmonika (instr)
23. Steirische Harmonika Quintett - Uber der Loibnpass (instr)
24. De Palemiger Spatzen - Windmuhl boariascher (instr)
25. Die Vagabunden - Schnurrig boarischer (instr)