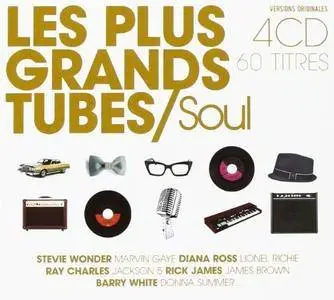 V.A. - Les Plus Grands Tubes Soul (4CD Box Set, 2013)
Soul, Disco, Funk | MP3 CBR 320 kbps | 487 Mb
Label: Universal Music France
Soul music is a popular music genre that originated in the United States in the late 1950s and early 1960s. It combines elements of African-American gospel music, rhythm and blues and jazz. Soul music became popular for dancing and listening in the United States, where record labels such as Motown, Atlantic and Stax were influential during the Civil Rights Movement. Soul also became popular around the world, directly influencing rock music and the music of Africa.
Tracklist:CD 1
1. Stevie Wonder - For Once In My Life (Single Version Mono) (2:47)
2. Marvin Gaye - Let's Get It On (Album Version) (4:51)
3. The Temptations - Papa Was A Rollin' Stone (Single Version) (6:57)
4. Diana Ross - I'm Coming Out (Album Version) (5:22)
5. Lionel Richie - Dancing On The Ceiling (Album Version) (4:31)
6. Nina Simone - My Baby Just Cares For Me (3:36)
7. Smokey Robinson - Ooo Baby Baby (Album Version Stereo) (2:45)
8. Bobby Hebb - Sunny (Album Version) (2:45)
9. Ray Charles - Georgia On My Mind (3:34)
10. The Stylistics - You Are Everything (2:55)
11. Solomon Burke - Let Me Wrap My Arms Around You (Album Version) (4:00)
12. Fontella Bass - Rescue Me (Single Version) (2:53)
13. The Supremes - You Keep Me Hangin' On (Album Version Stereo) (2:40)
14. Jackson 5 - Dancing Machine (Single Version) (2:37)
15. Rick James - Super Freak (Album Version) (3:19)
CD 2
1. Ray Charles - Unchain My Heart (2:50)
2. James Brown - Get Up I Feel Like Being A Sex Machine (5:17)
3. Barry White - Can't Get Enough Of Your Love, Babe (4:29)
4. Stevie Wonder - Uptight (Everything's Alright) (Single Version) (2:53)
5. Gloria Gaynor - I Will Survive (Single Version) (3:16)
6. The Isley Brothers - This Old Heart Of Mine (Is Weak For You) (Album Version) (2:46)
7. The Supremes - Baby Love (16 Big Hits Stereo Version) (2:35)
8. Rufus And Chaka Khan - Any Love (Album Version) (4:52)
9. Gene Chandler - Get Down (3:36)
10. The Miracles - You've Really Got A Hold On Me (Album Version Stereo) (2:56)
11. Dee Dee Warwick - I'm Gonna Make You Love Me (3:00)
12. Rita Wright - I Can't Give Back The Love I Feel For You (Single Version) (2:39)
13. Edwin Starr - H.A.P.P.Y. Radio (Single Version) (3:21)
14. Martha Reeves & The Vandellas - Heatwave (Album Version) (2:44)
15. Kool And The Gang - Ladies Night (Single Version) (3:28)
CD 3
1. The Supremes - You Can't Hurry Love (Single Version (Mono)) (2:44)
2. The Temptations - My Girl (16 Big Hits Stereo Version) (2:58)
3. Ben E King - Stand By Me (Single Lp Version) (2:55)
4. Etta James - I Just Want To Make Love To You (Single Version) (3:07)
5. The Impressions - People Get Ready (Single Version) (2:38)
6. Booker T & The Mg's - Green Onions (Single Version) (3:48)
7. Donna Summer - Hot Stuff (Album Version) (5:15)
8. James Brown - Summertime (5:25)
9. Marlena Shaw - California Soul (Album Version) (2:56)
10. The Contours - Do You Love Me (1966 Version) (2:52)
11. The Impressions - Keep On Pushing (Single Version) (2:31)
12. Stevie Wonder - Signed, Sealed, Delivered (I'm Yours) (Album Version) (2:46)
13. David Ruffin - Everlasting Love (Album Version) (2:58)
14. Diana Ross - Ain't No Mountain High Enough (Edit Version) (3:34)
15. The Undisputed Truth - What's Going On (Album Version) (9:23)
CD 4
1. Jackson 5 - I Want You Back (Album Version) (2:58)
2. Marvin Gaye - Got To Give It Up (Part 1) (4:10)
3. The Four Tops - It's The Same Old Song (Album Version (Stereo)) (2:48)
4. Ray Charles - What'd I Say (6:27)
5. Stevie Wonder - My Cherie Amour (Album Version) (2:51)
6. Dusty Springfield - Son Of A Preacher Man (2:27)
7. Commodores - Sweet Love (Single Version) (3:25)
8. Mary Wells - My Guy (Single Version) (2:48)
9. Martha Reeves & The Vandellas - Dancing In The Street (Single Version) (2:36)
10. The Marvelettes - Please Mr. Postman (Single Version) (2:27)
11. Nina Simone - I Put A Spell On You (Album Version) (2:34)
12. Muddy Waters - I Just Want To Make Love To You (Single Version) (2:49)
13. Rufus - Sweet Thing (Album Version) [Feat. Chaka Khan] (3:17)
14. James Brown - Say It Loud - I'm Black And I'm Proud (Pt. 1 & 2) (4:51)
15. The Supremes - Where Did Our Love Go (2003 Remix) (2:32)