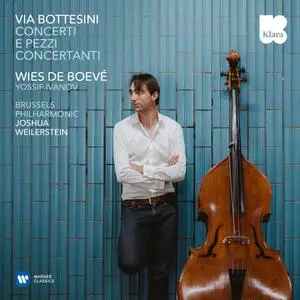 Wies de Boevé - Via Bottesini: Concerti e pezzi concertanti (2020)
WEB FLAC (tracks) - 308 MB | Tracks: 8 | 64:23 min
Style: Classical | Label: Warner Classics
Belgian double bass player Wies de Boevé is currently co-principal at the Symphonieorchester des Bayerischen Rundfunks. National classical radio Klara offered him the opportunity to record an album with Brussels Philharmonic and conductor Joshua Weilerstein. Wies choose works by Giovanni Bottesini (1821-1889), that are surprisingly little known, even among bass players. The Grand Concerto for double bass and orchestra in F-sharp minor is followed by his second Concerto for double bass and orchestra in B minor, and the Grande Allegro di Concerto (alla Mendelssohn), for which Bottesini drew inspiration from Felix Mendelssohn-Bartholdy. The album is completed with the Gran Duo Concertante for violin, double bass and orchestra, which Bottesini played all over the world, with the greatest violin players of his time: Sivori, Arditi, Vieuxtemps and Wieniawski. Violinist Yossif Ivanov joins Wies for this festive and playful finale.
Tracklist:
1. Bottesini: Double Bass Concerto in B Minor: I. Allegro moderato (6:07)
2. Bottesini: Double Bass Concerto in B Minor: II. Andante (4:57)
3. Bottesini: Double Bass Concerto in B Minor: III. Finale. Allegro (4:22)
4. Bottesini: Grande allegro di concerto (alla Mendelssohn) (12:18)
5. Bottesini: Gran Concerto for Double Bass in F-Sharp Minor: I. Allegro Moderato (12:23)
6. Bottesini: Gran Concerto for Double Bass in F-Sharp Minor: II. Andante (5:56)
7. Bottesini: Gran Concerto for Double Bass in F-Sharp Minor: III. Finale. Allegro con fuoco (4:24)
8. Bottesini: Gran Duo Concertante for Violin and Double Bass (14:00)


FILE: 01. Bottesini_ Double Bass Concerto in B Minor_ I. Allegro moderato.flac
Size: 30773405 Hash: EDC156A716C88819B8DA4E74BE332195 Accuracy: -m0
Conclusion: CDDA 100%
Signature: E7CBC0B7437459270003534F0E3F4CCE296362A5
FILE: 02. Bottesini_ Double Bass Concerto in B Minor_ II. Andante.flac
Size: 23471047 Hash: 0AB636D6336472B1D3550DC9BADEB9F6 Accuracy: -m0
Conclusion: CDDA 100%
Signature: 3F34A4745F104588B7287064D5E65022C1426DE8
FILE: 03. Bottesini_ Double Bass Concerto in B Minor_ III. Finale. Allegro.flac
Size: 23165011 Hash: 7A52E5290418B3C666D8A3737D7421D4 Accuracy: -m0
Conclusion: CDDA 100%
Signature: 9C77503B1EDC925A4573E892DDF73C9264FBFA37
FILE: 04. Bottesini_ Grande allegro di concerto (alla Mendelssohn).flac
Size: 61843290 Hash: 954AE6C57B8463A59184C319956F5611 Accuracy: -m0
Conclusion: CDDA 100%
Signature: 616239BBB62C981D5EC2726DA7F9E4F7C472415B
FILE: 05. Bottesini_ Gran Concerto for Double Bass in F-Sharp Minor_ I. Allegro Moderato.flac
Size: 62938142 Hash: 6B15ED223C92EB8F01D2943045F94F46 Accuracy: -m0
Conclusion: CDDA 100%
Signature: B9F2FB1472D9A6BE22188C0D5D47EB04CEA86F50
FILE: 06. Bottesini_ Gran Concerto for Double Bass in F-Sharp Minor_ II. Andante.flac
Size: 27193883 Hash: D7C75E37A07128BCEDADD29688E4EFB5 Accuracy: -m0
Conclusion: CDDA 100%
Signature: 26E88C2E8B22D9F447E2408976CBEEAA5AAD1EA5
FILE: 07. Bottesini_ Gran Concerto for Double Bass in F-Sharp Minor_ III. Finale. Allegro con fuoco.flac
Size: 23296737 Hash: 2E066648D18BDED6CE2979479B8C2691 Accuracy: -m0
Conclusion: CDDA 100%
Signature: 47E550FFA0D2DF9AAB456C765369BFD047822D3C
FILE: 08. Bottesini_ Gran Duo Concertante for Violin and Double Bass.flac
Size: 70596990 Hash: 19FF86E7130E0C40B542DCB7BCD5D21E Accuracy: -m0
Conclusion: CDDA 100%
Signature: 577538A9EF33702AF652B06F5C899C511879F055